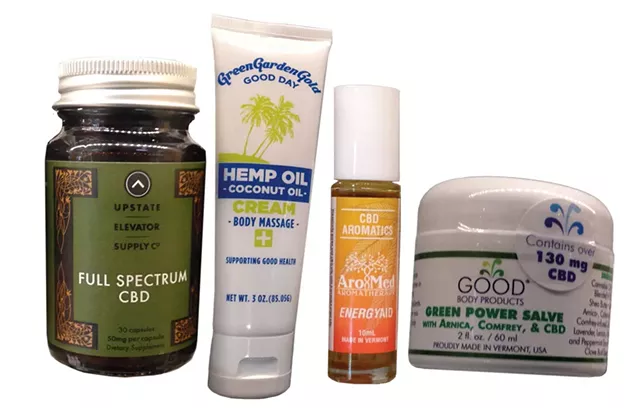 Rarely a day goes by without a news story about the latest superfood, miracle drug or herbal remedy that promises to stave off or cure all that ails you, from cancer to diabetes to chronic ennui. Be it turmeric, biotin, glucosamine or chia seeds, the list of superfoods, spices and dietary aids keeps growing at a dizzying pace. In October, the Council for Responsible Nutrition released the results of its annual survey, which found that a record-high 76 percent of Americans now take dietary supplements.
In the last year, Seven Days staffers have reported on an increasing number of Vermont-made foods, beverages and health care products containing cannabidiol, or CBD, one of dozens of naturally occurring compounds found in cannabis plants.
While clinical research on the health benefits of CBD is accelerating worldwide, it's still limited in the United States. As such, CBD, which is non-psychoactive, continues to straddle the line between conventional and alternative remedies in this country. So, when we spotted a series of classes billed as "CBD-supported guided meditation," our first reaction was, WTF? By itself, CBD won't get you high. But can it help you go deeper within your psyche?
I decided to find out firsthand. As evening temperatures plummeted into the subzero zone in early January, I arrived at Make It a Mellow 2018 With a CBD Meditation at Green State Gardener. The company is an indoor-gardening supply store in Burlington that caters largely to at-home medical cannabis and registered hemp growers.
Marsya Ancker of Marsya Mind Body Spirit of Winooski led the $15 class. For more than two decades, she has been "studying healing traditions from around the world including yoga, Reiki, chakra balancing, gem therapy, healing touch and breath work," according to her website.
Nine students, including GSG general manager Kelsy Raap, participated in the hourlong session. Before Ancker began leading us on an introspective journey of relaxed and focused attention, Raap invited students to the front of the room to pre-dose themselves with various oral and topical products, virtually all of which are produced in Vermont. They included CBD-infused honeys, tinctures, aromatherapy roll-ons, an anti-aging facial serum — "Please don't eat it," Raap cautioned — and salves for site-specific joint and muscle pain.
Because I'm nursing a rotator cuff injury, I dipped, dropped, scooped and massaged in as much CBD as time allowed, then made myself comfortable in one of the chairs arranged in a semicircle around Ancker.
Raap then dimmed the lights, and Ancker began verbally transporting us to "somewhere that's warm and sunny, where our chakras will become balanced and everything will follow the flow." During the next hour, she talked us through a typical guided meditation session, complete with the requisite visualization techniques for calming the body and mind.
Though the overall vibe of the class sounds a bit New Agey, the emerging science on CBD is increasingly evidence based and peer reviewed. In recent years, CBD has gone more mainstream as a small but expanding body of research suggests it has wide-ranging therapeutic uses — such as an anticonvulsant treatment for epilepsy and other intractable seizure disorders.
According to the California-based nonprofit Project CBD, cannabidiol has shown promise in relieving certain types of pain and inflammation, as well as in treating depression, anxiety, arthritis, diabetes, alcoholism, multiple sclerosis, schizophrenia and post-traumatic stress disorder.
In November, the World Health Organization released a report on the current state of CBD science. One big takeaway was the WHO's recommendation that it no longer be listed as a controlled substance. Although CBD is widely produced and sold throughout the U.S., including in Vermont, the U.S. Drug Enforcement Administration still lists it as a Schedule I substance alongside other drugs such as heroin, mescaline and LSD, which are deemed to have "no currently accepted medical use" and "a high potential for abuse."
WHO researchers strongly disagreed. They found compelling evidence that, beyond its uses for seizures, CBD also may be beneficial in treating other medical conditions due to its antipsychotic, analgesic, anti-asthmatic and antitumor properties. The report also noted that CBD might help in treating opioid, cocaine and tobacco addictions.
Furthermore, the WHO report pointed out that CBD has a good safety profile, with low toxicity, no risk of abuse or dependency, and "no known negative side effects," even at high doses.
Perhaps it was no surprise that, at the Burlington CBD meditation class, participants reported only positive experiences.
Brendan of Burlington, who asked that his last name not be published because he works in a lab that receives federal funding, said he's used CBD to treat anxiety instead of using conventional pharmaceuticals. Brendan said he found the class "really relaxing [and] very eye-opening."
His friend, Dylan Steinberg, agreed.
"I thought the meditation was really nice," she said. "I had some experience with meditation in the past, but this was definitely a very full experience."
Steinberg, who works at Healthy Living Market & Café in South Burlington, noted that "tons" of customers come in asking for CBD products. Sometimes one will ask her a question, and another nearby customer will chime in about his or her own CBD use.
"It's insane," Steinberg added. "We joke that we can stand at the case [where CBD products are displayed] and just talk to customers all day."
As for me, when I headed into the Arctic cold, my injured shoulder still ached, though less than it did when I had arrived. Even after a hearty dose of the latest "wonder drug," it would be unrealistic to expect a miracle.