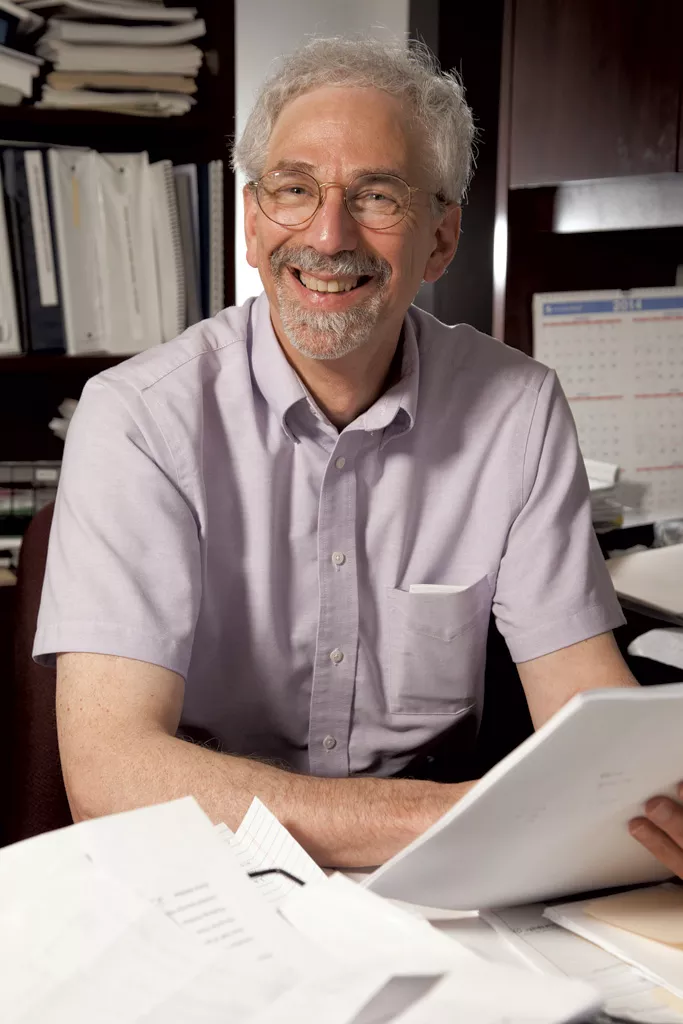 Matthew Thorsen
Bob Rusten
Burlington City Hall was locked and dark last Friday at 7 a.m., except for one corner office. Under shelves of plastic binders toiled a tall, lean man in a short-sleeved lavender dress shirt. On his desk, a bowl of pistachios suggested that this early-rising bureaucrat has a soft spot for snacks.
Bob Rusten, 63, is Burlington's chief administrative officer. Formerly called "city treasurer," the post is hardly glamorous. It entails organizing elections, fielding public records requests and, apparently, working ungodly hours. But when Mayor Miro Weinberger filled the seat, he described it as, "in many ways, the most important appointment I have to make."
Case in point: Rusten's predecessor, Jonathon Leopold, hatched the financing plan that led to the Burlington Telecom scandal.
If you care about your tax bill, you should keep an eye on the man with the tuft of curly white hair who vaguely resembles "Seinfeld"'s Kramer. Rusten's the keeper of the city coffers — monitoring spending and revenue each week — and he manages day-to-day operations at city hall. He's in the midst of drawing up next year's city budget and will likely play a key role in addressing the underfunded pension system.
Now Rusten's got a new math problem: Two weeks ago, Weinberger dispatched him to restore fiscal order in the Burlington School District, which has been miscalculating budgets and running deficits for several years.
The arrangement is temporary — Rusten will provide oversight to the district's business office for the next two fiscal years — and still not totally defined. Rusten said he'll have to delegate some of his current city hall duties, but the agreement stipulates that the school district bear any costs associated with his absence.
Rusten was deputy city manager for South Burlington when Weinberger first noticed him. The two cities had been feuding over how to divvy up management of — and revenue from — the Burlington International Airport.
Rusten helped broker an agreement, but Weinberger was having trouble holding up Burlington's end of the bargain. Preoccupied with what he described as more pressing "wildfires to put out," the mayor said, "we struggled to meet some of the time commitments." The wiry municipal manager "held our feet to the fire, but did so politely," Weinberger recalled, and it worked.
The mild-mannered Rusten will need comparable skills walking into the Burlington school system's central office. His boss has publicly called for the ouster of the woman who runs it — Superintendent Jeanne Collins. And while the school board welcomed the offer and said it's looking forward to a "collaborative" arrangement, more cynical observers have likened the move to a coup that will give the mayor greater control over school finances.
Rusten has negotiated such politically charged situations before. He took the deputy job in South Burlington in part because he had "tremendous respect" for then-city manager Sandy Miller. The city council later fired Miller, leaving Rusten to take his mentor's spot.
"It was a difficult period for Bob," recalled South Burlington's finance officer, Sue Dorey. "Neither one of them saw it coming." Pam Mackenzie, who now chairs the city council, said Rusten "acted with significant integrity" when he agreed to serve as city manager on an interim basis.
"The easy decision in that kind of situation would be to say, 'Well, I'm out of here,' Mackenzie continued. "The hard decision is to recognize if you leave, you have left behind all the employees who count on your leadership to move forward."
"I wasn't comfortable with the process in terms of what had happened to Sandy Miller," Rusten explained to Seven Days on Friday. But he didn't feel comfortable abdicating his responsibility to the city and its staff, either. "I needed a paycheck, as well," he added.
During that period, "Bob really drove the bus," Dorey said. But by the time Weinberger beckoned in May of 2013, South Burlington had found a permanent city manager. Rusten left for the bigger city, which was then four years into trying to fix the finances around Burlington Telecom.
The man who will be schooling the district on proper accounting practices didn't graduate college. Rusten spent the first 10 years of his professional life on the factory floors of steel and paper mills in Pennsylvania, where he grew up. He moved to southern Vermont in 1988, settling with his wife, Susan, and two sons in Halifax.
After running his own consulting business, Rusten, a Democrat, got elected to the House of Representatives while lawmakers were trying to overhaul the state's education funding system. He quickly entered the fray, joining a group that dubbed itself the "Gang of 10." The five Democrats and five Republicans all represented what were referred to as gold towns — places with ski resorts or other business that brought in a lot of tax revenue and stood to lose from a spread-the-wealth approach to education financing.
Dick Marron, a Republican who chaired the House Ways and Means Committee on which Rusten served, described him as a "blue dog Democrat."
In Montpelier, Rusten eschewed political drama, opting for a diplomatic approach to policy making. "I never saw him lose his cool," recalls Senator Kevin Mullin, then a Republican representative and another member of the Gang of 10. "He was a real gentleman, always trying to solve problems, and he was very methodical in his approach."
Gaye Symington, the Democratic minority leader at the time, also praised Rusten's attention to detail. But, she noted, "He was a pain in the neck sometimes because he was so process-oriented, and sometimes in the legislature that was inconvenient."
Nonetheless, Rusten played a major role in drafting Act 68 — the second of two laws that established the current education funding system. Rep. Ann Manwaring described him as one of an elite few who actually understands how the financing formula works. She took Rusten's seat when, after 10 years in the legislature, he stepped down to take a job as Wilmington town manager. Reflecting on that decision, Rusten said he preferred policy to politics.
Thomas Consolino, who chaired the Wilmington selectboard when Rusten was town manager, described him as "very frugal." He spent four years in that job before joining Miller in South Burlington in 2010.
In his current seat, Rusten works under the radar, but he's still had a hand in some high-profile decisions. "Their finances have really improved," Dorey said. "And I know a lot of that has to do with the mayor, but I also know that in the background, a lot of it has to do with Bob."
The tax increase that voters approved in March? "I'm out there being the spokesperson," Weinberger said. "But it was certainly his project."
Under his supervision, city spending has become more regimented, Rusten said, pointing to what's known as the pooled cash fund. "We have segregated money into different bank accounts. We have a much more formalized process if people are borrowing money that will cross fiscal years. That borrowing has to be approved by city council, and we have promissory notes that are very clear about when it will be paid off, how it will be paid off, with what interest rate."
Rusten also prides himself on making city financial data more transparent, citing the monthly reports he provides the city council's finance board. Council President Joan Shannon, who sits on that board, described him as "really responsive to whatever we ask him for." She described his "just-the-facts" style as radically different than that of his predecessor. "[Leopold] had strong opinions, and he would share those opinions. I think Bob holds his opinions closer to his chest."
Rusten is only one year in; the fiscal year 2016 budget will be the first that he's seen through from start to finish, and he's just now gearing up to present it to the city council. His superior, however, sounds pleased. "He has been very collegial and fair but tough with department heads," Weinberger said.
The mayor said he had "serious reservations" about offering up his CAO to the school district, noting, "He has a long list of items that we are pursuing that will make city government more efficient." Rising health insurance costs and the underfunded pension system are high on Rusten's to-do list.
What sealed the deal for Weinberger? The importance of our schools, he said. Also, "I believe strongly that the people of Burlington expect the mayor to do something about what is ultimately unsustainable growth in property taxes," Weinberger said Friday.
How will Rusten contend with the school district's problems, which range from recurring deficits to lackluster oversight and financial controls? Rusten said he intends to focus on the price tag and steer clear of the philosophy. "Budgets certainly are more than just numbers. It's a philosophy, it's a road map, and I believe that is most appropriate with the school board. I believe my role is to make sure they can financially afford what they are talking about, that there's a plan in place and that the numbers match up."
None of his former colleagues envied his new project — "He gets all the good jobs," Consolino joked.
"I don't know why anyone would want to be entrusted with that role," Mullin commented.
But both men — and at least four others interviewed for this story — volunteered that they believe Rusten is ideally suited for the less-than-desirable job. Mackenzie said, "If there is anybody who can do that, it's Bob."
It's also possible Rusten's fervor for detail, his integrity and his knowledge of education finance policy will amount to a bitter pill for the school district. Rusten has already raised questions about whether the district is entitled to a pot of money, known as payments in lieu of taxes, that the city has shared for years. Cautioning that he's not a lawyer, Rusten said he has "concerns" that state law actually prohibits the school from receiving its portion, expected to total $1.4 million in FY 2015.
In a district reeling from deficits, that line of inquiry won't make Rusten a lot of friends.