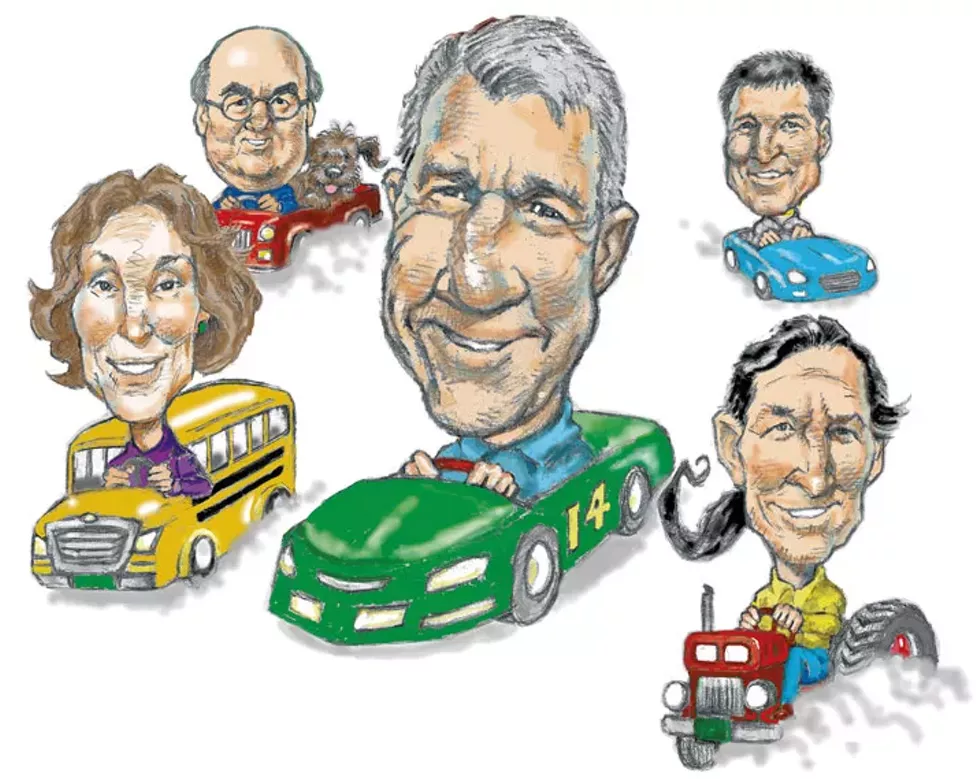 For a moment this spring, Lt. Gov. David Zuckerman considered dropping out of Vermont's gubernatorial race. "The thought has to cross your mind," he recalled.
As the coronavirus outbreak tested the state's health care system and ravaged its economy, Gov. Phil Scott was emerging as an early hero of pandemic politics. The second-term Republican had earned tri-partisan plaudits for heeding the advice of public health officials and serving as a calm, thoughtful and empathetic leader.
Zuckerman, meanwhile, had found himself starved of the political oxygen he needed to take on the increasingly popular incumbent — shut out of the administration's response to the outbreak and, with the public's attention focused entirely on COVID-19, unable to draw policy contrasts with the governor.
Rebecca Holcombe, Zuckerman's chief rival for the Democratic nomination, had it even worse. The former education secretary had been campaigning for seven months when, in February, a poll conducted for Vermont Public Radio and Vermont PBS found that 61 percent of registered voters hadn't even heard of her. When the pandemic struck the state the next month, the first-time political candidate was relegated to the basement of her Norwich home, working beside 17 baby chicks, unable to introduce herself to the electorate.
Defeating Scott was never going to be easy. No incumbent Vermont governor has lost a race for reelection since 1962 — and, throughout his tenure, Scott has been one of the most popular governors in the country. But if the Democratic contenders faced an uphill battle before the coronavirus came to Vermont, they've been clambering up a craggy mountain ever since.
Even Scott's most recent Democratic rivals praise his response to the pandemic and characterize the efforts to defeat him as all but a lost cause.
"I gotta tell you, his handling of the coronavirus has been outstanding," said 2018 Democratic nominee Christine Hallquist, who lost to Scott by 15 percentage points. "I think it's gonna be tougher this year than even when I ran."
Sue Minter, who lost to Scott by 9 points in 2016, said she was "very impressed" with Scott's response to the crisis. "It's going to be difficult to run against a record of the state with the lowest [coronavirus] impact thus far," she said.
Scott's opponents have been further stymied by his unwillingness to engage in typical campaign activities, making it all the easier for the news media to ignore the contest. He has declined to hire a campaign staff, solicit contributions or even distribute yard signs.
Jeb Wallace-Brodeur
Vermont Governor Phil Scott
"It's hard to campaign in a traditional sense when you know people are suffering," Scott explained. "I had to prioritize, and campaigning came last."
Scott's critics argue that it's easy — and awfully convenient — to avoid fundraising when the Republican Governors Association, which is bankrolled by Sheldon Adelson, the Koch brothers and a variety of corporate interests, has funneled $126,000 to its Vermont-based super PAC. That organization, called A Stronger Vermont, could swoop in at any point to finance an advertising campaign on Scott's behalf, as it has in each of his previous gubernatorial runs. They also note that Scott has little need to campaign, given that his hours-long press conferences have been broadcast live on the state's television and radio stations two to three times a week since March.
"I'm sure he would prefer to skip not only the debates but the primary itself," said Brookfield attorney and farmer John Klar, who is challenging Scott for the Republican nomination. "Perhaps he's too busy for the primary."
Pat Winburn, a Bennington attorney seeking the Democratic nomination, said of Scott's reluctance to campaign, "What does that say to Vermont? 'I'm anointed. I'm the king of Vermont. And I should be reelected without letting anyone know what my views are.' That's not the American way."
Scott has recently said he would take part in at least some campaign activities — including two to three debates — before the August 11 primary. "I do feel that I owe it to the competition, as well as to the process, to get myself involved in the last three or four weeks," he told Seven Days last week.
His competitors have also begun to emerge from campaign quarantine, holding occasional in-person events and press conferences. Late last month, Zuckerman attracted about 100 carloads of supporters to a socially distanced, drive-in rally at a Williston farm.
Despite his early indecision over whether to remain in the race, Zuckerman ultimately opted to stick it out. "One, I didn't think it would be fair to all the people who jumped into the lieutenant governor's race," he said, referring to the crowded field to succeed him. "Second, I was running — I am running — for governor because there are major issues that are not being addressed by this governor and won't be in the next couple of years."
He and Holcombe have essentially arrived at the same argument for why they should replace Scott: Even if he's responded well to the pandemic, he hasn't addressed the problems Vermont faced before the coronavirus arrived, and he's unlikely to solve those to come.
"Managing a crisis is like running around your house in the middle of a rainstorm, sticking your pots and pans under the holes in your roof and catching the water as it comes through," Holcombe said. "But I think most Vermonters know we need a new roof."
While many political observers may view Scott as a shoo-in, some are not so sure. President Donald Trump's presence at the top of the ballot will almost certainly juice Democratic turnout. And the state's move to universal mail-in voting in the general election could dramatically change the composition of the electorate. Already, 117,932 voters have requested absentee ballots for the August 11 primary election — more than the 107,637 who voted by any means in the 2018 primary.
"I think it's going to help a Democratic challenger more than it's going to help a Republican," said former House minority leader Don Turner, the 2018 GOP nominee for lieutenant governor. "Higher turnout has not been so great for Republicans."
Former House speaker Shap Smith, who sought the Democratic nomination for LG in 2016, argued that just a few short months ago, Scott's hold on the office didn't appear so strong. "You never know," Smith said, noting that yet another economic or public health shock could be in the works. "Things can change pretty quickly."
Far Afield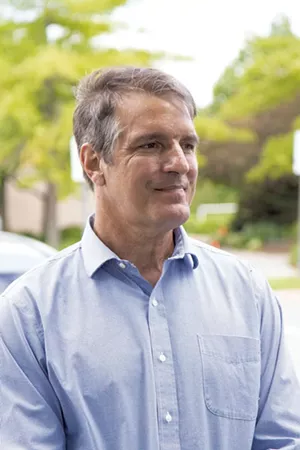 Courtesy of John Klar
Brookfield attorney and farmer John Klar
A remote meeting of the Montpelier City Council became an unlikely outlet for the Vermont gubernatorial race earlier this month. In a bid to attract attention to his campaign for the Republican nomination, Klar had petitioned the city to paint an American flag and the words "Liberty and Justice for All" on State Street. They would appear beside a tribute to the Black Lives Matter movement, which racial justice activists had painted weeks earlier in the shadow of the Vermont Statehouse.
"There should be no need to defend the flag or the Pledge of Allegiance or our police officers," Klar told councilors, adding, "Our heritage is very important for many of us." The council unanimously voted down his proposal.
The stunt gave Klar an opportunity to highlight one of his biggest beefs with Scott: that the Republican governor had praised the Black Lives Matter movement after Minneapolis police officers killed George Floyd, an unarmed Black man. "He's alienated a lot of white Vermonters," Klar said of Scott. "We don't have enough Black people here to really have a systemic kind of racism."
To Klar, who is 56, Scott's rhetorical support for racial justice represented just the latest betrayal of conservative Vermonters. "He's not a Republican. By any stretch of the word, he is not a Republican," Klar said of his opponent.
In Klar's view, the betrayals began in 2018, when Scott proposed and signed into law a series of gun control measures in the wake of the Parkland, Fla., school shooting and the discovery of an alleged school shooting plot in Fair Haven. They continued the next year, when Scott signed a bill codifying the right to abortion in state law. "That particular betrayal made me think, That's enough," said Klar, who has also served as a pastor at the First Congregational Church of Westfield. "That's just unacceptable."
Klar, who christened himself an "Agripublican" when he announced his candidacy last October, is one of 10 candidates challenging the incumbent governor. The eclectic field includes a number of perennial office seekers, such as Newbury horse logger Boots Wardinski and Chester marijuana legalization advocate Cris Ericson — both Progressives — along with Emily Peyton of Putney, an independent-turned-Liberty Unionite-turned-Republican.
Bernard Peters, a veteran Agency of Transportation employee from Irasburg, is making his second run for governor, this time as a Republican. Ralph Corbo of East Wallingford, who made headlines when he interrupted Scott's second inaugural address last year by throwing fake dollar bills from the balcony of the Vermont House, is running as a Democrat. And convicted sex offender Douglas Cavett of Milton is seeking the Republican nomination.
The field of would-be governors is larger than usual, likely because lawmakers temporarily scrapped a requirement that statewide candidates collect 500 signatures to appear on the ballot. Some are running more serious campaigns than others.
Winburn, the Bennington Democrat, had never before sought state office, but the 64-year-old personal injury lawyer set his sights on the highest in Vermont. "I'm running for governor because I think this is the year of the outsider," he said, apparently ignoring a former vice president's victory over a number of outsiders to win the Democratic presidential nomination. "People are ready for a change."
Though Winburn compares himself to Sen. Bernie Sanders (I-Vt.) and calls himself a "common, ordinary Vermonter," he has pumped at least $191,000 of his own money into his campaign. Much of that has gone to ubiquitous green yard signs and peculiar television advertisements featuring his canine companion.
"Some of you may be wondering why my dog Alphie is in most of my TV ads," the candidate says in one spot. "Well, I'll tell you: It's because he's so good-looking — and I'm not."
Winburn's fortune hasn't bought him expertise in state government. In an interview, he struggled to describe his proposals to address the opioid epidemic and provide health insurance to all. Confusingly, he vowed to advance climate change legislation authored by Sen. Dick Mazza (D-Grand Isle), a conservative Democrat who has introduced no such bills.
As others have before him, Winburn has endeavored to tie Vermont's governor to the president. "Phil Scott is a Trump Republican," he said. "His policies are Trumpian."
Such assertions are difficult to square with the governor's consistent opposition to the president. Scott says he's never voted for Trump, became the first GOP governor to support an impeachment inquiry and alleged after the Senate acquitted the president that he had "abused his powers."
Indeed, Scott's "Never Trump" bona fides have rankled Republicans who believe the governor has abandoned his own party. "He's doing it to please the left-wingers," said Ethan Allen Institute founder John McClaughry, a Kirby conservative who served as a policy adviser to president Ronald Reagan. "There are so many times this has happened. Republicans are saying, 'Maybe it's time to please us.'"
Klar blames Scott for demoralizing Vermont Republicans, which he believes has contributed to the loss of legislative seats. He's also convinced that the party faithful are ready to jettison the incumbent. "He's not very popular amongst conservatives right now," Klar said. "And he could lose the primary."
Scott has easily brushed back past challenges from the right. In 2016, he outpaced retired Wall Street banker Bruce Lisman in the Republican primary by 21 percentage points, and in 2018 — even after he signed the gun bills into law — he trounced Springfield grocer Keith Stern by 34 points.
McClaughry, who has donated $400 to Klar's campaign, said he hopes Scott's latest GOP challenger "will put some more backbone into Phil at a time when he needs to exhibit some more backbone." But even McClaughry thinks the governor will — and should — win a third term.
"I think Phil has earned reelection, from my standpoint," he said.
'Such a Nerd'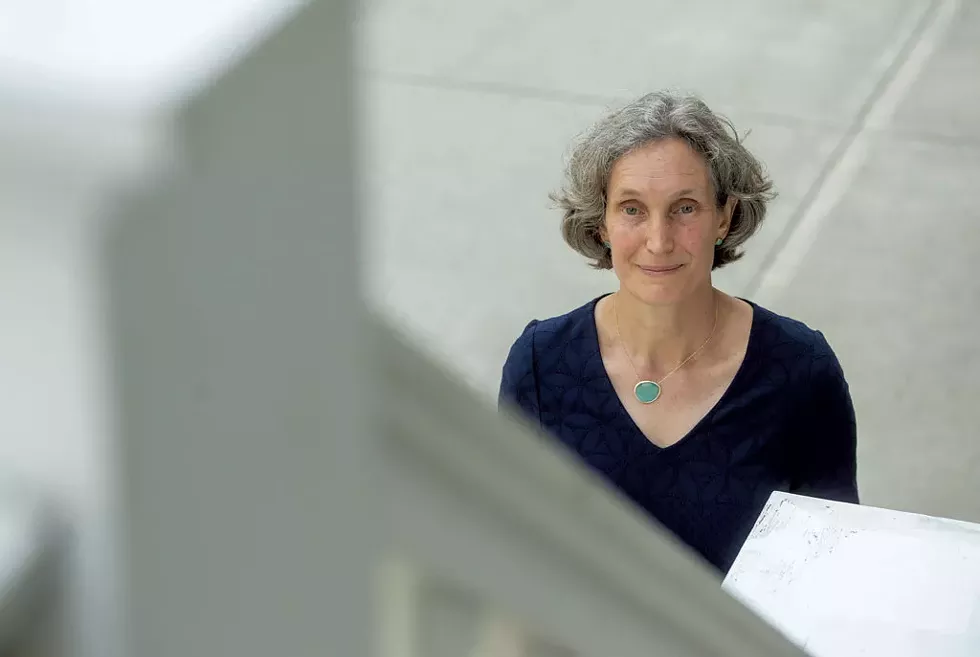 Jeb Wallace-Brodeur
Rebecca Holcombe
On a muggy morning earlier this month, Holcombe removed a cloth mask from her face and stepped toward a microphone perched on the Statehouse lawn. "I'm glad to give you an opportunity to get out early and get a little sunshine in the middle of a pandemic," the 53-year-old candidate told the assembled reporters, quickly adding that she would again don her face covering as soon as she completed her remarks. "We all need to remember that mask wearing isn't just about reducing a surge once it's here. It's about preventing one in the first place."
It was Holcombe's first press conference since the pandemic ground the campaign to a halt in March, and only three news outlets had shown up to cover it, even though the topic — ethics reform, lobbying and access to public records — was virtual catnip for journalists.
That's a problem for Holcombe, who, as a first-time candidate, needs the attention more than most. Since becoming the first to join the race last July, she has outhustled most of her opponents and proved herself a competent fundraiser. But she hasn't broken through in the way that another novice pol, Democratic lieutenant gubernatorial candidate Molly Gray, has.
Part of the problem, Holcombe's supporters concede, is that she's simply not a politician. "She's not interested in elections per se," said Amy Fowler, who became friends with Holcombe in graduate school and later served as her deputy secretary of education. "She's interested in doing the work to help the state."
Indeed, Holcombe has spent much of her career running things, not running for them: The former social studies teacher became principal of Fairlee Elementary School in her twenties, directed Dartmouth College's Teacher Education Program and served as education secretary under two governors. The Brown University alumna has two master's degrees and earned her doctorate at Harvard University, but she doesn't want voters to know it. "Please don't put that in," she said in an interview. "I'm begging you. I'm probably way overeducated."
When Holcombe recites her professional achievements, she immediately descends into education jargon and bureaucratic gobbledygook about stakeholders, dashboards, processes and quantitative reviews — all while talking a mile a minute. "That's the kind of thing that's hard to talk about in the press," she said, catching herself in an extended biographical digression.
"She's just really, like, she's such a nerd — and I mean that in the best way possible," Fowler said. "She's brilliant, but she also thinks the rest of us are intellectual."
Holcombe also appears allergic to answering questions in a straightforward fashion and has a tendency to insinuate wrongdoing without backing up her allegations. At the ethics reform press conference in Montpelier, she made clear allusions to Scott's continued financial interest in a construction company that does business with the state and to former human services secretary Al Gobeille's move to a high-paying job at the University of Vermont Health Network. But she repeatedly refused to confirm that they were the subjects of her critique.
"I'll let you draw your own conclusions," she said.
After describing her plan to slow the revolving door between public officialdom and the influence-peddling industry by imposing a five-year lobbying ban on top executive branch officials, Holcombe wouldn't even say that Vermont has a revolving-door problem.
"Not right now," she said after reporters asked four times whether she could describe the challenge she was seeking to address.
And for a candidate promising to bring transparency to the governor's office — not to mention the spouse of a Pulitzer Prize-winning journalist, ProPublica investigative reporter James Bandler — Holcombe has been reluctant to engage with the press. During her tenure as education secretary, she repeatedly declined interview requests from Seven Days.
Krista Huling, a former chair of the state Board of Education who now serves as treasurer of Holcombe's campaign, says there's a simple explanation for that. After the governor who first appointed her, Democrat Peter Shumlin, left office, she found herself increasingly at odds with the Republican governor who reappointed her: Scott. "She didn't like giving interviews because she had a hard time defending his policies," Huling said.
When Holcombe finally had had enough, in March 2018, and resigned from the Scott administration, she wouldn't even explain the reasons for her departure, though Bandler left bread crumbs on social media making clear that there had been a rift. "Part of it is, Gov. Scott was elected by voters. I was not elected by voters," she recently explained. "So that is why I declined to comment at the time."
Holcombe now says her resignation was prompted by Scott's repeated demands that local school boards cut spending in order to slow the rise of property taxes. She was particularly incensed when, after boards managed to meet Scott's targets — and then some — Finance Commissioner Adam Greshin said it still wasn't enough and that it was "time for state policy makers to take over."
"We know how important it is for everyone to have a fair chance at getting educated so they can go out and be a productive citizen and contribute to our economy," she said. "I just couldn't serve that goal in the context of this administration."
According to Holcombe, when she told Scott she was considering leaving, it was the first time in their 15 months working together that he met with her one-on-one. Until then, she said, she had been relegated to reporting to chief of staff Jason Gibbs or more junior employees. Her second one-one-one meeting with the governor came later that week as she formally tendered her resignation.
While Holcombe may be best known for her continuing feud with her former boss, those who know her well say what really matters is her devotion to public service and educational equity. Those values came to her early — the result of an unconventional childhood.
Holcombe's father was an economic development officer with the United Nations, and her mother worked in maternal and child health for a variety of NGOs. The family moved to Afghanistan just before she began fourth grade and left four years later, after the U.S. ambassador — a friend of her father's — was killed in a botched kidnapping. Their next posting, in Pakistan, coincided with the 1979 torching of the U.S. embassy. Shortly thereafter, Holcombe's parents sent her to an American boarding school and relocated to Fiji and then Sudan, where Holcombe would later volunteer at a refugee camp.
"What we saw was pretty exaggerated income inequality, poor health outcomes, poor educational outcomes, and so certainly that shaped my commitment and my belief in the power of public institutions," she said. "I saw the destruction and devastation that people really feel when political systems fail."
Holcombe's commitment to human rights was evident in the classroom, according to former student Robby Mook, an Upper Valley native who managed Hillary Clinton's 2016 presidential campaign. More than 25 years after she taught him eighth-grade social studies at a Hanover, N.H., middle school, Mook still remembers her orchestrating a mock trial involving the Rwandan genocide and taking the class to see Schindler's List.
"It was pretty heavy stuff, now that I think about it, for eighth grade," he said. "I think I'm a more compassionate and, frankly, just a more active citizen than I probably would have been otherwise."
One Foot in, One Foot out
James Buck
Lt. Gov. David Zuckerman
As he cranked open a high tunnel on his Hinesburg farm one recent morning, Zuckerman contemplated his career in agriculture. "I think farming chose me," the 48-year-old lieutenant governor said.
Though he grew up in the suburbs of Boston, the son of a thoracic surgeon and a chemist, Zuckerman spent most summers at his family's rural Virginia farmhouse, not far from Shenandoah National Park. "And that's when I got an affinity for this landscape," Zuckerman said, gesturing east toward the spine of the Green Mountains.
After studying at the University of Vermont, Zuckerman worked on a series of farms — at one point, alongside future House Speaker Mitzi Johnson (D-South Hero) — and eventually started his own organic enterprise in Burlington's Intervale. Now, he and his spouse, Rachel Nevitt, grow 50 crops and raise pigs, chickens and rabbits on a 155-acre plot of land near the border of Chittenden and Addison counties. "It is, foolishly, a little bit of everything," he said.
Other than his trademark ponytail — "There's less hair than there used to be," he admits — nothing could be more central to Zuckerman's political brand than his vocation. His campaign logo is a silhouetted tractor, and his video ads feature the Carhartt-clad pol shoveling hay and feeding hogs. He happily performs the morning chores for notebook-wielding reporters, though he admits that he usually sticks to desk work while juggling his duties presiding over the Senate and campaigning for governor. Whenever anyone calls, he makes sure to fill them in on his latest agricultural endeavor.
"I just fed the chicks and watered them and moved them," he reported to Sen. Jane Kitchel (D-Caledonia) when she reached him by cellphone in a back field.
Zuckerman even lives in a silo — two of them, actually — which he converted into a barn-side apartment. "I jokingly say, and you can laugh at this, but I say I live in silos; I don't think in silos," he said, waiting expectantly for a chuckle.
Almost as central to Zuckerman's political brand is his association with Sanders, whom he has seen as a mentor since watching him speak at UVM in 1992. "There was a guy that wasn't even trying to be everybody's friend. He was fighting for what he believed in, and he didn't take corporate money," Zuckerman said. "That was inspiring to me that that could exist in national politics."
Two years later, Zuckerman ran unsuccessfully for a seat representing Burlington in the House as a member of the Vermont Progressive Party. Two years after that, at age 25, he won. Ever since, with the exception of two years, he's spent his winters at the Statehouse, eventually becoming chair of the House Agriculture Committee, a member of the Senate and, in 2016, lieutenant governor. Though he has also sought the Democratic nomination since he first ran for the Senate in 2012, he considers himself a Progressive first and foremost and is the party's highest-ever elected official.
Like Sanders, Zuckerman prides himself on his long-standing advocacy for causes that were not popular at the time but have since become so. When the legislature voted in 2000 to establish civil unions for same-sex partners, he was one of just 22 representatives in the 150-member House who backed an amendment that would fully legalize gay marriage — nearly a decade before that came to pass.
Zuckerman was an early and strident advocate for end-of-life choices, minimum-wage increases, GMO labeling and the legalization of cannabis. "I don't find many folks like Bernie and like David who are championing people's movements in the same way they ask people to champion them," said Rights & Democracy executive director James Haslam, who has organized alongside Zuckerman for two decades.
Though Zuckerman has earned Sanders' endorsement in previous races, the senator has yet to weigh in on this one. Two organizations associated with Sanders, Our Revolution and Rights & Democracy, have endorsed Zuckerman, while the pro-choice EMILY's List has backed Holcombe.
The lieutenant governor and his supporters say the secret to his success — legislative and political — is to get outside the Statehouse and engage in advocacy work throughout Vermont, holding meetings in public libraries, Rotary clubs and grange halls. "That's kind of how I've always been in Montpelier — a foot in the building and a foot out around the state, organizing," he said.
Zuckerman's skeptics, however, say his actual impact on the fate of the bills he champions is occasionally overstated. "I think he can take credit for highlighting and advocating legislation," said Smith, the former House speaker, who lost to Zuckerman in the 2016 primary. "I think the fact of the matter is that most of the legislation he has highlighted and advocated for has been carried into law by other people."
Even Zuckerman admits that he has little to show for his four years as lieutenant governor, other than serving as what he calls "an ambassador for democracy" and sending a regular e-newsletter to tens of thousands of Vermonters. "I'm not gonna name for you a ton of policy successes," he said.
According to Zuckerman, that's the nature of the job, which comes with few real responsibilities. He also blames Scott for refusing to include him in his cabinet — or even listen to his ideas. Like Holcombe, he complains that the governor hasn't given him the time of day. "I've had one face-to-face, 30-minute meeting in four years," he said.
The state's No. 2 job has been frustrating to Zuckerman for other reasons, according to Sen. Chris Pearson (P/D-Chittenden), a longtime friend and political ally. As the Senate's presiding officer, Zuckerman rules on parliamentary matters but is not permitted to engage in debate — and only votes when there's a tie. "It's a very difficult task for someone with a lot of political opinions," Pearson said. "He is talking all the time and saying nothing."
That may explain why he chose last winter to sacrifice a relatively safe seat for an uncertain run against Scott — and why, even as the pandemic further jeopardized his political mobility, he ultimately decided against seeking another term as LG.
"The time for more proactive policy is immediate, and as lieutenant governor there's very little one can do to accelerate the vision that needs to be implemented," he said. "While it would have been by far the easier race to run for reelection, I'm not there to keep a job. I'm there to influence the outcome."
Precisely what Zuckerman aims to achieve as governor isn't entirely clear. While he says he would swiftly sign into law four bills Scott has blocked— raising the minimum wage, mandating paid family leave, requiring a waiting period before the purchase of guns, and creating a tax-and-regulate system for marijuana sales — the candidate has trouble articulating new policy proposals.
Asked for two or three key priorities, Zuckerman described a germ of a plan to better coordinate the work of the state's Agency of Human Services and Agency of Education, perhaps by stationing social service providers in school buildings. Asked for more details, he said, "I'm going to listen to the experts before telling you what the answer is."
Zuckerman said he would also raise marginal income tax rates on the highest-earning Vermonters in order to recapture revenue forfeited by the Trump tax cuts and reinvest the money in renewable energy, affordable housing, broadband and other priorities. But he conceded that he has not "run the numbers" and doesn't know how much he'd raise rates and how much that would net the state.
Some of Zuckerman's critics quietly wonder whether he's really running for governor this year to be governor — or whether he's actually just setting himself up for a future run for the U.S. House or Senate. Zuckerman himself says he's running to win, but he's "not gonna rule out anything" down the road.
"There's a lot of uncertainty in the future of the Vermont political landscape," he said.
Shot in the Arm?
About an hour into a humdrum debate last month cohosted by the Addison County Democrats, gubernatorial candidates were asked whether they would pledge to support whomever won the Democratic nomination.
"Yes," Holcombe said in an uncharacteristically brief response.
Zuckerman decided to elaborate. "One of the things we need to do is actually build each other up and make the case against the governor and not tear each other down," he said, adding that others in the race had been making "unfounded attacks" that might damage the eventual nominee. He was referring to Holcombe's persistent criticism of his position on vaccinations — one of the only real policy disagreements to emerge thus far in the Democratic primary.
In 2015, when Zuckerman was serving in the Senate, several colleagues sought to increase the vaccination rate in schools by repealing the state's so-called "philosophical exemption." It allowed parents to opt their children out of vaccinations even if they had no medical or religious reason to do so.
When the proposal first came up on the Senate floor, Seven Days reported at the time, Zuckerman questioned the science behind vaccinations and accused the pharmaceutical industry of pushing vaccines simply to make money. "For me, as long as there's the extreme financial conflicts of interest out there that are driving much of this debate and discussion, I have to maintain the individual right for someone to do their own research, as well, and make that decision," Zuckerman said.
When the Senate resumed the debate the next week, Zuckerman again opposed the proposal and called vaccine science "disputed." Repealing the philosophical exemption, he argued, amounted to "adjusting the laws of our state to such that someone else is determining — we in this room are determining — what is going to go into every single person's body."
Zuckerman introduced an amendment that would delay such a repeal until the Centers for Disease Control and Prevention signed off on "a reliable DNA swab test to check for the genetic predisposition to an allergic reaction to various immunization ingredients." The amendment failed on a voice vote, and the underlying repeal of the philosophical exemption passed by a vote of 18 to 11.
At the Addison County debate, Holcombe seized the opening Zuckerman had provided to revisit the issue, calling it "a matter of life and death, because a child who is immunocompromised and cannot be vaccinated cannot go to school if our vaccination rates are as low as 45 percent." Addressing her opponent, Holcombe said, "This is a substantive policy disagreement, and you can tell me, and I've asked you to, do you disagree with your advocacy at that point? You haven't said that."
Throughout the campaign, Zuckerman has maintained that he never questioned the science behind vaccines. He concedes that, after his amendment failed, he was among the 11 senators who opposed the underlying measure scrapping the philosophical exemption, but he claims that he subsequently voted for the bill to which it was attached. That claim cannot be verified because no senator asked for a roll call and no video of the debate exists.
"The science is very clear. I've stated that I support it," Zuckerman said at the Addison County debate. "I've made my position very clear that I voted for the bill, that I support the law and will support the coronavirus vaccine being mandatory, as well."
That wasn't enough for Holcombe, who in the weeks since has continued to assail Zuckerman over the matter. In a television advertisement she began airing this week, Holcombe said he "questioned the science behind vaccines." And in a Tuesday debate on Vermont Public Radio and Vermont PBS, she said that his rhetoric had "actually undermine[d] the public health of Vermonters."
Turner, who challenged Zuckerman in 2018, thinks Holcombe's strategy is sound. "He doesn't like you to hold him accountable for his voting record, that's for sure," the former House minority leader said. "If she can hold him to account on that, he'll get mad — and when he gets mad, he gets off his game."
If Zuckerman wins the Democratic nomination, the issue is likely to reemerge in the general election. In a May press release, the Republican Governors Association pilloried the lieutenant governor as a "fringe anti-vaxxer" — an ironic attack, given that several Republican governors have espoused similar views.
A poll conducted last month by the firm We Ask America found that 62 percent of Vermonters were less likely to support a candidate opposed to vaccinations. (That poll, which had a margin of error of plus or minus 4.4 percent, also found that Scott would crush both Zuckerman and Holcombe, by 35 and 42 percentage points, respectively.)
Zuckerman points to a different set of numbers when trying to make the case that he's the most electable candidate in the Democratic field. In 2018, he notes, he picked up 7,000 more votes in his reelection race than Scott did in his. (The LG generally doesn't mention that, two years earlier, in a higher-turnout presidential election year, Scott collected 7,000 more votes than he did.)
Neither result may say much about what would happen in a head-to-head matchup, given that many Vermont voters have clearly supported both candidates in the past and haven't had to choose between them.
According to Smith, it would be a mistake to sell his former primary opponent short. "The thing about David is, he never stops working, and people underestimate the network that he has throughout the state at their own peril," the former House speaker said. "His 20 years of activism has created a web of contacts that he uses in his campaigns — and he's good at it."
Holcombe's supporters contend that she has been given short shrift in the campaign, in part due to her gender. "There's a different standard for being a woman in leadership, and I think that's underappreciated," said Huling.
But they also argue that what voters really value in a crisis is experience, and they think she has more of it than Zuckerman.
"For me, it's really important that the governor knows how to govern and knows how to govern complex organizations, as opposed to beating the drum for the Progressive agenda and being sort of a professional cheerleader," said Vermont Partnership for Fairness & Diversity executive director Curtiss Reed, who has endorsed Holcombe.
Asked to make the case that she's the more electable candidate, Holcombe cited her experience as an executive, building consensus and managing complex budgets. When Seven Days noted that budget balancing might not be the most exciting political talking point, she said, "I think you're speaking to one of the challenges of our political system, which is, perhaps what makes people good candidates isn't always what makes them good at government."
But, Holcombe added, "I actually think Vermonters know that we're in serious trouble right now, and what they want is someone who will be able to stop kicking the can down the road and actually get to work on some of these problems."
Speeding Ahead
As Scott's 10 rivals circle around him, he appears perfectly content to ignore them and focus on his day job.
"These are unique times, and this is a unique campaign," he said.
The governor's unwillingness to hire a campaign staff has certainly resulted in some unique situations. He said he has personally helped his volunteer campaign treasurer, Glen Wright, fill out mandatory campaign finance forms — and he has taken interview requests from his personal campaign email account.
As for when he'll feel comfortable enough with the public health crisis to engage in a more traditional campaign? "I can't say at this point in time when that's going to be, but I'll know it when I see it," he said.
In the meantime, the 61-year-old Berlin resident says he's confident voters have gotten to know him well enough during his two decades in public life — as a state senator, lieutenant governor and now governor — and he's gotten to know voters well enough, too. "I feel as though I have my finger on the pulse of Vermont," he said. "I think the middle-of-the-road approach is what is desperately needed right now."
"I think he has an impressive ability to be flexible," said Minter, his 2016 rival, noting that, earlier in his career, he held more conservative views on abortion, gay rights and guns. "That flexibility and those positions make it hard, I think, for Democrats to oppose him on some very important social issues."
But Scott continues to infuriate the left over some positions, including his recent reluctance to embrace a mandatory mask policy or universal mail-in balloting.
In his nearly four years as governor, Scott has rarely proposed big new ideas, and he's certainly not planning to do so this election cycle. With no end in sight to the state's economic and budgetary woes, he's clearly conscious that whoever leads the state next year will be lucky to just tread water.
All the governor seems willing to promise is more of the same — and he seems confident that's what voters really want.
"We need steady, experienced leadership right now — an experienced hand at the wheel, so to speak," he said. "I just think that it makes a tremendous amount of sense for there to be consistency in place."