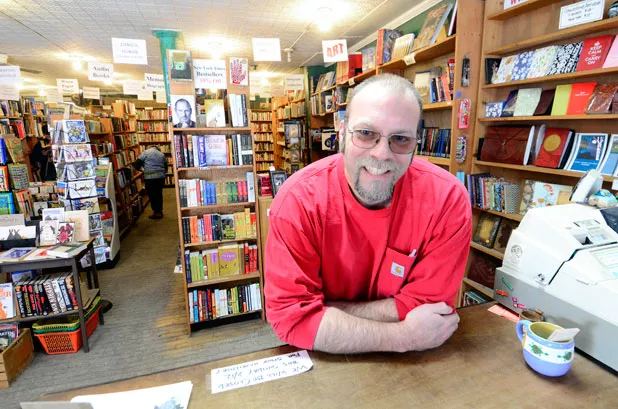 For Carlo Rovetto, there is no shortage of challenges doing business in Montpelier. His upscale downtown pizza shop, Positive Pie, was flooded twice last year — first in May when the Winooski River poured seven feet of water into the restaurant's basement prep area, and again in August when Tropical Storm Irene swept through. Plus, according to Rovetto, insurance premiums are up, the economy is down, his employees have nowhere to park and the town's infrastructure is falling apart.
"When it comes to the merchants, we're all struggling," Rovetto says. "I can't keep … staying up at night wondering if I can make it another month."
Now Montpelier's downtown business owners have a new worry: a pair of ballot items that propose levying a 1 percent local tax on sales, rooms, meals and alcohol that together would raise an estimated $570,000 a year. The change would effectively shift some of Montpelier's hefty tax burden from residents to those who work, shop and own businesses in the city.
"The merchants are terrified. We're afraid," says Rob Kasow, who owns Rivendell Books and Bear Pond Books. "It's a very difficult environment, and it's very frustrating that our leaders are making it even more difficult."
Critics of city government say Montpelier has overreached — that the city of just 7855 spends too much on regional transportation and human services, a proposed district heating plant and a 17-member police department. They say Montpelier simply doesn't know how to say no. It has the highest municipal tax burden in the state but can't afford to repave roads or fix crumbling sidewalks.
"They haven't really looked at a fine enough distinction between wants and needs and, like everybody, the city is going to have to learn to live within its budget," says Terry Youk, who owns the Savoy Theater. "To me it has the feeling of desperation."
The grousing is not limited to business owners. Last November, a group of more than 200 residents and property owners signed a letter to Mayor Mary Hooper and the city council arguing that "the current trajectory of city spending and taxes is not sustainable." Letter signers called on city government to find a way to cut the budget by 3 percent.
"Our concern was, if our [property tax] rate keeps going up, it's going to drive out the middle class," suggested Thierry Guerlain, who helped draft the letter and is now a candidate for city council.
Hooper says she understands her constituents' complaints that property taxes are too high, noting that while residents paid for just 53 percent of the city budget in 1985, they now pay 66 percent. That's because residential property values grew faster during that time than nonresidential property values, she claims.
"Montpelier has 8000 residents at night and 20,000 people during the day," she says. "We're happy to host state government and all the array of the commercial sector, but we're just simply looking for a fair and equitable way of providing the services the visitors to the community ask for."
That's why Hooper is hoping voters will approve the proposed local taxes on commercial services. One measure on the ballot next month would add a 1 percent "local-option tax" to Vermont's existing 6 percent sales tax. Another measure would add 1 percent to the state's existing 10 percent alcohol tax and to the 9 percent rooms and meals tax. City manager Bill Fraser estimates that, after the state takes a 30 percent cut of the new revenue, the two provisions would add $570,000 to city coffers.
Ten Vermont municipalities already exercise a local-option tax and 11 towns tax for rooms, meals and alcohol. Most of them are ski, college, shopping or tourist towns such as Manchester, Stratton, Killington and Middlebury. Burlington, South Burlington and Williston also charge extra for the privilege of doing business there.
Hooper believes that a significant portion of that money would come from Montpelier's largest businesses, such as National Life Group, Union Mutual of Vermont and Vermont Mutual Insurance Group. That's because the sales tax applies not just to point-of-sale purchases but also to business overhead costs such as heating oil.
National Life spokesman Chris Graff says that since the company spends $17.5 million a year on sales-tax-eligible purchases, such as software, office supplies and fuel, his company would be subject to an additional $175,000 in local taxes. Graff says National Life has not taken a position on the matter.
"Our feeling is, the city needs to decide what is a fair tax structure. That's not up to us to decide," he says.
Small-business owners like Kasow say that regardless of whether heavy hitters such as National Life pay the bulk of the new tax, their own profit margins are too small to bear any additional burden. Already facing competition from online retailers, Kasow worries that shoppers will bypass Montpelier in favor of places like Berlin, where there is a proposed expansion to an existing Walmart that already gives Montpelier plenty of competition.
Kasow also takes issue with the notion that out-of-towners should foot Montpelier's bill.
"I think that's a very dubious argument because, without those people, Montpelier doesn't exist," he says. "We'd just be another lonely, dusty town."
Youk says the proposed taxes would hit the Savoy in several ways. Because doling out change slows down ticket sales, Youk prices his tickets at a flat, $9 rate. Rather than raise prices by a buck, Youk said he would absorb the point-of-sale tax. He would also pay more for the projectors, screens, bulbs and sound equipment he purchases.
"It's a double whammy for us," he says. "For a theater like Savoy, which is always on the ropes as it is, it certainly doesn't help. In our case, as in the case of many businesses, we can't just pass it on to the consumer."
After eight years as mayor, Hooper will relinquish the post next month. Former school board chairman John Hollar is the sole candidate vying to replace her. He says that local sales taxes can be prudent if tied to a specific improvement, such as a parking garage, but they should not be imposed simply to pay the bills.
"I think we ought to be able to pay for our core municipal infrastructure needs out of our current property-tax revenue," Hollar says.
Where will he find savings? Hollar says he's committed to improving the city's roads, bridges and sidewalks, but will take a close look at police and fire services.
Richard Sheir, a computer consultant and former city auditor, says the problem ultimately boils down to Montpelier's inability to cut anything.
"We're living as if we're a town of hundreds of thousands," he says. "It's a case study of Vermont culture. We can't make cuts. We can't psychologically cut what we built, so what we do is we borrow."
Case in point: After Guerlain and other concerned residents sent their letter requesting a 3 percent, across-the-board cut, city manager Fraser came up with a menu of options that could have reduced the budget by as much as 5 percent. Those included cuts to cultural events, transportation services and public safety. But the city council ultimately rejected many of the cuts and presented a budget that — when factoring in items that were included in last year's budget but which will be voted on separately this year — is up 2.3 percent.
Like Sheir, Kasow thinks Montpelier residents want too much from the city — and, as a result, don't end up with the basics.
"They have big hearts and they typically approve every spending request that is made, and it's affected our ability to keep our infrastructure intact," he says.