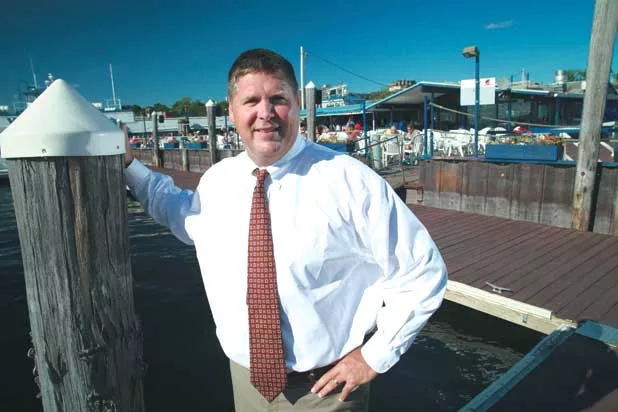 Matthew Thorsen
Al Gobeille
Al Gobeille is neither an ideologue nor prone to hyperbole. But ask him to identify the biggest threat facing the country today and he doesn't hesitate: the American health care system, he responds — and, by default, Vermont's.
"I think it's more dangerous than Russia or China or anything that's going on with Snowden," he says of the NSA leaker who's dominated the news this summer. "If you consume all of your monetary resources, which health care could do on the trend it's now on, what kind of country will we have?"
Last week, Gov. Peter Shumlin formally appointed the 49-year-old Burlington businessman and Shelburne resident as head of the Green Mountain Care Board. The five-member board — Gobeille's is the only full-time paid position — is charged with overseeing the implementation of Vermont's health care reform law, which aims to slow rising insurance rates, control hospital expenditures and contain health care delivery costs. Gobeille, who's served on the board since its inception two years ago, took over from Anya Rader Wallack, who is considered to be the chief architect of Vermont's health care reform legislation.
Why did the governor choose a Burlington restaurateur with no experience in the health care industry — and little formal training in business, economics or finance — to oversee the nation's most ambitious health care reform effort?
Those who know Gobeille say it's a testament to his intelligence, wit, leadership and team-building skills, as well as his ability to distill large amounts of information into terms everyday Vermonters can understand.
"I work in an industry that is all about the average person," Gobeille explains. "I clean toilets and bus tables when I'm at work ... As someone who counts shrimp, this is a very natural setting for me."
Gobeille says that in order for health care reform to succeed in Vermont, it must run like a good restaurant: It must be efficient and affordable, keep its health care customers healthy and satisfied, and pay its "servers" — hospitals and health care providers — well. If it can do all that, he says, the establishment will thrive. Otherwise, it'll go belly up.
And Gobeille knows what it takes for a business to succeed. His company, Gobeille Hospitality, owns four restaurants and catering businesses in Burlington: Shanty on the Shore, Burlington Bay Market and Café, Breakwater Café and Grill, and Northern Lights Cruises. With 230 employees, Gobeille has a unique perspective on skyrocketing health care costs. A few years ago, he says, a family insurance plan for a full-time employee cost $2000 year and had a modest deductible. Then it went to $11,000 a year with a $3500 deductible.
By 2018, he notes, the same insurance coverage is expected to cost $25,000 with a $10,000 deductible.
Such double-digit cost increases hit even closer to home when Gobeille's son needed abdominal surgery a few years ago. Between deductibles, copays and prescription drugs, he paid $21,000 that year for his family's health care — despite being "insured." It dawned on him that if one of his employees faced the same dilemma, half of their gross salary could go to pay for a health care emergency.
"I couldn't live with that," he says, adding what has become a mantra around his office: "That can't be our plan."
What is Gobeille's plan? First and foremost, he says, we must depoliticize the debate and focus on the problems themselves. Recently, he watched two talking heads on opposite sides of the health care debate argue over Obamacare in a way he describes as "venomous."
"It's the most important domestic problem facing our country, and we're fighting over it like we're in front of Judge Judy," he says. "That's not going to help the guy who just paid $21,000 for his son's operation. We've got to do better than that."
Gobeille was on the board of the Visiting Nurse Association of Chittenden and Grand Isle Counties when he was first appointed to the Green Mountain Care Board. He resigned to avoid any potential conflict of interest — but not before VNA president and CEO Judy Peterson noted his knack for boiling complex issues down to simple analogies.
Gobeille likens health care reform to a water-main break that's flooding your neighbors' basement. "Do you ask each other what your politics are? No," he says. "You start fixing the basement."
Friends and colleagues say that roll-up-our-sleeves approach to problem solving allows Gobeille to relate to everyone from the dishwashers in his kitchens to the CEOs of Vermont's 14 hospitals. Not surprisingly, he earns praise on many levels.
"One of the great things about Al is that he had a real compassion for our frontline workers," Peterson adds. "He always thought about what the staff needed and made sure they were treated well, to try to have fair benefits and wages, but also good training and what motivates people."
Falko Schilling, consumer protection advocate for the Vermont Public Interest Research Group, has a similar view.
"A number of times you'll see him looking at a very complex issue, and then he'll stop the meeting and bring it back to, 'OK, what does this mean to the people who are working in my restaurant?'" Schilling says. "That's really refreshing when you're doing this kind of work, which involves a lot of numbers and theories. Al does a really good job of keeping things focused on what this will mean to real people in Vermont."
Gobeille served as board chair of the Burlington Business Association until his four-year term ended in April. Whether he was attending a committee meeting or giving a speech at an annual dinner, BBA members couldn't miss his deadpan sense of humor.
At a recent Green Mountain Care board meeting, he sequed, "Now, we'll move on to something that's actually interesting."
But Gobeille's amiable style is paired with a serious work ethic, says BBA executive director Kelly Devine. She suggests his military background may account for the discipline
"I would not in any way characterize Al's leadership style as militaristic," she emphasizes. "I would characterize it as highly adaptive, with a very high sense of emotional intelligence. So when he works with people, he really has an ability to get a sense of who they are and what makes them tick."
Gobeille, 49, was born and raised in Wakefield, R.I. Although both his parents were health care professionals — his father was a doctor and his mother a medical technologist — his father left home when he was very young, so he doesn't remember his dad's medical practice.
Gobeille first came to Vermont to attend Norwich University, where he studied biology and for a time considered a career as a physician or laboratory researcher. But at Norwich, his true "major" was the armed forces, and after graduating as a second lieutenant in the U.S. Army, he served four years on active duty, then another six in the Vermont National Guard.
While in the Army, Gobeille met his wife, Kim, a Vermont native. When his active duty ended, the couple returned to Vermont and worked at the Shanty — Kim's parents' business. The Gobeilles purchased it from the older couple in 1996. Al and Kim later built Burlington Bay, then leased the Breakwater Café and Grill from the Pecor family, "and the rest" as Gobeille says, "is history."
The unexpected transition from food prep to health care policy left some people scratching their heads, but Gobeille seems to be winning over the skeptics with a combination of charm and common sense packed into seven-day, 80-hour work weeks.
Paul Harrington, executive vice president of the Vermont Medical Society, which represents two-thirds of the state's 1800 physicians, admits that his organization initially had "a lot of questions" about Gobeille's "unusual appointment" to the Green Mountain Care Board, largely due to his lack of experience. However, Harrington has since changed his mind about Gobeille.
"He has certainly impressed me and other physicians in the Vermont Medical Society as an extremely hardworking individual who takes the job very seriously and is very committed to health care reform in Vermont," says Harrington, whose organization remains concerned about the effect of health care reform on physician recruitment in Vermont. "He's a real straight shooter."
On the flip side is James Haslam, executive director of the Vermont Workers' Center, which launched the "Health Care Is a Human Right" campaign. Haslam admits he's unsure about having a "business guy" steering the ship of reform, in part because "if left to its own devices, it could turn out to be just another insurance product that resembles what is wrong with our current health care system."
Nevertheless, Haslam says that Gobeille "seems to understand that the market-based system we have now is not working."
Tim Pudvar, who chairs the Shelburne selectboard, on which Gobeille still serves, calls his fellow board member "one of the hardest-working guys I know. Al has an ability to take a volatile situation and disarm the situation and really get to the root of the issues. And he does it in a very unassuming, and sometimes even humorous, way."
That much was evident last week after former Vermont governor Howard Dean, himself a physician, criticized national health care reform efforts, including those in Vermont, for not checking the rise on costs. Gobeille didn't take Dean's remarks as personal criticism but rather as ignorance of the progress Vermont has already made.
"A lot of the things he said we should be working on, I just don't know if he knows we are working on," Gobeille explains. "His point was, if all you're going to do in a bubble is change physicians' pay, I agree with him. If all you're going to do in a bubble is change rates and make insurance companies charge less, that won't accomplish anything, either."
"I never was a single-payer advocate, or an advocate of anything," Gobeille adds. "Whatever we come to, as long as it works for doctors, patients and business, we'll have dealt with the flooded basement. And I'm OK with that."