Mark Davis
Burke Mountain Hotel & Conference Center
The most sought-after businessman in the Northeast Kingdom works out of a Fort Lauderdale, Fla., office, visits Vermont every couple of months and offers awkward flatlander talk about "leaf-changing season."
But at the September opening ceremony of the Burke Mountain Hotel & Conference Center, Michael Goldberg, the "receiver" a federal judge appointed to manage and eventually sell the ski resorts at Jay Peak and Burke, was the man everyone wanted to congratulate — if they could find him. As Gov. Peter Shumlin and other officials cut a large red ribbon and shook hands, Goldberg stood awkwardly at the rear of the crowd, avoiding television cameras and well-wishers as best he could. When Shumlin dragged him in front of the press later that day, Goldberg ignored the governor's jokes about becoming a "Vermonter." Unable or unwilling to try his hand at spin, Goldberg earnestly told reporters: "We need good coverage."
Goldberg is mopping up a colossal mess made by the two men who headed Burke — and its sister mountain, Jay Peak. In April, the U.S. Securities and Exchange Commission filed civil charges against Florida businessman Ariel Quiros and Northeast Kingdom resident Bill Stenger, accusing them of running a $200 million "Ponzi-like" development scheme. Since then, much of the focus has been on Jay Peak, the duo's first and biggest project.
But as the winter nears, it is Burke Mountain, nestled in a tiny village east of Lyndonville, which faces a more uncertain future. Locals and industry experts view the 116-room hotel as the ski area's last, best shot at long-term survival — if the new lodge can be integrated without detracting from the mountain's signature charm.
Goldberg acknowledged that Jay Peak has long been on more stable footing. But with the dogged insistence of a public-relations professional, he asserted that Burke's first-ever hotel will finally allow the smaller mountain to thrive.
"Jay has a lot more history and historical operating numbers," Goldberg said. "We don't know how Burke will do, because we have no historical numbers to judge it by. We know we make money in Jay."
Burke could make money, too, Goldberg predicted, "if we have good snow."
Burke isn't the brightest star in Vermont's skiing firmament. It is a long drive from populous Chittenden County, from which skiers can get to the elite resorts of Stowe, Sugarbush and Killington. Out-of-state skiers lured to the NEK often opt to continue another 30 miles north to the larger, more acclaimed Jay Peak.
Burke has always been an overgrown locals' mountain, attracting loyal residents and some out-of-town devotees who revel in the high-quality skiing. Burke has six lifts, 50 trails and some of the best glade skiing in Vermont, without the crowds — or frills — of the bigger-name places.
It has had just enough fans to keep the mountain running — most of the time — but never enough to place it on firm financial footing. Industry observers said it needed a hotel.
"The down-home, easily-accessible-because-there-weren't-crowds feel is great for the skier loyal to the mountain, but it doesn't serve the long-term sustainability of any ski area in Vermont," Ski Vermont president Parker Riehle said. "For years we always said about Burke, 'It's a great place to ski, but there's no place to stay.' It was almost a tagline for them."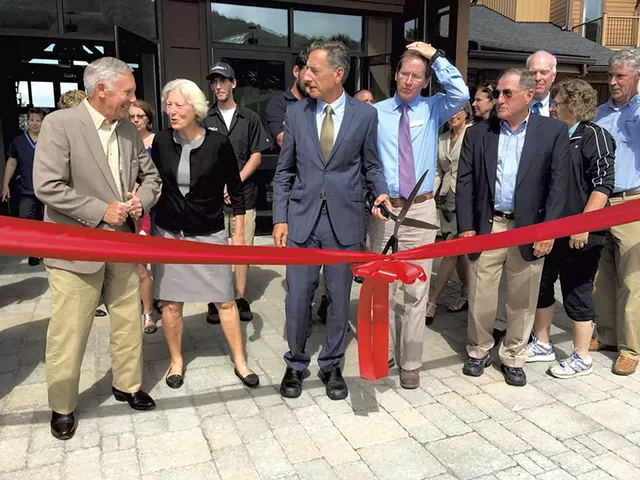 Mark Davis
Gov. Shumlin at the opening ceremony
Burke Mountain has gone bankrupt twice, in 1990 and 1999. It may not have survived without the presence of Burke Mountain Academy, a private school for elite ski racers that produced 2014 gold medalist Mikaela Shiffrin and dozens of other Olympians since it opened in 1970. Most of the school's 66 students, in grades 8 through 12, live at the academy.
The school has provided a reliable income base and, over the years, a core of deep-pocketed alumni and their families who remain devoted to the place.
Its most influential benefactor is Donald Graham, whose children attended the academy in the 1970s. Founder of a Pennsylvania investment management conglomerate with $3.5 billion in annual revenue, Graham bought Burke on behalf of the academy in 1999 to keep the school going. He held on to the property until 2005, when the academy sold it to the Florida-based real estate developer Ginn Company.
Graham said that Goldberg has positioned the mountain for the future.
"We couldn't speak more highly of him and his conduct. What he says is what he does, and what you see is what you get," Graham said. "And that's not always the case with all receivers. He seems to have a clear interest in the success of Burke Mountain Academy and the mountain in the long term. He's willing to do his best. A lot of receivers just get their paycheck and flip it."
Quiros bought Burke in 2012 from a subsidiary of Ginn, which struggled during the Great Recession. He and Stenger had already built a new hotel and aquatic center at Jay Peak using funding provided by the federal EB-5 Immigrant Investor Program that gave foreign investors who contributed $500,000 a clear shot at citizenship. Bolstered by their success at Jay, Quiros and Stenger planned to use the same financing method to build a hotel, a tennis facility and an aquatic center at Burke.
Quiros paid $7.2 million for the mountain in what Stenger told Vermont Business Magazine was a debt-free deal.
Only the hotel got built. It has two wings connected by a timber-framed lodge, and it looks much like Jay Peak's Tram Haus Lodge. Tucked halfway up the mountain, just down the slope from the midmountain express lift, it offers breathtaking views of the glacier-carved Willoughby Gap in nearby Westmore.
Although it feels generic and a little antiseptic, the hotel is aiming for that sweet spot between fancy and functional. There's plenty of wood paneling and granite in the new lodging complex. It has an arcade, an outdoor pool, a small fitness room, a pub and an all-season, 5,000-square-foot banquet space for weddings and events. The restaurant is scheduled to open once the snow starts flying.
The other noticeable change at Burke: The hated Qs are gone.
When he bought the mountain, Quiros rechristened the place "Q Burke" — after himself. Then, like a dog marking its territory on neighborhood trees, Quiros stamped every sign and piece of stationary with a Q. Burke regulars regarded the move as nothing less than defilement.
Q was a representation of the attitude and disrespect for the community," Graham said, pointing out that alienating locals — in a state known for supporting locavore ventures — was just bad business.
In another nod to Burke's history, Goldberg's team has indicated that it will abandon Quiros' plan to demolish the beloved, ramshackle midmountain lodge, where skiers trudge across plywood floors and cram into wooden tables to throw back beers between runs. It's within view of the new hotel but has a contrasting retro vibe.
Regulars have responded. Local bookings went a long way to filling the hotel to capacity for the first few weekends after it opened. Goldberg said reservations and revenues thus far are "significantly beating" estimates.
"The analogy is, a family member is in trouble and ... you're there to support them, because it is so crucial," said Tim Tierney, executive director of Kingdom Trails, an East Burke-based nonprofit that promotes mountain biking in the region. "It's family up here. Most people moved here at one point because of Burke Mountain."
On a recent Thursday night, the hotel's Gap Pub felt more like a neighborhood watering hole than a resort eatery. Couples sat at the bar chatting about their weekend hiking plans as kids interrupted them, asking for money to play arcade games. Friends greeted each other while awaiting dinner tables.
But there are still reasons for concern. Goldberg and other Burke officials talked a big game about getting the snow guns blasting by November 1 and running lifts by Thanksgiving weekend. On November 10, the snow guns were silent, and the wide brown trails were bare, except for a few white dollops that appeared to be melting. Last week, Burke was advertising a combination deal for a Thanksgiving meal and a lift ticket — "if" the mountain is open Tuesday. Goldberg said it won't be.
Earlier this month, the resort failed to pay a $441,000 tax bill to Burke Town Hall. Goldberg has pledged to make the town whole after the resort receives a $13.3 million settlement with Citibank, which allegedly bears some responsibility for failing to properly monitor Quiros' finances. (Stenger settled with the Securities and Exchange Commission in September and agreed to cooperate in its ongoing case against Quiros.)
Goldberg said he plans to sell the resorts in the spring or summer. He is noncommittal about whether Jay and Burke will be sold separately or as a package, and repeatedly hinted that he will likely be unable to recover all of the $60 million that foreign investors shelled out for Burke.
A federal judge must approve any sale, and Goldberg, tasked with recouping as much investor money as possible, will be under intense pressure to accept the highest bid, regardless of who it comes from. At the same time, there are rumblings about imminent announcements involving the Burke Mountain Academy that could put the mountain on stronger financial footing.
Goldberg might be able to get more money by selling the resorts separately. But Graham said Burke could have a better chance at long-term prosperity if it were sold with Jay, allowing the future owners to share management and achieve economies of scale.
"My job is singularly focused to make that hotel a success, because that will benefit the investors, the community, the employees," Goldberg said. "I'd like nothing better than to have people in the community feel we came in and did the right job and did our best. I think it's going to end up in the hands of a skilled hotel operator — more skilled than Mr. Quiros."
Correction, November 24, 2016: Bill Stenger is originally from western New York. An earlier version of this story contained an error.