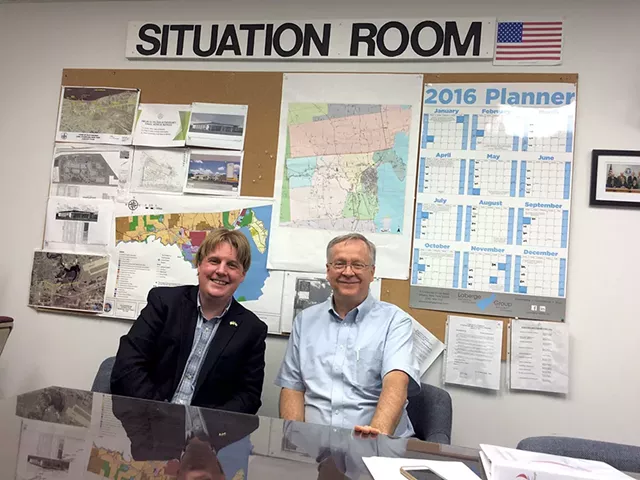 Alicia Freese
Michael Cashman and Jim Calnon
Plattsburgh officials have been using a lot of glowing terms lately. "Game changer," "transformational," "absolutely amazing" — that's how Plattsburgh Town Supervisor Michael Cashman characterizes the July 11 announcement that a Norwegian company that uses 3D printing to manufacture aircraft parts is coming to town with 400 new jobs.
Officials were similarly ebullient the week before, when New York governor Andrew Cuomo awarded $10 million to the City of Plattsburgh to help it transform a downtown parking lot into a long-envisioned city center.
Located on Lake Champlain, Plattsburgh has a storied military past that dates back to the War of 1812. But after its U.S. Air Force base closed in 1995 and thousands of jobs disappeared, the working-class community has struggled to reestablish its identity — and to rebuild the region's economy.
Today, Plattsburgh Mayor Jim Calnon says with pride, "This is a place on the move." He leads the city of nearly 20,000, which is governed separately from the adjacent town of 12,000 that Cashman supervises. The latter, known as "uptown" among locals, hosts many of the area's manufacturers within its 46 square miles.
The two men share a common goal: convincing skeptics that both town and city are on the upswing. "When people start to believe that," said Calnon, "that is a self-fulfilling prophecy."
There's some evidence that they're right: New companies have come to the town, and business has surged at Plattsburgh International Airport. Unemployment in Clinton County was 4.8 percent in May — just 0.6 percent above the state average. Downtown Plattsburgh, which is well positioned to attract Canadian tourists, looks a lot better than it did a decade ago.
But this is not the first time Plattsburghers have heard big promises. "I want to have faith," said Carla Brotherton, who has lived in the city for 30 years and owns This and That, a downtown store that sells tobacco and sarongs. But her sense is still, "The good old days are gone."
Some buildings remain dilapidated in the downtown, which can be quiet, even on weekends. The greater Plattsburgh population has declined slightly since 2010, and, despite the presence of several local colleges, officials say youth flight is a challenge. Almost half the households earn less than $35,000 a year.
That could improve, though, when Norsk Titanium sets up a 200,000-square-foot facility at the former Clinton County airport — in the Town of Plattsburgh. When the company issued a press release from a trade show in the United Kingdom, it confirmed a rumor that had been circulating in the North Country for months: It plans to invest $1 billion over the next 10 years in what Norsk claims will be the world's first industrial-scale 3D printing facility.
The private company, founded in Norway in 2004, has developed a manufacturing technique that uses 3D printing machines to create aircraft parts. Machines generate a 3D image and then "print" it by applying many thin layers of titanium wire along the desired contours.
Norsk says its process is cheaper, faster, more precise and wastes less material than the traditional process of milling down blocks of titanium into parts. It plans to have 40 machines, each of which can churn out about 20 tons of titanium parts a year, at the Plattsburgh plant, which is expected to be operational by the end of 2017. Boeing has already signed on as a customer, according to the company's July 11 press release.
Norsk's spokesperson did not respond to an interview request.
Alicia Freese
Site of proposed town center
Plattsburgh might seem like a strange landing spot for such a high-tech global operation. But during a meeting last week in the Situation Room at the Plattsburgh town offices, Cashman and Calnon argued that Norsk in the North Country makes perfect sense.
The region has worked for years to become a manufacturing mecca for transportation companies. After the closure of the Plattsburgh Air Force Base prompted an exodus of 4,000 military personnel, Plattsburgh began to recover in large part because it snagged several — first, Bombardier, which makes rail cars, followed later by companies such as Nova Bus and Demers Ambulances. Plattsburgh International Airport, established on the former base after the Air Force left, is in the midst of a $55 million expansion.
Norsk is getting $125 million from the State of New York to build its facility in partnership with the SUNY Polytechnic Institute.
Cashman and Calnon govern separate entities, but their economic interests are entwined; they recently signed an agreement that makes their collaboration official. Calnon makes the case that the 400 employees who come to work at Norsk will also help revitalize the city of Plattsburgh, located three miles from the future aerospace plant site, by frequenting its shops and renting or buying homes. The mayor mentions that "re-urbanization" — people choosing to live in urban centers — is a trend.
He also suggests that a vibrant downtown, in turn, will make the region more appealing to other companies.
"Norsk will not be our last success," said Calnon.
Cashman echoed, "It will set the tone and pace for future development in the greater Plattsburgh region." Both men made a point of mentioning that after the Norsk announcement, they started getting phone calls from real estate developers interested in investing.
The city of Plattsburgh is in a great location — where the Saranac River feeds into Lake Champlain — but gets a bad rap. After a young Bernie Sanders taped a debate there in 1972, the future Vermont senator observed in a Chittenden Magazine article: "Plattsburgh has got to be the ugliest town in the world and going there, even for just one evening, makes one appreciate Vermont and Burlington all that much more."
Since then, Plattsburgh has made aesthetic improvements, securing state and federal funding to renovate storefronts and spruce up its housing stock. There are yoga studios, numerous restaurants, two bookstores, a co-op and a farmers market. Last year, the city added a new marina, and the historic Strand Theatre, shuttered and in a state of disrepair for nearly a decade, reopened.
"It's definitely improved aesthetically," said Carol McLean, who owns Irises Cafe & Wine Bar. She started her upscale restaurant where a steak-and-seafood joint once was, in an elegantly restored brick building in the heart of Plattsburgh.
North Country Chamber of Commerce president Garry Douglas describes the urban core as "very vibrant."
That may be overselling it. Downtown was quiet on a sunny Wednesday afternoon on July 20, when a group of teens seemed more intent on tracking down Pokémon characters than patronizing local businesses. Only a few people perused the produce at the farmers market.
Bob Marbut, owner of the 20 Below deli and ice cream shop, took a break from making subs and stepped outside to point out remaining signs of decay: crumbling bricks, vacant storefronts in the heart of downtown, a rusted barrel on the bank of the Saranac, a boarded up gas station across the street.
Others have noticed similar failings. "It looks like crap," one anonymous resident observed during a public workshop last fall — feedback that was submitted in Plattsburgh's application for the city center grant. "The area needs a facelift," commented another. There were numerous complaints about too many bars and "junk stores."
The derelict gas station Marbut pointed out may soon get demolished. City officials have been talking for decades about redeveloping its 2.5-acre parcel, which also contains a 380-space parking lot overlooking the Saranac River. In 1987, city leaders contemplated building a mall on the site.
The latest proposal — which got Cuomo to fork over $10 million — is to create an urban park, which the city lacks. Along with the green space, there'd be some retail, housing units and a parking garage.
"It really is about converting a big piece of tarmac into something that takes advantage of our natural resources and gives us the opportunity to have more events," Calnon said.
The mayor says he doesn't have an estimate yet on how much the project will cost, but he acknowledges the price tag will exceed $10 million.
Plattsburgh's community development director, Paul DeDominicas, said that with the state grant, "We can now bring something to the table when we're talking to other funders or private developers." He and other officials agree that the project could help to better connect downtown and the waterfront.
Though he said he'd be glad to see the gas station go, Marbut has concerns about the city center proposal. He suggests that Plattsburgh should instead focus on simpler tasks, such as helping landlords upgrade their buildings and putting picnic tables along the river. "I would spend money cleaning up what we've got instead of spending on brand new," he said.
Brotherton is also skeptical. "Just because you build it doesn't mean they'll come."
A market study commissioned by the city in April cautions, "While the region is not shedding residents, it is not growing substantially either, which means demand for new housing is limited." But it also suggests that Plattsburgh could benefit from "a growing trend of people moving back to urban centers."
Other local business owners are more enthusiastic about the plans for a new city center. McClean at Irises thinks it will make the downtown a "destination," bringing more customers to businesses like hers.
Kim Rowe Manion, who owns a sports store called Maui North across the street from the proposed development, agreed. "I think Plattsburgh is on the cusp of something hopefully exciting," she said.
Douglas, the Chamber of Commerce's president, puts it in even stronger terms: "This is in fact an up-and-coming 21st century manufacturing community playing on a global stage."