Photo Courtesy Of Suzanne Podhaizer
Salad with nectarines, gouda and sunflower seeds
As Suzanne Podhaizer leans over her campfire, piled high with logs, newspapers and skinny twigs and blazing in the humid lakeside heat, I can't help but think: Her hair must always smell like smoke.
After only one afternoon at Podhaizer's Grand Isle State Park campsite, the perfume of that fire permeates all my clothing, barraging me with nostalgia for my sleepaway-camp summers. But this campsite has other aromas — mushroom powder, fresh fruit from a local grower, smoked salt and lemon juice — that are far more pungent than the white bread and marshmallow fluff that characterized my camper days.
Podhaizer, 41, is the new Vermont State Parks campfire chef — and the first. She created the position herself.
Equipped with a large pair of multiuse tongs and a mobile spice pantry, the veteran chef, former Seven Days food editor, and cofounder of food education and consulting company Sel de la Terre is campsite hopping this summer in 10 or more of the state's 55 parks. Along the way, she's making meals that adhere to weekly themes, such as "breakfast" or "red, white and blue," and posting recipes and photos of the dishes on the Vermont State Parks Cooks website and Instagram.
Podhaizer will also teach park visitors to cook around the campfire, starting with a class on July 28 at Button Bay State Park. When the camping season ends in early October, she'll compile the recipes and pictures into a cooking booklet for future campers.
Courtesy of Andrew Sepic
Suzanne Podhaizer
Until this week, Podhaizer was also the chef at Nomad Coffee in South Burlington; she left to focus more fully on Sel de la Terre with business partner Lucas Auger.
The idea for her summer job came from a photography internship her sister had done with the parks service in return for park access. In the spring, Podhaizer made a pitch to Rochelle Skinner, the state parks' sales and service manager, of a version of the internship that would include a culinary component. Her goal was to maximize her summer camping time, share campfire cooking ideas with the public and get people thinking about local food systems, she says.
Skinner was game, and the two drew up what Skinner called a "fair-trade barter agreement" — an exchange of cooking expertise for free summer camping.
The park service has connected its campers with cooking resources in the past, Skinner notes, including instructional videos on its website, but nothing quite like this.
"She's stepping it up, for sure," Skinner says of Podhaizer. "This is much more than hamburger and hot dog grilling."
No shade toward the classic burgers-and-dogs campfire combo, Podhaizer says. But she wants to help campers expand their horizons to be more creative, with recipes for dishes such as beer-braised beef with potatoes, cheesy grits topped with a fried egg, and sour cream panna cotta with violets and rose petals. At the same time, she wants to keep outdoor cooking as accessible as possible.
"We're not trying to be perfect," she readily admits. "We're just trying to make it good."
Easy for a professional chef to say, I think to myself. Isn't everything she makes going to be perfect and good?
But Podhaizer practices what she preaches. When we meet to talk and make dinner at Grand Isle State Park, the second campsite on her circuit, our menu includes a vegetarian pasta dish and a salad. We split up the prep, and Podhaizer is extremely undemanding: There is no particular way in which she wants me to chop the shallots or tomatoes. We don't use measuring cups of any kind because, as she notes, most people don't bring measurement tools to camp. "Eyeball it," she tells me when I ask for direction.
And, like she promised, it turns out damn delicious.
During her nine days at Grand Isle, Podhaizer's kitchen is a picnic table and a fire pit with an adjustable grate. On one side, there's a metal fence separating the site from the drop-off to Lake Champlain; on the other, Podhaizer's lean-to. Her shelter holds a small makeshift bed beside a lantern and piles of novels and cookbooks. Aprons hang from the ceiling, flapping in the breeze above a refillable water jug and a sizable stack of firewood.
The paucity of cooking machinery both limits and enhances Podhaizer's work around the campfire. There's a different kind of "muscle memory for fire cooking," she explains, than there is for stovetop cooking. The campfire has no knobs, no dials with which to adjust its temperature. The everyday act of cooking an egg suddenly becomes more complicated when the chef has to take into account the unpredictability of the fire.
But the outdoors also offers ample space for creativity and exploration — and fun. A couple of weeks ago, Podhaizer caught a brown trout by the Fairfax dam; stuffed it with lemon, thyme and shallot; and cooked it over corn husks on the fire. She posted a photo on Facebook. "I couldn't stop grinning the whole time I was cooking," the caption said.
We spend a good chunk of time prepping the pasta sauce while we wait for the water to boil; we're mercilessly at the whim of the fire. Eventually, the inferno burns bright, and we set a big, beautiful, water-filled Le Creuset onto the grill.
Right before we pour in the pasta, Podhaizer picks a mosquito out of the water. "Extra protein!" she says with a laugh.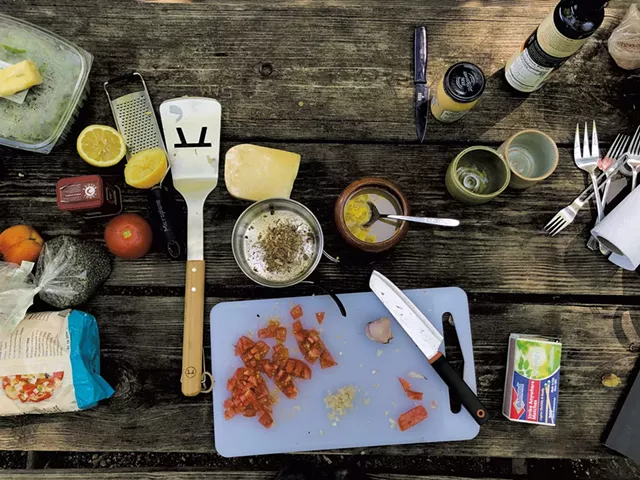 Sabine Poux
Prepping the pasta
Here, mosquitos are probably the biggest nuisance, she says, more than the cold at night. And they're certainly more of a problem than the bears, which aren't particularly aggressive in Vermont. (Phew.)
While the pasta boils, lentils, garlic, capers, shallots and tomatoes cook in a smaller pot. Podhaizer's picked Puy lentils because of their relatively quick cooking time. We add lemon for acidity and mushroom powder for umami — one of the many spices in Podhaizer's mobile rack, a small repurposed box that also houses ingredients such as smoked paprika and ancho chile powder.
The smells that waft from the fire as the tomato-lentil mixture cooks are saliva-inducing. I think of what Podhaizer told me earlier, about a camping trip she took in high school: "We were canoeing, paddling up the Winooski River, and then I'd just be so hungry. I had probably never been so hungry!" she said. "The confluence of food and smoke and hunger made everything feel incredible."
While our own confluence of food and smoke and hunger grows, we get to fixing the salad, a colorful mix of fresh, local ingredients that we throw together in the lid of the pasta pot. I'm thrilled that Podhaizer has managed to fit a grater in her pack of supplies, because we use it to shred a mountain of Gouda onto the pile of greens, which come from Last Resort Farm. We then add sunflower seeds, toasted on the fire, and slices of the freshest nectarine I've ever had.
Podhaizer's big into sourcing her ingredients from local producers and vendors and hopes her new platform will encourage other campers to support them, too. On Grand Isle, that could mean getting strawberries and mesclun from the Champlain Islands Farmers Market or beef from Health Hero Farm.
"I have been thinking that, if we can get some of those people coming from out of state information about the nearby farmers markets, the nearby farmers stands, they would be able to invest some money in local ingredients," she says. "It could have a big impact on local agriculture."
We're ravenous by the time we dig in, and it tastes extraordinary. The pasta and lentils are satisfyingly starchy and salty, and the salad, garnished with a foraged flower, is a perfect accompaniment. We both go back for seconds, and I go for thirds, too. Behind us, the fire dies, wavering with the brisk wind that blows off the lake and through the canopy of trees.
To me, it all seems like a grand adventure. And it is, but that doesn't intimidate Podhaizer. From her three-year stint as a goose farmer to her upcoming catering gig in Wyoming, she has a history of scouting opportunities to experiment and play with food and agriculture.
"I've done so many new things over the years, it's hard for me to say if I'm doing something new," she says of her summer job. "I would say that it's affecting the way that I cook, and it brings out a different side of my cooking than if I had a six-burner stove and an oven and a deep fryer.
"But I feel so comfortable with food," she adds. "It doesn't feel intimidating or scary to try something new."
Correction July 2, 2019: An earlier version of the story misidentified the date of Podhaizer's first cooking class and the source of her nectarine.