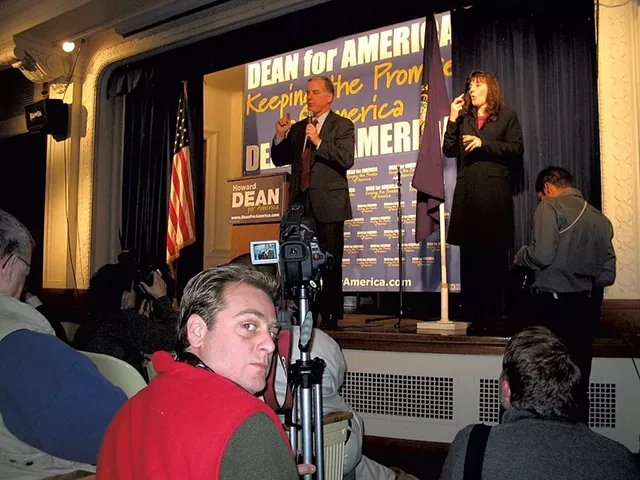 Courtesy of heath Eiden
Heath Eiden filming Howard Dean in 2004
This campaign season, Vermonters who are "feeling the Bern" might learn something from a glance back at another establishment-bucking Green Mountain presidential candidacy. They need look no further than Lessons From an American Primary, a documentary that Stowe resident Heath Eiden has made available for free streaming at stowemedia.com. Shot in 2003-2004, it's his first-person account of Howard Dean's primary campaign.
Lessons was originally titled Dean and Me: Roadshow of an American Primary. Eiden boiled it down to 85 minutes from 250 hours of footage he shot over two years of taking day trips from Vermont to follow Dean on the campaign trail.
In January 2008, during another historic primary, Eiden screened a rough cut at two local theaters and told this reporter he was seeking a distributor and funding to finish the doc. But he held back on post-production, he wrote in a recent email, because Dean was still seen as a potential candidate. When a new "Vermont barn burner" declared his candidacy, "the film kind of told us it was time to let go," Eiden said. Meanwhile, changing technology had "opened up this new form of grassroots distribution."
Twelve years after Dean's stroll in the national limelight, what Lessons does the film have to offer? In some respects, it's a conventional chronology of the primary, with frequent clips from network news coverage to glue the narrative together. It's a time capsule, too, taking us back to a time when internet contributions were still a novelty.
But there's also an intriguingly quirky personal element. Eiden starts the film by tracing his own path from New York to Vermont, where he bought a camera to document the birth of his child. "And then our neighbor down the road decided he wanted to be president," he recalls in voice-over — and Eiden found a second use for his video equipment.
The filmmaker created his own media company — DeanTV.org — so he could get press access at Dean rallies from Boston to New Hampshire to Iowa. Like an affable blond Michael Moore, Eiden appears in the film posing probing and sometimes irreverent questions to a host of media personalities, from Sean Hannity to Al Franken to late Seven Days political columnist Peter Freyne.
He captured candid moments — such as Thomas Oliphant of the Boston Globe calling Dean an "independent cuss," and Ted Mondale going door-to-door to encourage salt-of-the-earth Iowa voters to attend their caucuses. Chris Matthews offered Eiden his interpretation of the "Dean scream." James Carville opined, when Eiden asked him if the media had treated Dean unfairly, "This is presidential politics. This is not a living-room game."
Documenting an outsider campaign, Eiden sometimes found himself treated like an outsider. Alexandra Pelosi waved his camera away; another interviewee objected, "I want to talk to the real media!" Friendlier was conservative pundit Tucker Carlson, who chatted perkily with Eiden at several events, comparing the Dean scene to "a Dead show." "You oughtta be in there! They're getting kinda elitist on you!" he protested at one point, when the filmmaker's access was restricted.
Carlson also offered an ominous soundbite: "In the end, the antiestablishment candidate always ends up as part of the establishment, if he succeeds. It's a structural irony."
For his part, Eiden has taken more positive lessons from the Dean campaign. "Bernie campers can learn that, win or lose, Dean's movement is still very influential because he didn't give up," he wrote to Seven Days. "His people went on to be the gatekeepers of the new digital political movement: They are in the White House, they are everywhere..."
Eiden's film also documents Dean's opposition to the "war on terror" rhetoric that played a key role in George W. Bush's reelection — and is having a resurgence. "In the current campaign season, we continue to see how easy it is to ramp up fear among people to make yourself popular," the filmmaker wrote. "My guess is the person who has the courage to not appeal to the worst in people will come away as a great leader, because in the end, something has got to bring us all together or we all lose."