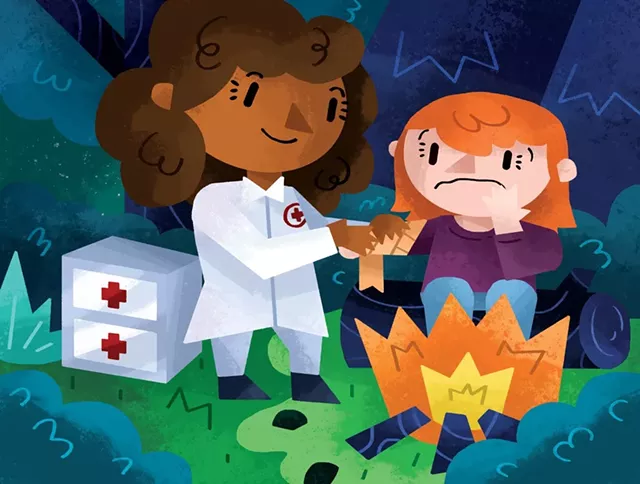 When someone suggested that Roxana De La Rosa apply for a nurse position at Camp Birch Hill in New Durham, N.H., two years ago, she balked. "I was like, 'No, thanks. That doesn't sound like fun to me at all,'" she remembers. The prospect of working solo, around the clock, without parents as buffers between her and the kids, didn't appeal to her.
But she ended up signing on for a two-week session so her then-12-year-old daughter, Jillian, could attend camp for free. "It was the event of her life," De La Rosa says.
Despite handling a lice outbreak and nursing her own broken foot that first summer, she was hooked. In July, she will return for her third year.
"I felt loved," she says. "Nursing, sometimes, is a thankless profession. But they appreciated me, and I liked that."
As thousands of Vermont kids start to prepare for their summer camp adventures, dozens of camp nurses do the same. The American Camp Association, the nation's only accrediting body for camps, requires that residential camps have a registered nurse or licensed physician on-site daily.
Being a nurse at a sleepaway camp isn't your typical nursing gig. While keeping kids safe and healthy is the top priority, sitting around a campfire and making duct-tape wallets are also part of the job. A camp nurse's office may be a screened-in porch or a tent outfitted with cots. And leeches, head lice and homesickness come with the campers.
Roxana De La Rosa and the nurse's office at Camp Birch Hill
The best camp nurses assimilate into the community and support the camp's mission, says Jon Kuypers, longtime director of YMCA Camp Abnaki, a North Hero boys' camp where the motto is "Help the other fellow." Of course, nurses must administer medications and treat twisted ankles, bumps, bruises, allergies and illnesses, Kuypers says. But he prizes a nurse who can also teach self-care — not only to campers but to counselors, who serve as examples. "They're the ones who have to role model, the drinking the water, taking their meds, getting to bed early and all that stuff," he explains.
Since counselors must act as first responders, a good nurse will teach them to distinguish between minor injuries that require just a Band-Aid and more serious physical and emotional matters best handled by a nurse, says Kuypers.
Some camp nurses are full time, working at facilities that offer a variety of year-round programs. But many are seasoned professionals who work as school nurses, as college nursing faculty or as part-time nurses the rest of the year, says Tracey Gaslin, executive director of the Association of Camp Nurses. Gaslin points out that some nurses take weeks or even months off of their full-time jobs to work at camp. Some parents sign on because the job offers a child free or reduced camp tuition. Other nurses simply love the work.
"Camp is one of the few places where children with similar conditions, likes, desires or talents are together for an extended period of time," Gaslin writes in an email. "Camps serve adults and children, the well and unwell, and ambulatory and nonambulatory individuals. Camp nurses feel strongly that every child should have an opportunity to attend camp and that this rite of passage will help them grow to become active and productive adults."
Alice Daley, who spent 15 years as a camp nurse — first at Camp Kiniya in Colchester, then at Rock Point Summer Camp in Burlington — is a retired school nurse from the Milton Town School District. In a camp setting, she got a different perspective on kids than the one she had in school. "When they're at camp, they want to be there," she explains. "They're having a great time."
Daley had a great time, too. She fondly remembers singing the Johnny Appleseed song and playing games of four square and human foosball during her summers at camp.
But camp nursing is also a mentally taxing job that comes with long hours. "I was always on," Daley says. Each Rock Point sleepaway session runs five nights, from Sunday through Friday. In her early years there, Daley carried a radio. Later, it was a cell phone. They were always on, too. "Yes, I slept," she says, "but not really well. I'd go home on Friday afternoon and just flop."
Through the years, Daley treated kids with diabetes and seizure conditions, but she never dealt with anything too serious. "I've had a couple stitches from zebra mussels," she says, "but those happen anywhere."
Nurse Alice Day at Smirkus Camp
One might expect that injuries are commonplace at a circus camp where tumbling, trapeze and tightrope walking are part of the curriculum. But Alice Day, the nurse at Circus Smirkus Camp in Greensboro, hasn't dealt with a single broken bone in her nine summers there. Smirkus campers must adhere to strict safety protocols, and "kids know that they are not allowed to do what we call 'flippy, upside-down things' outside of the [circus] tents," she says. A dislocated shoulder and badly sprained ankle are the worst injuries she's seen, and those happened to staffers — professional performers who train rigorously to perfect new tricks.
Day, a school nurse at Twinfield Union School in Plainfield, took the Smirkus Camp nursing job to cover the cost of sending her own three children there. "And here we are, like, 10 years later," she says. Her twin daughters, Abbey and Lucy, now 20, are Smirkus camp counselors, and her 18-year-old son, Ivan, travels as a performer with Circus Smirkus during the summer. "So my husband stays home with the cat," Day says.
This summer, she'll bring her tutu and superhero cape to camp for special dress-up days, happy to be part of a staff that tries to make every child feel special. At the end of each session, the 100 or so campers will sit in the giant circle they call a "smirkle." Each will share thoughts about camp, and, inevitably, someone will say that they finally feel like they belong somewhere, and everyone will cry. In moments like these, Day knows that she's part of something that is changing kids' lives.
"Camp is a magical place, right?" Day says. So when the school year ends and daylight stretches long into the evening, she and other nurses will yearn for cabins, campfires and camaraderie. They'll pack their shorts and their sunscreen and head back for another year.
"It's a chance to get outside of your regular life," Day says. "It's something that I look forward to probably as much as the kids."
Get out your summer calendar! If you haven't already signed your kids up for camp, it's time to take action. Check out all the programs advertising in this year's Kids VT camp guide and find more information in the camp directory.