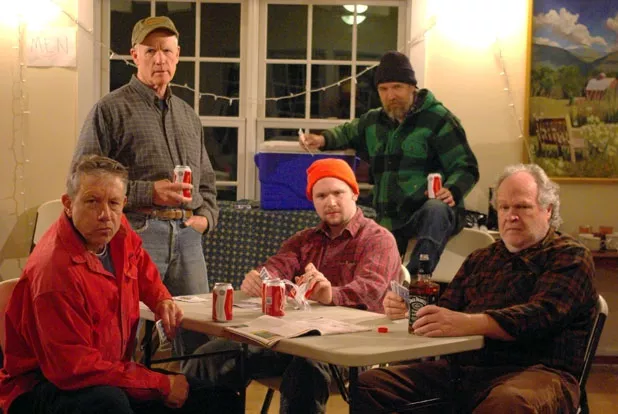 Here's a show that's right in season. The Plainfield Little Theatre is presenting a new work by local playwright and director Tom Blachly at Goddard's Haybarn Theatre. Return of the Moose is set in a hunting camp during deer season, so fall is the perfect time to stage it, and see it. The time may be right, but the show would benefit from some revision if it's to hit the heights of farce Blachly intended.
Red (Ron Lay-Sleeper) owns a deer camp deep in the woods. For him, it's perfection, with the bunk beds just so, a cook stove for comfort and a record of each deer season's participants. It even smells right, and its rough hewn simplicity makes the camp an ideal escape from daily life. Red's friends Frenchy (Wally Malley) and Hal (Russ Brown) tromp up with him for a weekend of hunting, bringing along a newcomer — Hal's son, Junior (Vince Broderick). A fifth hunter is late getting to camp.
Red may be the host, but Hal is the loudmouth leader of the group. He swaggers in with ideas about how everything must be done, swills the most beer and roughs up his son when he doesn't fall right in line. Junior is at a loss. He acquired his limited hunting experience as a youngster and has nothing in common with these veteran hunters or, for that matter, with his own father. As for Frenchy, he doesn't want to ruffle any feathers but has a loathing of being confined in the camp with nothing to do.
This setting is promising, requiring only a trigger to place the four men in conflict and develop their relationships. Blachly attempts to provide one in the form of a moose that appears at the door of the cabin. The story calls for the four men to consider themselves prisoners, regarding the moose as an insurmountable menace.
A true deer hunter might not find a visiting moose much of an obstacle, but these characters respond with twitchy fear (Frenchy and Junior), unfocused rage (Hal) and glum frustration (Red). Blachly has written a comedy, so we can accept the dilemma as paralyzing as long as the characters command our attention with their outsize reactions.
The problem is, there are only so many variations on the theme of not having an answer to Frenchy's wail of "What do we do now?" The actors are left to repeat themselves, and the play stalls until some serious drinking lowers everyone's inhibitions. A confrontation between father and son releases tension that the two have demonstrated all through the play. It features some fine acting by Brown, whose physicality as a drunk is impressive and powerful. Broderick likewise digs deep, but can't quite catapult his character from comedy to tragedy in the narrow confines of the script.
Lay-Sleeper has a nice gravity in his role, while Malley hits his comic notes by keeping his character oblivious to his own shortcomings. Dix (Drew Sy), the latecomer, provides the play's second-act twist. Sy's performance includes a rhapsodic turn recounting his hunting exploits.
The play calls for tight ensemble acting. These are men who know how to express their bond through disparaging remarks, so the rhythms must be just right — a missed beat makes them sound either too sharp or too sweet. On opening night, there were still some rough edges to the repartee. If the actors can tighten it up, the play will reveal more in the relationships.
Directing his own script, Blachly doesn't have the benefit of a collaborator, but the experience of working with the actors may help him fine-tune his work. There's an excellent scene in which he demonstrates the economy that great comic writing requires. It's brief, it's brilliant, and it gets a lot of laughs. Unfortunately, he follows it with another scene that repeats the same gag rather than building on it. Blachly wants to show the passage of time, but repetition blunts the impact of the joke instead of amplifying it. Some sharp editing and stronger character development could fill the play's great setting with an equally great story.
Joe John created a nicely detailed set that evokes the rough-and-tumble nature of deer camp. The lighting design is bright, as comedy tends to require, though that undercuts the dark-cabin-in-the-woods feeling. Props and costumes add a nice note of Vermont realism, and one forgives the lack of fidelity in some of the hunting rifles.
Spurred by a setting of great local interest and the actors' enthusiasm for the project, Friday's audience was quickly engaged in the play and eager to laugh. Watching Return of the Moose, it's easy to root for a local playwright, director and actors as they work to improve their craft. And it's fun to peek inside the kind of place where so many Vermonters spend long nights each November. But the play doesn't realize its full potential to reveal the foibles, fellowship and conflicts of men confined to a cabin in the woods.
"Return of the Moose." Friday, November 16, through through Sunday, November 18, 7:30 p.m. at Haybarn Theatre, Goddard College, Plainfield. $10-15. Info, 426-3955.