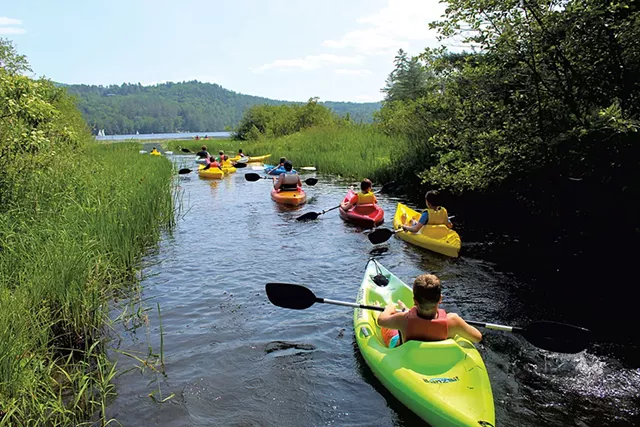 Courtesy Of The Aloha Foundation
Campers at the Aloha Foundation's Horizons Day Camp paddling kayaks
Preparation for summer art camp at Teresa Davis' studio in South Burlington has gone a little differently this year. Instead of packing the four classrooms with workstations, Davis removed about half of them and pushed the remaining tables against the wall to create more open space. Her staff pasted strips of masking tape on each tabletop to mark off six feet between campers' seats.
There are no more shared bins of markers and colored paper for campers to dig through — teachers will hand out the art supplies this year. Gone are the catch-all cubbies for lunch boxes and backpacks, replaced by designated spots for each child.
This is camp in the age of the coronavirus and social distancing.
"We are doing our role as the front line of dealing with kids who are going to be away from home for the very first time in two or three months," Davis said, adding, "I feel very confident we can do camp safely."
Vermont Gov. Phil Scott has announced that both day and overnight camps can open this summer if they follow strict health guidelines created by his administration. That's a boon to the state: A 2017 study by the American Camp Association says that Vermont's 110 day and overnight camps inject $117 million into the local economy.
But this year is different. Those who run camps must decide whether they can safely meet the state health requirements and offer some semblance of the experience that kids expect, while still making enough money to justify opening. A number of northwestern Vermont organizations, including Shelburne Farms and the YWCA's Camp Hochelaga, already have canceled this summer's camp programs.
Parents, meanwhile, are grappling with the idea of sending their children out of the home to mingle with strangers after months on lockdown.
"It's hard because the people who are running the camps are friends of ours," said Amy Mason, a mom of three in Weybridge. "We want these camps to exist beyond the pandemic ... so, it's not a simple decision."
Released last week, the state guidelines for day camps permit just 25 people in a room at a time. Instructors must take campers' temperature at the beginning of each day, donning a fresh pair of gloves for each kid. A cloth facial covering is recommended for children 2 and older. Campers are required to hang out in the same 25-person group throughout the day, and large gatherings, including for meals, are forbidden.
Guidance for overnight camps is forthcoming, but Vermont Camp Association president Ellen Flight already recognizes the challenges. Many of these programs, including Flight's own — Camp Songadeewin in Salisbury — attract children from out of state, who must self-quarantine for 14 days before they can enroll. Cabins also weren't designed with a six-foot buffer between bunks. For these reasons, both Songadeewin and its brother camp, Keewaydin, announced last week that they would be closed this season.
"Camp is a communal experience," Flight said. "If there's any place besides school that's not conducive to social distancing ... summer camp is that place."
While some camps have canceled or are still grappling with a decision, Davis is going to give it a go: Her weeklong summer programs are the moneymakers that allow her to run her business, Davis Studio, year-round. The space restrictions will cut her typical 700-camper enrollment in half, which will shrink her already-thin margins.
If Davis didn't open, she'd have to close the studio for good.
"That's not an option," Davis said.
The state has acknowledged that both camps and childcare programs will struggle with the new guidelines, so it's earmarked $6 million to help them purchase cleaning supplies and personal protective equipment. The cash is a worthy investment in programs that many parents depend on, said Ted Brady, Vermont's deputy commerce secretary.
"These people have hard decisions to make when it comes to, 'Do I go to my job or do I take care of my child?'" said Brady, who helped craft the camp guidelines.
Bree LeMay is one parent grateful that she has a choice. A single mom and self-employed hair stylist in Burlington, LeMay typically sends her 9-year-old son, Niah, to a couple of weeklong camps run by Burlington City Arts or the city recreation department. Niah spends most of his summer at the Boys & Girls Club of Burlington, which LeMay said will be "a lifesaver" when she can go back to work. If the club hadn't opened — and it wasn't clear it would until late last week — LeMay would have had to drag Niah to the salon every day.
"If he was with me all day long, it would be pure torture" for him, LeMay said.
Though she's grateful, LeMay is surprised that camps are open at all during the pandemic. She's concerned that Vermont will see an uptick in cases and wonders how camps will make social distancing work.
"I'm just worried about space and numbers," LeMay said. "Are they going to train their staff? Are they going to make the classes smaller? How do we slow the spread? It makes me nervous. I think it makes a lot of parents nervous."
Courtney Lamdin
Teresa Davis
Boys & Girls Club executive director Tanya Benosky is working on a plan to operate safely. She hopes to split the campers between two campuses — the club on Oak Street and the nearby Integrated Arts Academy — to encourage physical distancing. She'll also purchase large quantities of gloves, cleaning products and hand sanitizer.
Some activities will be modified or canceled: Kids won't take field trips, nor will they have the annual kids' day in the park. The camp's annual group photo — with all 100 campers squeezed into the frame — won't happen this year.
Enrollment is expected to stay the same if the club can run the two separate sites.
"It's not gonna be business as normal," Benosky said, "but I think we can still have a good summer."
With detailed state guidelines in place, at least some camp operators are reconsidering their summer plans. The Aloha Foundation, a nonprofit that operates six day and overnight camps on lakes Morey and Fairlee, had announced on April 22 that all camps would be closed for the first time in its 115-year history. There was no way to ensure that 4,000 kids and counselors would be safe — especially when most campers come from out-of-state coronavirus hot spots, according to Patricia Crawford, the foundation's director of advancement.
"We just could not see how camp as we normally thought of it could happen," she said, adding: "It's hard to emphasize the heartbreak that campers and families have."
But last week, with the state rules in hand, Aloha leaders began to consider whether a modified, smaller-scale day camp might be possible.
"Camp directors are incredibly creative and flexible, and they've got a lot of grit," Crawford said. "If anyone can pull it off and find a way to make it happen, it's our camp directors."
Beth Allen, director of the family-run Lotus Lake Camp in Williamstown, is in the same boat. She announced in early May that camp would not open this summer, the first time since her grandparents founded the program in 1952. Now, after reviewing the state guidelines, Allen hopes she can pull together some form of camp, even if it won't draw 160 kids.
She knows it won't be easy. Lotus Lake campers spend most of their time outside, but the camp's indoor space is limited. Allen has applied for some state money to purchase extra cleaning supplies, gloves and thermometers, but she doesn't know when — or whether — the cash will arrive. That makes it difficult to budget, especially when property taxes and insurance bills come due no matter what.
Allen says Lotus Lake can weather one bad summer, but she worries about her campers' well-being in the meantime.
"Kids have been home for eight weeks or more at this point and pretty confined to their house," she said. "It's just really sad that camps are having to close."
Hinesburg mom Emily Bruce is equally discouraged. She had planned to send her 6-year-old son to now-canceled camps at Audubon Vermont and Shelburne Farms. As a virologist who is researching COVID-19, Bruce understands why, but it doesn't make her home life any easier. Bruce goes to work at the University of Vermont every day, while her husband telecommutes and takes care of their kindergartner and 3-year-old twins. He has to stop working to change diapers, feed the kids and help his oldest log in to online Zoom classes. Summer camp was going to give him a break.
"Two parents cannot work full time without childcare at exactly the same productivity as they did before," Bruce said, noting that parents also have to decide whether it's safe to send their kids to camp.
"There's risks on both sides," she added.
Mason, the Weybridge mother, isn't inclined to take the risk for her kids this summer. Her husband telecommutes, and she does volunteer work, making the decision easier.
The family has adopted the mantra "just because you can doesn't mean you should" when it comes to leaving home during the pandemic — camp included.
"It'll be really hard for us to justify something that, for our family, is more elective," Mason said. "It's hard to argue that camp is essential to our kids, even though we think it's an important part of their development."
Mason was almost relieved when her daughter's overnight camp was canceled so that she did not have to make the decision. Even if Mason trusts that camp operators will follow state guidelines, she worries other campers' families may not take the same precautions she does.
"I try to not come off as judgmental, because parents need to make personal decisions based on what's going on for their families," she said. "But I sort of feel like if you can opt out of things, you should."
Davis, the art camp director, hopes most parents don't make that choice, and so far she has reason to be optimistic. A survey she circulated in early May indicated that nearly 85 percent of parents would send their kids to her camps — a more favorable response than she expected. So Davis and her staff got to work at the studio last week, measuring every inch of available space so they can enroll as many kids as possible while still ensuring their safety.
Davis thinks she can pull it off, and she'll update parents on the changes in the next few weeks. Her only hope now is to break even.
"I don't think people understand the logistical miracle that running a camp is in regular times," she said. "Now, we just have to start completely over."