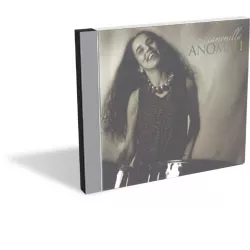 (PanAshé Music, CD)
On her debut release, Anomali, steel-drum ace Camomilla — aka Emily Lanxner, leader of Vermont's PanAshé — delivers a curious mix of Latin rhythms and calypso-flavored jazz. While her performance is largely spotless, the record occasionally falters under the pressure of employing the steel drum, typically reserved as auxiliary percussion, as a featured instrument.
The disc begins with "Sweet Nothings." Gently rolling piano unfurls the rippling current on which Camomilla's deftly struck steel drum is cast adrift. Her lines are clean and precise, the drum's soft, rounded tones reverberating over one another in a soothing wash of opaque sound. In contrast, Wendy Lanxner's piercing flute cuts through the somnolent haze, interjecting fleeting moments of wakefulness amid the tune's otherwise sleepy bliss.
The title track is well named. It is indeed an anomaly, in both style and atmosphere. A menacing bass line counters an eerie, minor-key piano progression. Meanwhile, a chorus of singers — featuring jazz vocalist Jody Albright, Ajah Leas and Camomilla — repeat the song's titular word with spooky zeal. The forceful groove continues, tempered only by snappy steel. Then, things take a turn for the bizarre as Camomilla unleashes a series of spoken-word lyrics. Her existential musings straddle the line between hip-hop and slam poetry but lack the punch of either discipline, instead presenting wishy-washy, new-age profundity.
Camomilla returns to form on the following cut, "Spanish Ska." As its title suggests, the song is a flamenco-laced take on early Jamaican ska. The song's breezy island flair is pleasant enough, though it could use more low-end ballast to hold down the groove.
Hardcore Beatles fans will find a cover of the Lennon-McCartney classic "And I Love Her" intriguing. However, the song loses something in the translation from sweet pop perfection to instrumental Caribbean jazz. Still, hearing the song's famous melody filtered through a phalanx of bright steel tones is oddly charming.
"Arkadia" is a cruising little number, highlighted by John LaRouche's stellar work on the chromatic harmonica. The interplay between his harp and Camomilla's steel is delightful.
"Loon" is a rangy, borderline-experimental-jazz tune that truly expands the perception of how the steel drum can be employed. As Lydia Mackey and Indigo Ruth-Davis mimic loon calls on oboe and cello, respectively, Camomilla coaxes shifting, atmospheric tones from her instrument. It's a chilling and remarkably effective track.
The same cannot be said about the following song, a cover of Cat Stevens' "Wild World." The translation from rock classic into steel-drum-fueled jazz doesn't fare nearly so well as the Beatles cover did. Camomilla and company shoot right past novelty and directly into supermarket Muzak.
The album closes on something of a reprise, "Spanish Ska Dub." The tune is essentially the same as the earlier "Spanish Ska," save for a truly strange turn from "Dub Master" Bennett Shapiro, who delivers gibberish vocals in a deep, murky bass. It's amusing, though likely not in the way the band intended.
For more info on Camomilla, visit www.panashemusic.com.