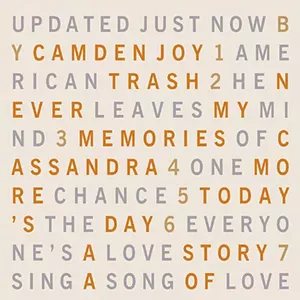 Camden Joy, Updated Just Now
(Self-released, CD, digital)
Princess Diana, Richard Nixon and the Radio Stars. These references from a bygone era pepper Middlebury musician Camden Joy's seven-song collection Updated Just Now, released on New Year's Day 2020. Joy's album sounds as though it could have come from anywhere between the late '70s and Joy's mid-'90s heyday as a music writer and New York City street artist. Fortunately, that new-wave, alternative pop-rock sound is timeless.
In 1996, SPIN magazine took note of Joy's guerrilla-style music criticism, which he would scrawl on posters he plastered around NYC. Around that time, Joy, whose given name is Tom Adelman, published his debut novel, The Last Rock Star Book: Or Liz Phair: A Rant, the first of his written works in which an idea rooted in real life gives way to wild imagination.
Joy's talent for fiction comes through in his songwriting — at least I presume it's fiction. "One More Chance" tells the story of an ex-con trading sex for bail through poignant lyrics and powerful imagery: "You meet a lot of people in prison you wouldn't want to meet in real life / You might even fall into the arms of Satan as you're kneeling 'neath a painting of Jesus Christ."
Alternately, "Today's the Day," a sweet tune with a meandering melody and fuzzy vocals, is essentially a list of quaint pleasures — think fresh peaches at the farmstand, cold quarry water, blue dragonflies. The song's message can be distilled into one line that sounds like a mindfulness meditation mantra: "What's ahead can't get us down, what's past deserves no tears."
"Memories of Cassandra," one of the album's most compelling tracks, has no lyrics at all but is a collage of field recordings and found sounds layered over melancholy piano. Joy's choice of sounds (birds singing, footsteps on a crunchy ground, a woman expressing grief over her mother's death) shows tenderness in a way that affected me more deeply than his words.
I hear fandom of Elvis Costello and David Bowie in Joy's loose and jangly singing, and Bruce Springsteen in his über-wordy verses. Vermont music fans who dig the twee-pop stylings of the Smittens or the Costello-esque Phil Yates & the Affiliates might find a new local favorite in Joy.
Updated Just Now isn't perfect — there's a flat note here and there, lyrics are clunkily crammed into the melodies, and spoken-word samples sometimes feel unrelated to the songs they inhabit. But the album is certainly spirited. Rough around the edges seems to be Joy's signature, from his offbeat music criticism to his fiction writing that deals in bizarro interpretations of real-life people and scenarios. The work is gritty, and I'm guessing Joy is just fine with that.
Updated Just Now is available at camdenjoy.bandcamp.com.