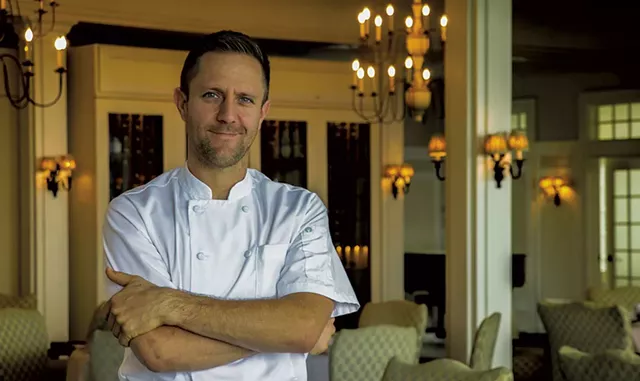 Courtesy Of Essex Culinary Resort & Spa
Caleb Lara
Last fall, the Essex Culinary Resort & Spa announced the name of its new executive chef: Caleb Lara. Lara, who moved to Vermont for the job, grew up in San Diego, attended the Culinary Institute of America in Hyde Park, N.Y., and has worked at fine restaurants along New England's Atlantic coast. In his new role at the Essex, he gets to "oversee the whole culinary program," he said.
That includes creating menus for the resort's restaurants: the Tavern, which is casual, and Junction, which is upscale. Lara's first new menu for the latter will hit tables in early February.
What can diners expect to find there? Borscht, for one thing. For years, Lara has been cooking a brisket-and-duck borscht from a recipe by Auguste Escoffier (1846-1935), the famed French chef who, like Lara, worked in hotel kitchens. "It's one of those dishes that gives me the warm-and-fuzzies," Lara said of the borscht. "[Escoffier's recipes] are so thorough and super time-consuming, and the end result is so rewarding."
Lara, who is half Mexican, is also excited about making mole Poblano. The complex sauce, which features dried chiles, spices, seeds and nuts, will be served over venison shank. He also plans seafood dishes inspired by his time in Chatham, Mass., and new vegan offerings.
At the Essex, Lara suggested, he'll strive to balance crowd-pleasing fare with menu items that push the envelope a bit, while learning more about the folks who grow and raise food in his new home state. "Creating a sense of community is important to me," he said. "There are so many cool purveyors out there, and I haven't scratched the surface yet."
As he does, Lara plans to make sure the menus stay seasonal and exciting. "I want things to be crafted, to be local," he said. "I want to keep it fresh."