James Buck
A stuffed canoa and empanadas at Café Mamajuana
Any business opening is a cause for celebration this year. But when the doors at 88 Oak Street in Burlington opened for not just one but two new hotly anticipated restaurants in early November, it seemed like the universe was throwing a party for all the holiday gatherings we've missed.
Café Mamajuana and Poppy Café & Market had each built up a loyal following with pop-ups, filling holes in the local food scene and frequently selling out. Residents of the Old North End and beyond were ready for both to open something permanent.
The two restaurants share one space in a cooperatively owned building. That business model was planned before the pandemic but seems uniquely suited to the challenges many restaurants now face. Poppy operates during the day, serving souped-up sandwiches from 11 a.m. to 2:30 p.m. At 4 p.m., Café Mamajuana starts slinging Dominican-fusion dishes such as empanadas and whole-roasted fish for dinner.
Sisters Abby and Emily Portman own and operate Poppy. Café Mamajuana owner-operator Maria Lara-Bregatta is "third-wheeling on their sisterhood," she said with a laugh. For an hour or so each day, as Poppy cleans up and Café Mamajuana revs up, they fully embrace that sense of sorority. The three women — all originally from New Jersey — listen to upbeat playlists of oldies and millennial faves while shuffling from one staff, cuisine and enterprise to the other.
They weren't sure people would get the two-in-one concept at first. But now that they're open, Lara-Bregatta said, the model is setting a precedent — and it's working.
The building most recently housed the Chubby Muffin and a commissary kitchen as part of the Skinny Pancake restaurant group. It was purchased in late June by the Oak Street Cooperative, an effort led by founding members Emily Portman, Lara-Bregatta and Matt Cropp, co-executive director of the Vermont Employee Ownership Center. Café Mamajuana and Poppy lease the building from the cooperative, and they also sublease production space to All Souls Tortilleria.
"The three businesses are for-profit businesses," Emily said. "But we're guided by some of the founding co-op principles: sharing access to space and resources."
James Buck
From left: Abby Portman, Maria Lara-Bregatta and Emily Portman
The pandemic delayed the sale of the building and has slightly adjusted both restaurants' business plans. Poppy didn't serve just sandwiches initially, but their practicality for takeout appealed to the sisters. Now the duo is carving out a niche with the most surprising veggie-forward sandwiches in town.
"I'm happy that we're opening now and we're able to build this business around this crazy obstacle, rather than having to really quickly adapt to it," Abby said.
The menu at Poppy changes frequently, with one new sandwich a week rotating onto the five-sandwich list. When I first visited, I ordered what I later learned was Abby's favorite: the Liza Fennelli ($10). I'd never considered the prospect of a fennel sandwich, let alone one with fennel five ways: roasted, salad'ed, pesto'ed, pickled and aioli'ed. The layers of flavor were an exploration of fennel's adaptability, hugged by perfect slices of housemade focaccia. The only bad news? It's a seasonal offering that's no longer on the menu.
Another fleeting favorite is the Carmela ($14), which left the menu last week. The sandwich is Poppy's take on a classic Italian sandwich. The combination of spicy eggplant, soppressata, prosciutto, arugula, radicchio, basil, ricotta salata, pickled red onions and an artichoke-Parmesan aioli on crusty Trent's Bread is a fitting homage to my second-favorite character from "The Sopranos."
Other recent offerings include the Ramen Guy, a ramen-influenced sandwich with soy egg, miso-roasted mushrooms and nori aioli; and the vegetarian (or vegan) First Date, with tahini, dates, spiced cauliflower and preserved lemon.
Poppy is not your classic deli, but if you go in with an open mind about what a sandwich can be, you won't be disappointed. I placed my orders online at prime lunchtime during a workday, and both times they were ready to be picked up in less than 20 minutes.
The takeout-only model has also benefited Café Mamajuana as the popular pop-up switches to its permanent home. Lara-Bregatta has been outspoken about her difficulties in securing traditional investment, noting that "white old men" had been wary of supporting her in the early stages of developing her business plan. "It's funny, because all of their commentary is kind of useless nonsense now," she said in mid-November. "They wanted me to turn the dining room 15 times in one night. It's obsolete. I can do that through takeout."
Thanks to crowdfunding and community support, Café Mamajuana is now flying through takeout orders. I got lucky on opening night, placing an order at about 6 p.m. Online ordering opens at 4 p.m., and getting your order in early is the best way to ensure you get the pick of the whole menu. The second time I ordered, a couple weeks later, things were starting to sell out by 5.
If your first choice is 86'ed for the evening, though, you get to try something new. Having tasted Café Mamajuana's Dominican-fusion dishes several times before, I'd been hoping for a canoa de pernil the first night: caramelized plantain sliced down the center and stuffed with rice, beans, slow-roasted pork and pickled red onions. Instead, I opted for two plantain-based sides — fried sweet maduros and fried salty tostones — along with a smattering of empanadas. I also ordered the Sicilian salad, a pleasant bright and citrus-filled surprise and a nod to the Italian side of Lara-Bregatta's DNA (another thing she shares with the Portmans).
Lara-Bregatta said she and her team will soon add traditional Dominican holiday foods to the menu, such as sancocho, the national dish of the Dominican Republic; tortilla española sandwiches on crusty bread; root-vegetable-filled pasteles; and a few seasonal beverages, such as the eggnog-like coquito. "These festive, native dishes will bring nostalgia to Latinx folks in the community," she said.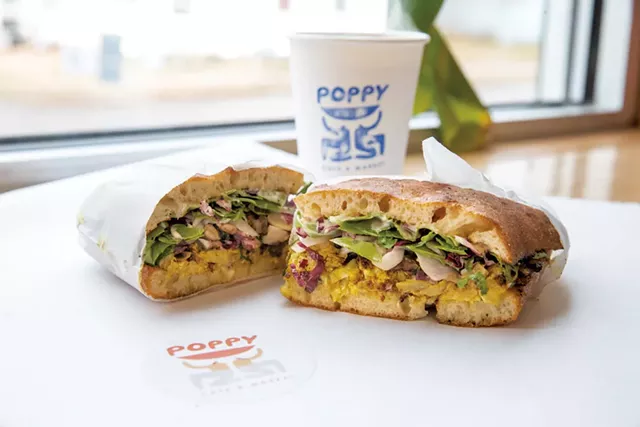 James Buck
First Date sandwich from Poppy Café & Market
Both businesses are sticking with takeout for the foreseeable future. Maple Hill Construction impeccably renovated the bright, welcoming space, but it's small. Following the current 50 percent capacity guidelines, only eight customers are allowed inside at a time; a takeout window also offers pickup.
"There are multiple businesses and multiple people working in here, so introducing added risk to the space just seems unnecessary right now," Emily said. "It'll be another exciting thing when we can fully open and invite people in here and have this be a filled, bustling space."
The venue also features a grab-and-go market. "This had been a butcher and a little corner store, so we're trying to bring it back to that old-school glory," Lara-Bregatta explained. For now, market items stocked by each restaurant are only available during its operating hours.
The Portmans see the market space as a sort of incubator that small local producers can use to test their wares. The shelves also hold items that go well with sandwiches — Zapp's potato chips, pickles, Savouré soda — as well as items that remind the sisters of their Italian American upbringing in New Jersey. Among those nostalgic treats are tadals, a crunchy Italian snack made by Racioppi's Taralles. "It's a tiny little Italian bakery in Bloomfield that our mom had always gotten them from," Abby noted.
Lara-Bregatta hopes to stock her section of the market with Latin ingredients but said it's been time-consuming to get distributors to ship those items to Vermont. In the meantime, she's focusing on local products made by women, including women of color. "I'm trying to support other women who are in the same position as me, working from home to grow their businesses and trying to succeed in a time where it's hard," Lara-Bregatta explained. "That's my goal: to uplift and bring more people into the industry."
The restaurant owners say they're already seeing repeat customers — including some who frequent both establishments in the same day. "People have been so vocal about that," Abby said. Their cuisines may be different, but Poppy and Café Mamajuana have fresh energy and innovation in common.
"They're not just a sandwich shop, and I'm not just a Latin place," Lara-Bregatta said. "There's nothing like it in town, for either of us."