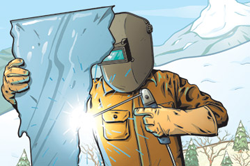 Cabot Hosiery | Est. 1978 | Northfield | 100 employees
Ric Cabot, executive vice president and co-owner of Cabot Hosiery Mills in Northfield, isn't being flippant when he says that the wars in Iraq and Afghanistan have been great for his business. In fact, many of Cabot's fellow residents of Northfield — home to Norwich University, the nation's oldest private military academy — are now serving in those war zones, wearing his socks. Cabot's Darn Tough Vermont brand is now standard-issue footwear for the U.S. Army, Air Force and Marines.
Things have really turned around in the last five years for this high-end sock manufacturer, in large part because of its booming business with the U.S. military. Currently, about a quarter of the company's sales revenue derives from defense-department contracts, and the extra cash has made Cabot profitable again. The company is one of a number of Vermont firms, including Revision eyewear of Essex Junction and MSA helmets of Newport, for whom Pentagon procurements have fueled significant growth.
This year, Cabot plans to add 15 to 20 new employees to its current staff of 100. It's already purchased 20 new knitting machines in addition to the 10 the mill bought just last summer.
"It's fantastic! Sales have almost doubled," Cabot adds. A press release later clarified that Darn Tough revenues have increased 40 percent annually since 2005: "Darn Tough is pretty much the savior of the company on the specialty side." Meanwhile, the company's two-weekend sock sale, a local tradition timed to coincide with hunting season, draws between 6000 and 8000 shoppers to the factory every year.
Everything about the Cabot product seems to runs counter to prevailing trends in the textile industry. In an age when shoppers are accustomed to buying socks in shrink-wrapped six-packs churned out by huge mills in Honduras, Sri Lanka, Malaysia and China, this family-owned business produces high-quality, merino-wool athletic footwear — at $16 to $20 a pair — that's unconditionally guaranteed for life.
And if Ric Cabot is appreciative of Uncle Sam's support, he says he feels that same level of loyalty to his community. What's kept Cabot from moving his operations overseas, where labor and energy costs are a fraction of what they are in Vermont?
"Community sustainability, he says. "The effects on all those people if we did leave: the loss of jobs, the loss of income, the loss of hope, mortgage payments, car payments, tuition.
"Other companies don't tell that story because they can't," he adds, reporting he doesn't see any significant challenges or drawbacks to keeping his operations right here in Vermont. "There's so much about outsourcing that people don't talk about when those big employers pull out of a town."
The company receives a steady stream of letters and emails from customers. It hears from professional athletes who are sponsored by other companies but secretly wear Darn Tough when they compete. Customers also write to confess that they "leave their Darn Tough socks on during sex."
Says Cabot, "We get these bizarre kinds of messages all the time."