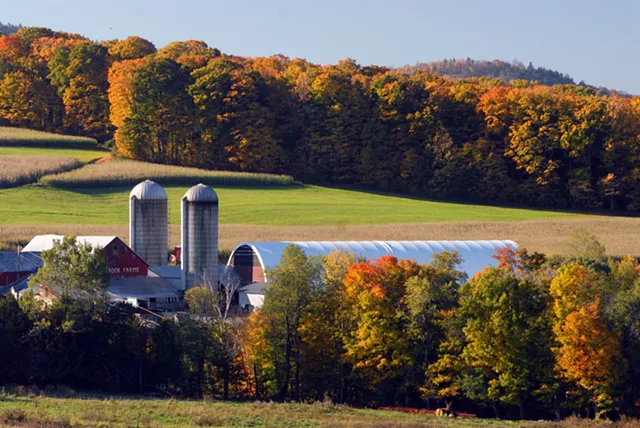 Jeb Wallace-Brodeur
Molly Brook Farm, East Cabot
Years ago, when I moved to South Burlington from Ithaca, N.Y., I received a piece of advice that, at the time, sounded crazy. The moving truck driver, an old Vermonter, had finished unloading my stuff and, as he was leaving, said, "After you've unpacked, you'll have to get out and see Vermont."
"But I'm
in
Vermont," I said, and he retorted, "Lady, Chittenden County ain't Vermont!"
I love living in Chittenden County, but I've followed his advice, taking day trips throughout the state, savoring its regional beauty, meeting folks who live there and, of course, sampling local delicacies. Recently I headed for Cabot — a perfect spot to revel in the glories of fall. It's
an easy hour and a half drive from the Burlington area
over Route 2 to Marshfield, where Route 215, aka Cabot Road, leads to the village.
Cabot is home to the
Cabot Creamery Co-operative
, which got its start there in 1919 and is now owned by 1,000 farm families throughout New York and New England. Though Cabot is synonymous with award-winning cheddar and dairy products, there's way more to do and discover in this Washington County town.
Cabot Creamery Visitor Center
2848 Main Street, Cabot, VT
Courtesy of Cabot Creamery
Cabot Creamery Visitor Center, Cabot
The
Cabot Creamery Visitor Center
was my first stop. Lucky for me, Visitor Center manager Erica Burke had time to tour a reporter around the area. While I waited for her to arrive, I cruised around the shop.
In the entry area, I found a dizzying number of Vermont-made specialties — from maple-everything to jars of Potlicker Kitchen's beer jelly. Nonedible items included granite cheese boards, decorative towels, children's books and plush toys.
The Visitor Center used to offer Cabot factory tours, but the company discontinued them at the end of 2017 to comply with the federal Food Safety Modernization Act, passed as a result of 9/11. Instead, visitors can watch a short video about the Co-op, its farmers and the Cabot factory in a small theater space at the center. After each showing, Cabot staff supplement the film with information and answer questions.
Courtesy of Cabot Creamery
Cheese sampling at Cabot Creamery Visitor Center, Cabot
The main attraction at the Visitor Center, though, is the room filled with Cabot Creamery cheese, with a large tasting buffet in the center. Tiny cubes of nearly every variety the company makes were arranged on 27 plates for tasting — an impressive display. There is also the opportunity to learn about pairing cheese with condiments, such as Blake Hill Preserves. I tried as many as I could. My favorites were the
Seriously Sharp cheddar
and the
Lamberton cheddar
, part of the Founders' 1919 Collection.
By the time I'd finished, Erica had arrived, and we headed out to see the town.
Cabot Artisans Gallery
3053 Main Street, Cabot, VT
Jeb Wallace-Brodeur
Jan Westervelt at Cabot Artisans Gallery
This new addition to the town's attractions
opened in May. A large cigar-store Indian by Ken Klinger greeted us at the entry. The gallery's two rooms (with a third being built) feature the work of more than 40 artists and artisans, according to staffer Jan Westervelt, who was behind the counter.
Besides paintings in various mediums, the gallery sells quilts, weavings, rugs, cards, sculptures, and breathtaking hand-knitted and hand-sewn baby clothes. One of Cabot artisan Richard Ducharme's Hillcrest Adirondack chairs sits in one of the rooms along with pieces from his wife, Sandy Ducharme, who creates painted floorcloths and fiber art.
Back at the checkout counter, I noticed bottles of something called switchel. The concoction of maple syrup, lemon juice, apple cider vinegar, ginger and blackstrap molasses is traditionally used by Vermont farmers to quench their thirst and help provide energy while haying. A seventh-generation Vermont family with headquarters in Cabot produces it under the True Vermont Switchel label and sells it all over the country. I bought some to take home. Jan and Erica urged me to heat it up for "hot Switchel," with a pinch of cinnamon and rum.
Burtt's Apple Orchard
283 Cabot Plains Road, Cabot, VT
Jeb Wallace-Brodeur
Burtt's Apple Orchard
Burtt's Apple Orchard
is just a short jog over Cabot Plains Road. On the way, Erica pointed out local landmarks such as the Willey Building. It's next door to the high school and houses the town offices on the lower level, the library on the second floor and a large auditorium on the third for special events.
As the well-maintained dirt road climbed through the woods, Erica warned me to watch for a line where the seasonal change leaps forward. Sure enough, around 1,600 or 1,700 feet in elevation, we could see an instant rise in the fall colors, almost like magic. According to Erica, this also happens in winter, when crossing the line means a dramatic switch from rain to snow.
Just before the elevation line was the orchard, situated on what used to be Greg Burtt's family dairy farm. We ran into Greg and had a chat — along with samples of apples, cider doughnuts and glorious apple cider slushies.
By the time he was in high school, the family had sold the cows. He told us, "I was tired of throwing square bales and said, 'Can we do something else with that?'" His dad said to go for it, so Greg created a business plan for his senior project to turn the farm into a pick-your-own apple orchard; he perfected his plan at the University of Vermont. Greg planted his first apple trees in 2005 and now has more than 40 varieties, plus tart cherries, pumpkins and pears.
A.M. Foster Covered Bridge and Cabot Plains Cemetery
Jeb Wallace-Brodeur
A.M. Foster Covered Bridge, Cabot
Continuing uphill on Cabot Plains Road, we headed toward the A.M. Foster covered bridge, aka the "bridge to nowhere." It straddles a quiet pond way off in a field, far from the road, on privately owned land. Fortunately, visitors are welcome.
The site is an ideal photo op. Its spectacular, power-line-free, 365-degree views of the Green and White Mountains make it eminently Instagrammable.
Travel
magazine included a shot of the bridge in its "2015 in 25 Travel Photos" feature.
"Lots of weddings shoot pictures here," said Erica, who lives nearby, "and every high school senior has their picture taken here." It's also a serious picnicking spot. You could pick up supplies at the Visitor Center — maybe some Cracker Cuts, preserves, pre-sliced soppressata and Jasper Hill cheese.
Before we left, we visited Cabot Plains Cemetery, one of seven burial grounds in Cabot, just across the road. Created in 1825, it remains in use today. Vermont marble and granite stones inspire a quiet moment to ponder those buried there.
Bayley-Hazen Military Road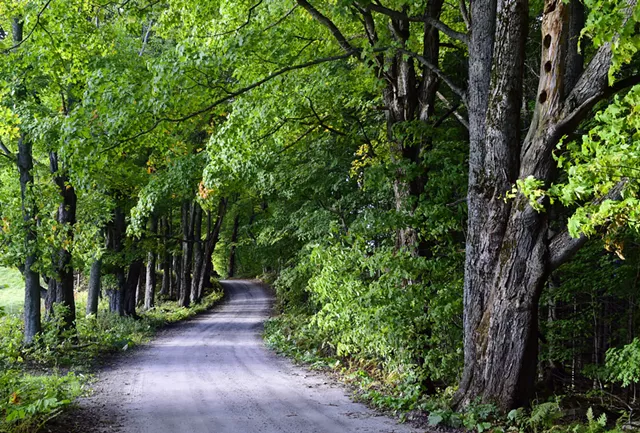 Jeb Wallace-Brodeur
Bayley-Hazen Military Road
Most of Cabot Plains Road follows the original route of the Bayley-Hazen Military Road. The route was the inspiration for the award-winning Bayley-Hazen Blue cheese, made by The Cellars at Jasper Hill.
Construction on the road began in the spring of 1776, with an aim to continue to St. Johns, Quebec. But Col. Jacob Bayley halted it, fearing it would create a way for the British to invade New England. Briefly revived in 1779 by Gen. Moses Hazen, it was abandoned after reaching the mountains at Hazen's Notch.
Heading north, at the bottom of the hill past the cemetery, where Cabot Plains Road turns left, the Bayley-Hazen Road goes straight for about a mile toward Vermont 215. One of the few original sections of the road left, it's quite narrow, rocky and shaded, but easily traveled this time of year. According to Erica, in the last 30 years, several homes have built along this stretch, and the owners maintain it in winter.
Harry's Hardware, The Den and Sarah's Country Diner
3087 Main St., Cabot, VT

Jeb Wallace-Brodeur
Dale Brown serving up some brews at the Den at Harry's Hardware, Cabot
Erica and I made our way back to the village, and we stopped at
Harry's Hardware
just in time to find Bobby Searles on the sidewalk. One of four owners of the building — with his wife, Stephany, and Johanna and Rory Thibault — Searles is the proprietor of Harry's Hardware and
The Den
, a bar situated on one of the hardware store's walls.
Like Burtt's Apple Orchard, this place is a prime example of Vermont self-reliance. Two fuel pumps (one for gas, one for diesel) sit on the road right in front of the store. Inside, Harry's carries traditional products you'd expect: tools, nuts and bolts, farm and garden supplies and local products.
Bobby launched The Den a year ago so locals would have a place to gather for a beer. The dark-stained wood bar looks like it sprouted from the floor of the hardware store. Patrons sit on bright red bar stools that resemble tractor seats. A long list of Vermont craft brews and ciders is on tap, along with maple syrup.
Jeb Wallace-Brodeur
Sarah Mangan with customers at Sarah's Country Diner, Cabot
In the back of the building is a door that leads to
Sarah's Country Diner
, a cozy spot with two tables for four and four bar stools facing the back window. It's run by Sarah Mangan, who said her daughter (also named Sarah) started it, but got married and went to work at the Creamery.
I decided to have a late lunch and ordered the sausage and spinach quiche sitting at the bar. Through the window I saw a snowmobile bridge over what looked like a narrow, rocky creek (it's actually the headwaters of the Winooski River, which my road home would follow).
Sarah also serves food to folks up front at The Den, which has a couple of tables for four and features live music Friday and Saturday nights. Besides diner foods, she has a decent selection of frozen, take-home meals. I bought a frozen shepherd's pie for supper.
Jeb Wallace-Brodeur
On the front porch of Harry's Hardware, Cabot
Before heading home, I stopped back at the Visitor Center to drop Erica off and make some purchases for the road. I picked up a few items from the cooler in the back of the tasting room to take home.
Then I left for home, filled with cheese and Switchel and quiche and Vermont history. I found myself behind a Toyota for 30 miles on the way. I chuckled when I noticed the license plate, which read "GZUMCRO" — a perfect end to my trip.