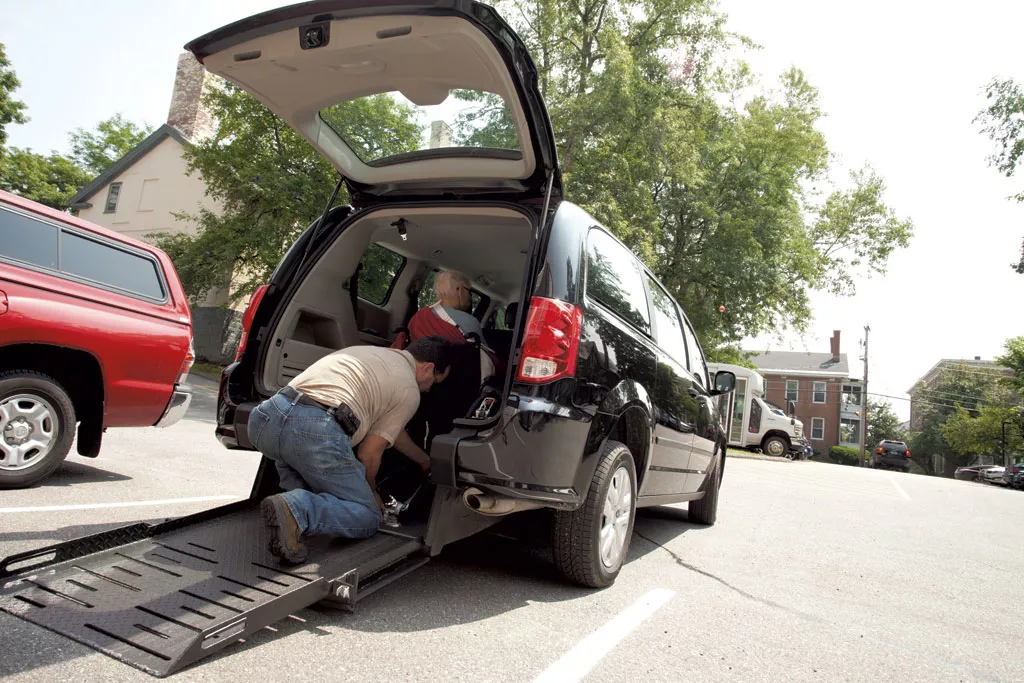 MattHew Thorsen
Shelley Palmer assists a passenger into a taxi
When Burlington's biggest taxi company, Benways, closed last month, city officials worried over the sudden loss of cabs and expressed hope that smaller companies would pick up the slack.
They may get more than they bargained for.
Several weeks ago, a car with a pink mustache adorning its grill, the signature of the Lyft ride-sharing service, was spotted in Burlington. Ads for Uber drivers started popping up in Facebook feeds. A man showed up in town and began handing out business cards and air fresheners, telling cabbies about an app called ZabKab that could change the way they operate.
Digital transportation services, in which customers use e-hailing apps to locate drivers, have been gaining popularity — and causing consternation among cabbies and regulators worldwide. During the last few weeks, they've been testing the waters in the Queen City.
Burlington, meanwhile, is taking another look at its taxi ordinance, which was revamped just three years ago.
One very big problem persists: Taxi oversight falls to airport staff, leaving the city with virtually no way of enforcing the ordinance, according to Jeff Munger, chair of the airport commission and the taxi appeals panel. "Anyone can put a magnetic sign on a vehicle as a taxi, operate in the city and never get caught," he warned the city council in a letter.
Cab drivers confirm they regularly see unlicensed operators driving downtown.
Burlington's city attorney says the administration is very close to proposing a fix, which would require city council approval. But before the city starts enforcing the rules for traditional taxis, legal staff are now figuring out whether those regulations even apply to companies like Uber — and what to do if they don't.
Meanwhile, a homegrown company that sprang from Benways' ashes and has been supplying rides the old-fashioned way is testing the limits of Burlington's current law.
Calling All Cars
Burlington cabs do more than deliver drunk college kids back to their dorms and shuttle tourists to and from the airport. They also ferry dialysis patients to their appointments, take recovering addicts to the methadone clinic and drive homeless and special-needs children to school.
Benways was unique in that it had a fleet of vehicles equipped to carry people in wheelchairs. It used to provide 1,000 rides a month to elderly and disabled people through the nonprofit Special Service Transportation Agency, according to SSTA director Murray Benner.
"I was panic-stricken when I read in the paper they were going to close," said Donna Rickson, who has relied on Benways for the better part of a decade. Rickson, 72, walks with a cane and can't make it from her house on North Avenue to the nearest bus stop.
So when Cathy Robar, who worked as a Benways dispatcher for about 36 years, was coaxed into starting a new transportation service just two days after Benways closed, "she made a very nervous lady calm down," Rickson said.
Within weeks, the new company, Big Brother Security Programs, went from zero vehicles to 13, including several with wheelchair capacity.
"Everybody was freaking and tweaking," is how Robar describes the reaction when Benways closed. Robar's brother, Paul, had run the company for more than three decades. When he died suddenly three years ago, his wife, Wanda, took the reins. "It was the high cost of everything" — and the fact that her husband wasn't around anymore — that prompted her to shutter the business, Wanda Robar said, declining to go into greater detail.
Cathy Robar's business partner is Shelley Palmer, a former bail bondsman and frequent Libertarian and Tea Party political candidate. Big Brother is currently headquartered in the living room of Robar's doublewide trailer in Colchester. (Palmer once planned to start a privatized house-arrest business, a monitoring system that lets offenders finish their sentences at home, and didn't want to waste time registering the new venture as a corporation; hence the repurposed name.)
Like Benways, Big Brother is a family affair.
On a recent workday, Robar's husband, Richard, squatted in the driveway, tinkering intently on a used bus. Her son, Kevin, left to take a customer to Price Chopper while his fiancée handled the phones. Robar's other son, Rob, works as a dispatcher.
Big Brother has picked up a big portion of Benways' business, according to Cathy Robar, and is already busy ferrying customers to and from dialysis appointments, nursing homes, hospitals and school programs.
But unlike its predecessor, Big Brother's owners claim the company doesn't have to abide by the city's taxi laws. The difference, they say, is that customers have to sign a membership contract. Once they've done that, they can call Big Brother for a ride like they would any taxi company — but as a private car service.
"There's a gray area and we happened to fill that void," Kevin Robar said.
Taxi regulators see it as black and white. The ordinance explicitly states that it applies to both taxis and contract vehicles and, according to Isaac Trombley, who runs the taxi administration office at the airport, there's no doubt it "speaks directly to the service they are providing."
"If they are going to be a taxi-car driver or provide that type of service in the city of Burlington, they have to follow the same rules as everybody else," airport director Gene Richards added. "There is no special designation for them."
No enforcement action has been planned, but Trombley confirmed last week that "it's at the top of our list to discuss."
Palmer is unperturbed. "We'll probably get cited and go to court, which is a good thing," he said. "We'll curb-stomp them."
The voluble entrepreneur doesn't shy from fights with regulators. In a case that ended in the Supreme Court in 2000, he ultimately lost his bail bondsman license for profiting from selling a house and vehicle his clients put up as collateral. Despite shelling out roughly $150,000 in legal fees, Palmer says, "There isn't anything I wouldn't do the same."
Big Brother isn't the only company to scoop up Benways' business. Charlie Herrick, who owns Green Cab, is gradually adding cars. He currently has 12 and expects to buy as many as five more. Quik Cab is beefing up its fleet from 12 to 15, and Dunwright is expanding from four to six cars.
Even so, cabs are hard to come by these days. "Since [Benways] closed, it's been a nightmare," said Matt Canning of Hotel Vermont. "We had our CEO drive a guest to a business meeting this morning." To complicate matters, the imminent return of college students will lead to a spike in demand — further pressuring the depleted fleet.
Enforcing the 'Wild West'
The last time Burlington revamped its taxi ordinance, it made background checks mandatory for drivers and required meters with a uniform base rate in every car.
"It's a very, very robust ordinance in comparison to some of our other ordinances that are very bare bones," said City Attorney Eileen Blackwood. Case in point: Taxi drivers must wear collared shirts, and sweatpants are prohibited. The industry has since cleaned up considerably, according to Richards, who helped craft the law.
But it's not perfect. Munger of the airport commission warned the council about problems enforcing the law in December.
Under the current system, in which airport staff is expected to police the industry, downtown Burlington remains the "Wild West," Munger said in an interview last week. Police Chief Mike Schirling said his officers do license checks and respond to complaints "from time to time" but downtown enforcement "falls into this unusual gray area." And, he adds, "We already have too many calls."
"The bottom line is, there's no enforcement," declared airport commissioner Bill Keogh last week. "It's time for something to happen. While this is dragging on, the public is at risk."
What's taking so long? Actually enforcing the rules will cost money, and the city attorney is still trying to pin down that figure. "We have been trying to make sure that we have real numbers as we evaluate moving at least pieces of the taxi process into different city departments," Blackwood said.
Like the airport commissioners, Green Cab's owner is eager for the city to decide "who's running the show."
"This is a big-boy town now. It's not just a little hamlet in the woods," Herrick said. "The taxi industry has grown in [Burlington] to the point where it needs [enforcement]."
From Keogh's perspective, the "potential influx of electronically connected taxi cab services" makes the situation all the more urgent.
Known as e-hailing apps, Uber and Lyft are the largest of the taxi-like rideshare services. People sign up to chauffeur passengers in their personal cars, connecting with them via smartphone. The companies take a cut of the fares, which can vary, and drivers and passengers can rate each other.
From protests in Europe to the creation of a political action committee in Illinois, cab drivers are fighting these digital companies, arguing that they should be subject to the same licensing requirements and fare rates as traditional taxis.
Despite the recent pink-mustache sighting, Katie Dally, a Lyft spokesperson, said the company has "not made any plans to launch in Burlington at this time."
When Uber spokesman Taylor Bennett was asked about the company's ads for Burlington drivers, he responded, "At this stage we are really just testing the viability of the market." (The company offers several services, but in Burlington it is specifically soliciting drivers for UberX, which relies on "everyday" cars rather than luxury vehicles.)
That said, Bennett also reported that response to the ads reflects "quite a bit of demand." According to Kaitlin Durkosh, another Uber spokesperson, thousands of residents in the greater Burlington area have downloaded Uber's app. Durkosh also noted that the app does well in college towns.
ZabKab, too, is merely exploring the market, according to Martin Heikel, cofounder of the New York-based company that created it. Like Uber and Lyft, the fledgling app connects drivers and passengers via smartphone, with one key difference: It markets its product to licensed taxi drivers rather than threatening to displace them.
As with both of its digital competitors, though, the technology eliminates the need for a dispatcher, which Heikel described as an outdated way of arranging for rides. "One of the reasons Benways didn't sell, I suspect, is there really wasn't a market for their company ... Many of these companies have become antiquated and haven't entered the digital world," Heikel said.
City officials admit they're just getting up to speed on these new technologies. "There's going to be a little bit of a learning curve to understand how they are working," said City Council President Joan Shannon.
After a concerned taxi driver brought the issue to her attention early last week, Shannon asked the city attorney to determine whether Burlington's taxi ordinance applies to companies such as Uber.
"I'm not assuming we would take the approach of banning Uber," Shannon said, but "I don't want them falling outside of our regulatory structure."
Blackwood's initial reaction was that the city's taxi ordinance does not apply to a company like Uber, though she emphasized she hasn't finished her review.
Given that city leaders are already planning to revisit the taxi ordinance, "it's an opportune time to deal with new technology," Shannon said.
If Uber does decide to launch in Burlington, Bennett said, it will "absolutely" reach out to city officials — something it hasn't done yet. The company may also have something to say about potential changes coming to the city's taxi ordinance. "Part of that," he continued, "is looking at the existing regulatory framework and where we can fit in and where we can modernize existing codes."
Don't expect Queen City cab drivers to go along without a fight.
Green Cab's Herrick says letting in digital rideshare companies would create a Darwinian environment.
"If they allow Lyft or UberX to come in and yet still require the taxi industry to have licensing and insurance and background checks, then there will be friction, and it will not last," he said. "One or the other is going to win out."
The original print version of this article was headlined "Fare Treatment"