James Buck
Potting a Calathea plant at Gardener's Supply
Winter: Love it or hate it, you've gotta get used to it if you live this far north. Come January, many Vermonters are feeling low-energy, tired of being cooped up inside, and desperate for a little sunshine and greenery.
In other words, they're suffering from the Winter Blahs. It's a real thing.
Fighting off this seasonal malaise doesn't necessarily require a weeklong cruise or a Florida vacation. There's an affordable local solution that's both healthy and chic, one that also provides enjoyment year-round.
This year, get a houseplant. Or several.
Need convincing? Head to one of
Gardener's Supply Company's Garden Centers
. You'll find a large selection of indoor plants, as well as experts who can help you select the right ones for your needs.
Just being immersed in the lush greenery there will do you good. That's because humans have a positive physiological reaction when surrounded by nature, said Williston store manager Becca Lindenmeyr.
I spoke with her on a recent trip to Gardener's Williston location, where you can also have lunch surrounded by lush greenery in the
Garden of Eatin' Café
. "On average, we now spend 90 percent of our time inside and only 10 percent of our time outside," she told me. And, she noted, "Most indoor environments are making us stressed and physically ill."
Plants Make People Happy
James Buck
Potted plants at Gardener's Supply in Williston
Visiting Gardener's, I could feel my body relaxing. Seeing all that green and breathing in the warm, moist air brightened my mood. Indeed, a growing body of research shows that plants reduce stress, lift spirits and even improve indoor air quality.
An article on the Gardener's Supply website, called
"Make a Home for Houseplants,"
compiles some of this research. For instance, it cites studies showing that being surrounded by nature helps reduce mental fatigue, and others noting that just a few plants at home or work can enhance mood, sharpen focus and increase productivity.
Millennials looking to connect with nature are finding that plants fill decorative and emotional needs — especially in environments that lack natural greenery. Google "houseplants and millennials" to see tons of articles about these newly minted adults turning their often tiny homes into lush, urban jungles.
Becoming a Plant Parent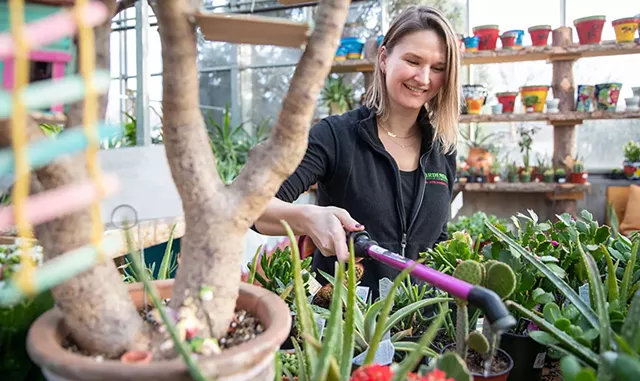 James Buck
Gardener's Supply greenhouse associate Ellen Bortner
Sounds great, right? But what if you don't know the difference between a fern and a succulent? Gardener's has you covered. Anyone who comes to the Williston store seeking plants for a particular space will probably talk with horticulturalist and greenhouse associate Ellen Bortner.
"When we have a customer come in and say, 'I want plants, but I've never had them before,' I ask them first about their light condition," she said. "Low light never gets direct sun, medium light is an east or west window, and bright would be right in front of a south-facing window."
Watch videos on how to care for these popular plants:
"We have a conversation about watering and whether they really enjoy fussing over plants or if they prefer something they can forget about. Mainly, I help them be confident that they can take this plant and make it last and do well."
Worried about killing your new therapy plant?
Join the free Gardener's Club
. Members qualify for a three-month houseplant guarantee, as well as advance notice of sales and special events. Gardener's will also repot your plants for free and advise you on plant care. If you're so inclined, you can also take one of Gardener's plant-care classes.
Bortner also addresses aesthetics with customers. For example, if someone has bright light and is looking for low-maintenance plants, she'll suggest cacti or succulents; somebody else might want something leafy and green, such as a peace lily or fern. "A lot of people have this vision of a large, beautiful or tropical tree; others want something smaller," she added.
Making Housecalls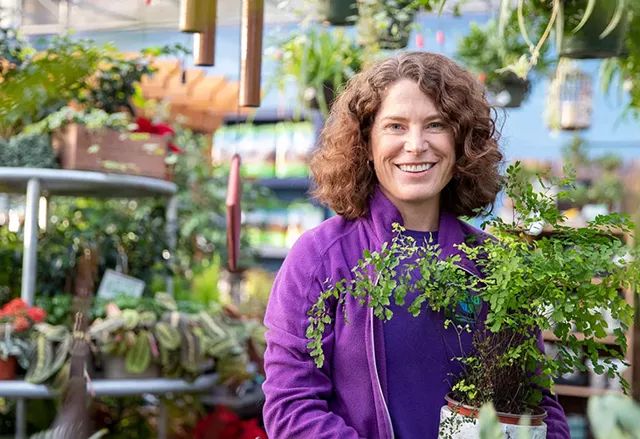 James Buck
Gardener's Supply Williston store manager Becca Lindenmeyr
For those seeking a little more support, Gardener's recently launched an interior plantscape service division. Instead of coming to one of its garden centers to research plants,
you can now have Gardener's staff come to you
— whether that's to your home or office.
"We go meet with clients in their space," said Lindenmeyr. "We evaluate the physical needs of the space: How much light? Is there access to water? What's the ceiling height?"
The new plantscape service is about more than just adding greenery. "For example," added Lindenmeyr, "maybe we can add the sound of water, or add a little scent for aromatherapy, or just air movement in general."
Gardener's can also maintain the plants or offer maintenance instruction. When Vermont Teddy Bear reorganized and renovated the interior of its Shelburne headquarters, Gardener's led the staff through a series of classes — "a company planting party," said Cassandra Clayton, Vermont Teddy Bear's product designer — during which employees made terrariums for their desks.
James Buck
Plants in the waiting area at Living Well Center for Integrative Health, an interior plantscape client of Gardener's Supply
"They supplied all the plants, and they were really great to educate us on which plants, why they selected them, how to ensure that they lived well [and] how to set up our terrariums," she said. After a year, she said, the plants are still alive and doing "very well."
Vermont Teddy Bear also wanted the space to feature larger plants. During a process that took three to four months, Gardener's and Vermont Teddy Bear held several meetings to discuss the best choices for the space, which doesn't have a lot of natural light. "We wanted low maintenance," said Clayton. "We also wanted them to be big plants." Gardener's ended up ordering and installing them.
"I was in control of where plants were located," said Clayton, "and I would be like, 'Well, move it over there.' And their communication was prompt and often. They really exceeded expectations."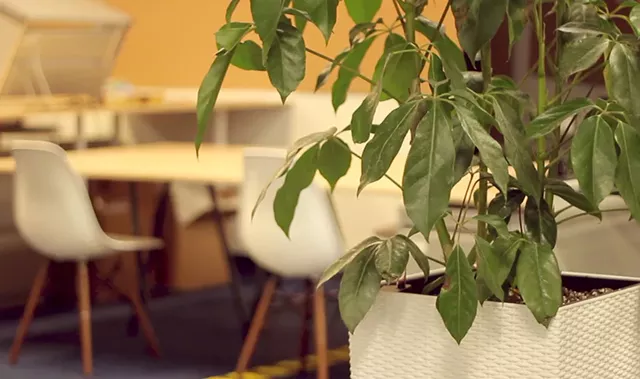 David Littlefield
A ficus plant at the Vermont Teddy Bear offices
Vermont Teddy Bear is part of a growing trend of businesses — think Apple, Google, Facebook, Samsung, YouTube, and Kickstarter — adding plants to offices to bring nature inside, said Lindenmeyr.
All of that sounds lovely in the dead of winter, doesn't it? Said Lindenmeyr: "Creating a whole indoor living space connected to nature can be done on any scale."
Not sure which plant is right for you?
To learn more about house plant care, check out Gardener's Supply's upcoming classes including "Houseplants 101" on Saturday, January 19. Click here for the current sales and promotions.