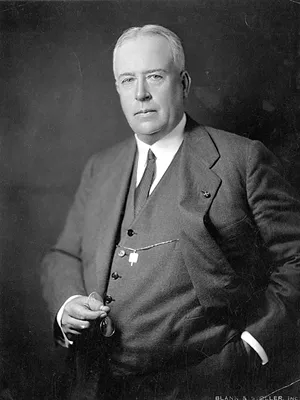 Courtesy Of University Of Vermont
Guy Bailey
The University of Vermont may change the name of its library because one of the building's namesakes was involved in the eugenics movement. The idea was proposed during racial justice protests last year when students blocked traffic and made various demands, including a new designation for the Bailey/Howe Library.
In an era when many historic figures are being judged in a new light, the library's lobby acknowledges the evolving and contradictory views about Depression-era college president Guy Bailey. On one side, a handsome portrait of the school's 13th president hangs over a plaque explaining that the building was dedicated to Bailey in 1961, two decades after his death, because he "earned the affection and esteem of all whose lives touched his."
Thirty paces away, an exhibit details Bailey's role in one of the darkest episodes in the university's history — the Eugenics Survey of Vermont, which ran from 1925 to 1936. The "better breeding" pedigree studies favored Protestant Yankee stock over French-Canadian, Native American and "dusky" people. Individuals with so-called undesirable traits were identified and used to make the case that institutionalization and sterilization were necessary to keep "defectives" from propagating.
Bailey was instrumental in raising private funds for Vermont's eugenics survey, according to the lobby exhibit, curated by special collections library director Jeffrey Marshall. Bailey served on an advisory board that supported the work of the man who led the now-discredited effort, UVM zoology professor Henry Perkins. The display includes a note from Perkins to Bailey, thanking him "most heartily for all the encouragement and help which you have given to this extremely interesting and, I firmly believe, valuable enterprise."
That evidence is damning enough for Valerie Courtright of Pennsylvania. Just do it, said the 23-year-old English major as she sat in front of the library last week.
"To have someone who basically directly financed something like that, to have his name attached to a building, I'm sure would make a lot of people uncomfortable," said Courtright. Being a transgender woman, she added, has made her more aware of discrimination.
"It should be taken off. People like that should not be honored in any way," said Indira Romero-Marcano, 19, a premed student. As a Latina, she said, her experience is that minorities aren't heard "at all" at UVM. "I think there are more important issues than the renaming of a library, but one step at a time," she said.
Molly Walsh
Indira Romero-Marcano
With support from UVM president Tom Sullivan, board of trustees chair David Daigle announced in March that a renaming committee would be created to address the protesters' concerns. In April, a group of 108 professors led by Jackie Weinstock, an associate professor in the department of Leadership and Developmental Sciences, suggested the committee remove Bailey's name.
The committee has solicited the campus community for feedback and will accept it until September 14, after which the group will vote. In October it will make a recommendation to the board of trustees, which has final say. If the university's leaders opt to remove Bailey's name, choosing a new one will be a separate process.
It's unclear how any change would affect the "Howe" in the library's name, which honors former Burlington Free Press publisher David Howe, who worked for the local daily newspaper from 1921 to 1969. His name was added to the building after a major expansion in 1980, for which his daughter, Lois McClure, and her husband, Warren "Mac" McClure, made a significant donation.
"We are maniacal in trying to run a fair, deliberate process that's not prejudiced in any way," said Ron Lumbra, vice chair of the board of trustees and head of the renaming committee.
Most of the people who have shared their views with the committee sound like UVM medical student Luke Soelch.
UVM should not honor people involved in "ethically dubious practices," he wrote in an email to the group.
"Eugenics was hateful and harmful," wrote Sandy Bermanzohn, a UVM financial analyst, "and whosoever was involved in this movement should never be on a building that represents our university and our common ground."
Jacques Bailly, associate professor of classics, wants Bailey's name gone — and more. "Renaming the library would be nice. What would be better is a monument commemorating in a long-lasting way the facts of the eugenics movement and UVM's role in it," he wrote.
But committee members have also heard from Bailey supporters.
"There seems to be little evidence that anything concrete was done by Guy Bailey to directly promote eugenics," wrote Nick Gingrow, a UVM alumnus and staffer in the school of business. "This seems to be an exercise in making something out of nothing."
"If we only celebrated people that were perfect, there would be no one left to celebrate," read an email submitted anonymously. The writer said Bailey's accomplishments outweighed his "in name only" support of the eugenics movement and that "historical figures are complex, and this erasure of history goes against traditional academic values."
This isn't the first time Bailey's record has been challenged. He has already been celebrated, pilloried and redeemed — but not over the eugenics question.
Born in 1876, Bailey grew up in Essex Junction in a white, Protestant, middle-class family. As a teenager, he carved monuments for his father's granite business. He commuted by train to attend Burlington High School and started at the University of Vermont at age 20, according to the 1991 book The University of Vermont: The First Two Hundred Years. Historian T.D. Seymour Bassett contributed the chapter entitled "Guy Bailey and the University of Vermont."
According to Bassett, Bailey graduated with honors in 1900. He became a lawyer and was elected as a Republican Secretary of State, serving from 1908 to 1917. Bailey participated in various committees occupied with child welfare, including the Vermont Children's Aid Society. He became president of the University of Vermont in 1920.
At times he took a hard line, refusing admission to scions of influential Vermonters who had flunked out of Ivy League schools and firing an instructor whose baby was born "too soon" after marriage.
But Bailey was also known for his generosity. He scraped together scholarship money for needy students and personally encouraged students who faced melancholia, homesickness or academic struggles. During the Great Depression in the 1930s, Bailey kept the university going — saving it, some said later, from shutting down altogether. He pushed teacher-training programs and raised money for new buildings.
When he died in 1940, the obits were glowing. But within months, an audit revealed that Bailey had concealed a deficit of nearly $1 million, then a grand sum that risked bankrupting the university.
It destroyed his reputation for two decades. Then, in the late 1950s, alumni with fond personal memories of Bailey began to argue that he should be remembered in a more positive light. The rehabilitation campaign worked, and trustees named the university's new library after Bailey in 1961.
His association with eugenics was not part of the dialogue then. In his essay, Bassett acknowledges that Bailey helped raise the money for the Eugenics Survey — a project that contributed to stripping the reproductive rights of 200 people in Vermont institutions after the state passed a voluntary sterilization law in 1931.
Rendering people infertile under such laws, which were passed in many states at the time, was coercive and not voluntary, historians now believe. And while many social reformers and mainstream academics supported eugenics as a solution to social ills, by the 1930s its connection to Adolph Hitler's "master race" theories was becoming increasingly clear.
Bassett downplayed Bailey's role in the Vermont movement, writing that while he raised funds from wealthy patrons, "it is a far cry from President Bailey's accepting $5,000 a year from Mrs. Emily Proctor Eggelston for the Eugenics Survey at one end of the spectrum, to Nazi racism at the other."
But other studies have portrayed Bailey as an important booster of the effort. In the 1991 paper "From Degeneration to Regeneration: The Eugenics Survey of Vermont, 1925-1936," historian Kevin Dann pointed out that Bailey didn't just secure the start-up funding from Eggelston. In 1926, Bailey also made the initial funding application to the Social Science Research Council in New York, which resulted in an $84,000 grant for the survey from the Laura Spelman Rockefeller Foundation. Dann wrote: "Bailey was Perkins's continual supporter in his eugenic endeavors, granting Perkins a year's sabbatical (1927-1928) to organize the survey."
That gave Perkins more time to hire field workers who interviewed "pirate," "gypsy" and "delinquent" families in Vermont and documented their alleged multigenerational physical, moral and mental defects in pseudoscientific charts.
History is taking a second look at some of the people who supported eugenics — here and elsewhere in the country.
Vermont writer Dorothy Canfield Fisher was among the many prominent leaders and social reformers who served on a committee that Perkins established to proselytize the goals of the Eugenics Survey. Last year the Vermont Library Board recommended that her name be removed from a longtime children's book award, but so far, state librarian Scott Murphy has declined to act.
In 2016, the University of Virginia decided to eliminate the name of eugenicist and medical doctor Harvey E. Jordan from a medical research building and rename it after Dr. Vivian Pinn, the first female and African American to graduate from the UVA School of Medicine. Last March, University of Michigan regents voted to remove the name of 1920s college president Clarence Cook Little from a campus building for his support of eugenics. They also voted to rename a dorm that had honored Alexander Winchell, a professor who authored a racist book in 1880 that is still in circulation among white supremacists.
Little and Jordan were major players in the eugenics movement: Little was president of the American Eugenics Society; Jordan helped make UVA a hub for eugenics research. It's unclear whether Bailey's less prominent role will result in a new name for the library.
UVM English professor and state Sen. Philip Baruth (D/P Chittenden) said he's glad the committee is at least investigating the man.
When Fisher came under attack last year, Baruth defended her legacy. In his view, the feminist author's good works outweighed her minimal involvement in the eugenics movement.
But he said he "wouldn't shed a tear" if the library were to bid Bailey goodbye.
"Make no mistake," he said, "UVM and Vermont have dark streaks in the past, and we should look at those."