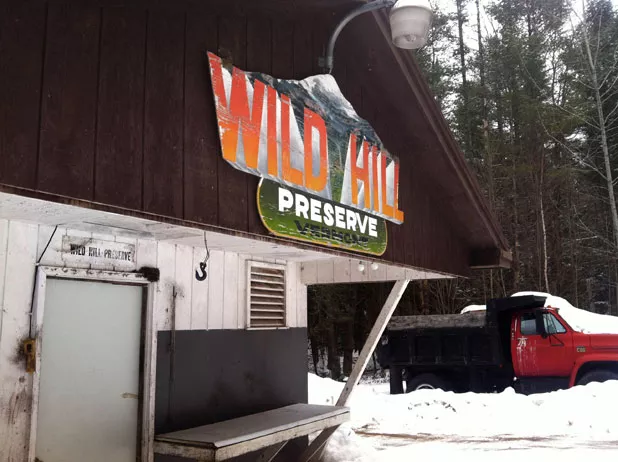 Wild Hill Preserve meat-processing building
When deer in Pennsylvania tested positive for chronic wasting disease last October, Vermont officials sounded the alarm. The Vermont Department of Fish & Wildlife issued a press release warning that the spread of CWD, a relative of mad cow disease, poses "the biggest threat to North America's deer hunting culture and tradition.
"Therefore, the Fish & Wildlife Department is taking measures to prevent the introduction of infectious diseases to the state's deer herd," the press release continued.
Vermont has indeed taken some steps to ward off an outbreak of CWD, a fatal neurological disease with no known cure. But information obtained by Seven Days raises serious questions about one crucial aspect of the state's prevention efforts.
For two years, the Department of Fish & Wildlife has allowed a licensed captive-hunting facility in Fairlee to maintain, without proper documentation, a herd of exotic wild animals susceptible to CWD. Nonnative animals have escaped from the preserve into the wild, and state officials say the hunting park's owners have failed to send samples from killed animals to a lab for testing, as required by state regulations.
Since it first appeared in Colorado and Wyoming three decades ago, CWD has migrated steadily east and north into 21 states and two Canadian provinces. Along the way, it has decimated native deer populations and cost taxpayers tens of millions of dollars for disease-control programs that have struggled to contain it.
One common thread links almost all of the outbreaks: They can be traced to captive-hunting facilities, where sportsmen pay thousands of dollars to shoot exotic animals such as bison and wild boar inside fenced enclosures. Captive facilities — whether for hunting or livestock — are known as CWD incubators because animals are imported from all over and live together in crowded conditions, where the disease spreads easily.
With that in mind, Vermont outlawed captive hunting in 2009. But two existing hunting parks were grandfathered in. One of them was Big Rack Ridge, the home of Pete the Moose, a celebrity cervid who developed a cult following when Fish & Wildlife officials sentenced him to death over concerns about CWD. That facility remains operational but has since closed to captive hunts, according to the Department of Fish & Wildlife. State wildlife officials last year oversaw the destruction of native whiletail deer and moose that were living among the park's imported elk.
The other captive-hunting facility is not as well known but might actually pose a bigger threat to the state's deer population. Wild Hill Preserve, set on 1000 wooded acres in Fairlee, has been luring visitors since 1960 with guided hunts for elk, Spanish goats, Mouflon rams and other exotic game for up to $6000 a pop. Wild Hill's owner is Bill Richter, a lifelong hunter and trapper who was a bush pilot in Alaska and the Amazon in the 1960s.
"He developed Wild Hill especially for the sportsman who expects something more from his hunt," the preserve's website reads. "By traveling a relatively short distance from home, a hunter can leave everyday cares behind and coexist with nature, testing his skills against his game in a true wilderness setting."
Plastered on the website are snapshots of Wild Hill's rustic lodge and camouflaged hunters posing with their trophies: slain elk, red stags, wild boar and bison.
In January, undercover state game wardens posing as hunters found an almost identical herd of animals roaming just a few miles away at another captive-hunting facility in Fairlee. The Department of Fish & Wildlife says a facility named Hunt the Ridge operated an illegal captive-hunting park that also charged visitors up to $6000 to shoot exotic wild animals. The park's owners have pleaded not guilty to running an unlicensed hunting park.
"The underlying problem is a lack of inventory," says Fish & Wildlife Commissioner Patrick Berry. "You don't know where the animals came from. You don't how many there are."
But Fish & Wildlife officials admit they have no idea what dwells behind Wild Hill Preserve's 8-foot-high hog-wire fence, either. Under regulations adopted in 2009, Vermont's last remaining legal captive-hunting operation must submit an annual report documenting every animal that came into and went out of the facility. Wild Hill's 2011 report was filed two weeks ago — more than a year late — when Seven Days began asking state officials questions about it. The report did not include a herd inventory.
Despite that omission — a violation of its state permit — Fish & Wildlife relicensed the facility in January 2012 for another year.
Wild Hill has provided the state with a list of animals killed on hunts in 2011. From September to December of that year, hunters from as far away as Eagan, Minn., and Boca Raton, Fla., shot 140 exotic animals on the West Fairlee property. On the report, each kill is matched with a hunter's name and phone number, though state officials redacted that information with black marker.
Nothing in the report indicates the origins of the animals — except that the park imported 125 wild boars from a facility in Brigham, Québec, on three separate dates in the fall of 2011. Commissioner Berry says it's possible some of the animals were born on-site but adds, "We don't know, which I will admit is not good."
Escapes are another problem. State game warden Mark Schichtle says reports of escaped animals from captive facilities in and around Fairlee have become so commonplace that he stopped recording them. However, four escapes were significant enough that Schichtle made detailed notes.
In one such instance, a Bradford homeowner reported spotting three nonnative fallow deer to game wardens in 2011. Schichtle was able to locate and kill one of them, but the other two got away.
Schichtle said Richter indicated he was not interested in retrieving the escaped animals. "He told me that fallow deer are not popular targets for his clients," the game warden recounted, "and the time and effort involved in retrieving and returning them to the enclosure was not worth it."
Wild Hill Preserve is also supposed to inspect its fence — and make detailed notes about problems found and locations and dates of repair — but that page was left blank in its 2011 report. Scott Darling, wildlife management program director for the Department of Fish & Wildlife, says state inspectors only visited Wild Hill once in 2012 and did not walk the perimeter of the fence.
"The smart thing to do would be to visit much more frequently, perhaps quarterly," Darling says.
Perhaps most troubling, Wild Hill Preserve is supposed to remove the brain stem or lymph nodes from each animal shot and ship a sample to a state-contracted lab in Wisconsin that tests for CWD. The lab typically notifies state officials when they receive a shipment, though Darling says they haven't received a single test result for 2012.
"We don't know where the specimens are at this point in time," Darling says. "I suspect the specimens remain at [Wild Hill Preserve]."
Richter and his wife, Marlene, did not reply to numerous phone messages. Contacted for an interview by email, they simply replied: "Sorry, we're on vacation right now."
An outbreak of CWD could be devastating for Vermont, where deer hunting generates an estimated $100 million each year from hunters purchasing food, lodging and gasoline. The state's plan for eradicating CWD, should it be detected in the wild, calls for killing thousands of deer within a 300-square-mile area. It would involve enlisting local hunters, private contractors — even aerial gunners using infrared technology — to "depopulate" wild deer herds. New York State killed and tested 6000 wild deer within a "containment zone" after CWD was detected in a captive deer herd in 2005.
That grisly proposition is also an expensive one. Combating CWD costs taxpayers millions of dollars in states that have it. Wisconsin has spent more than $35 million since 2002 to control the disease. While there's no known link between CWD and humans, health agencies recommend that people not eat meat from infected animals.
With the stakes so high, why has the state of Vermont cut Wild Hill Preserve so much slack?
"That's a perfectly fair question," says Commissioner Berry. "Frankly, if there are folks who think we should have moved this along more quickly, you could make an argument that they're right."
In Wild Hill's defense, Berry says the preserve has existed for decades with no government regulation and was suddenly hit with a host of new rules two years ago.
"In the rural parts of the state, people do what they want to do. Which is kind of endearing in some ways, that Vermont — one of the oldest settled states in the country — is still the Wild West," Berry says. "But I think that's why it's harder to get people to come into compliance with newer regulations when they've been doing something in a certain way out in the hinterlands, where they feel they're not bothering anybody."
The goal with Wild Hill has been "voluntary compliance," Berry says, and the way to get it is to develop a constructive relationship with the owners. More carrot than stick, in other words. That approach worked with Big Rack Ridge owner Doug Nelson, Berry adds, who voluntarily destroyed native deer and moose trapped inside his fenced property.
"I spent a lot of time kicking dirt outside the fence of that facility, just talking about what we were going to do," Berry says. "We've made huge progress in the past couple of years."
But the state's patience with Wild Hill may finally be reaching its limit. The preserve's permit wasn't renewed for 2013 and won't be until it files complete reports not just for 2011 but also 2012, Berry says.
In addition, Wild Hill is currently under criminal investigation, though Berry won't say why. Major Dennis Reinhardt of Fish & Wildlife's enforcement division says information gathered from Hunt the Ridge — the unlicensed captive-hunting facility — implicated Wild Hill in a potential criminal violation, though he would not elaborate.
Vermont has taken several steps to keep chronic wasting disease at bay, such as prohibiting importation of whole-deer carcasses from states with CWD, imposing bans on feeding and baiting free-range deer, and warning hunters against using products containing deer urine — a prime conduit for the disease — that come from captive deer facilities. The state also tests deer every hunting season — it took brain-stem samples from 3136 deer in 2009 — and hasn't gotten a positive result yet.
Yet state wildlife officials say it's only a matter of time before CWD shows up in Vermont. A 2011 plan for managing an outbreak estimates the arrival date at "a few decades," given the way the disease moves over land in native deer herds. Once the disease infects 2 percent of a local deer population, the reports states, it's "virtually impossible" to eliminate.