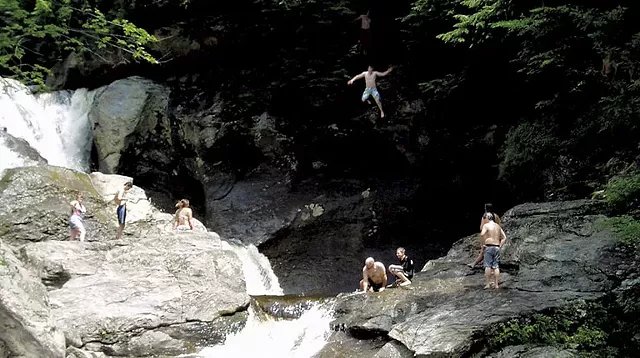 Matthew Thorsen
Bolton Potholes
One of Chittenden County's most popular and dangerous swimming holes could be much more difficult to dive into next summer. Bolton resident and former selectboard member David Parot has signed a contract to purchase 3.1 acres of land on the west side of the Bolton Potholes, including the most popular path to the waterfall and the open shelf of rock where people bask in the sun and leap into the bowl-shaped cavern below.
Parot plans to block access however he can, in contrast to current owner Brad Gardner of Colchester, who has taken a laissez-faire approach to the unofficial recreation area. "Whether it's fencing, restricting access from the road, whatever I have to do, I'm certainly going to do," Parot said, adding that the answer to whether people would still be able to cross the land is: "Unequivocally, no."
Beautiful as they are, the Bolton Potholes have proved problematic and lethal. At least five people have died at the waterfall, including 12-year-old Bentley Seifer of Burlington, who drowned there in 2011. Neighbors have complained for years about parties, trash, illegal parking and booze-and-drug-fueled obnoxious behavior there.
Still, people flock to the cascading watering holes along Joiner Brook. So reports that a new landowner might limit access generated complaints. "It's a swimming hole in Vermont. I don't think people should say 'No, you can't go there anymore,'" said Nancy Hartmuller of Richmond.
She walks the property in the off-season and once swam there regularly, although not so much these days. "I'm pushing 60," she said. "It's not my scene anymore."
Still, Hartmuller, a UPS employee who likes to ski and surf, believes the potholes should remain a place where people of all incomes and backgrounds can enjoy the natural beauty, albeit carefully and with respect for neighbors. As she put it: "It's not good for society for people to separate themselves out from other people because they can afford to and fence something off or say you can't be there."
While Parot may be able to keep would-be swimmers off his land, he won't be able to keep them out of the potholes. Hartmuller and others have noted with relief that Joiner Brook will still be accessible from public land on the east side, through the 2.3-acre parcel on which Smilie Memorial Elementary School sits, and from a 3.5-acre parcel north of it, which the town purchased in 1996.
But the east side of Joiner Brook is more wooded and difficult to access than the west side, and it lacks the big open rock face that warms in the sun and serves as a high dive for adrenaline junkies who dive, flip and jackknife into the water below.
There were no shirtless teenage boys hanging at the potholes last Friday, and summer seemed a distant dream. Sleeves of bluish ice coated parts of the waterfall, while the water flowing beneath crashed downward in a roar. Snowdrifts perched at the rims of the bowl-shaped rocks sculpted by eons of rushing water.
Parot floated his ideas for the land on Front Porch Forum in late December, which is how Hartmuller and many others learned about the impending transaction. In one post, Parot said he might turn the property into a private club. That idea enraged some fans of the potholes, who sent Parot angry emails and called him names, he said. He's undaunted and continues to consider some sort of members-only arrangement.
"Unfortunately, folks don't like change," Parot said. "Folks have fallen in love with someone's else's land, and that's going to change."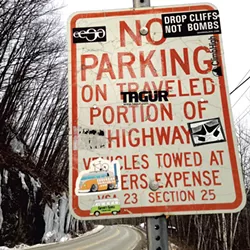 A few visitors might be allowed, for a price. Parot said he might invite friends to buy shares in the narrow wedge of land and make it more comfortable for them. "I could do little gazebos and maybe some lean-tos," he said.
While some have criticized Parot's intention to keep the public at bay, he says several people who live near the Potholes have given him the "attaboy" and couldn't be happier with his plans to control what they see as a public nuisance. A South Burlington High School grad, 46-year-old Parot works at Myers Container Service, a trash and recycling removal business, and has lived in Bolton for around 15 years. He's unmarried and has no children. Parot was on the local selectboard from 2010 to 2013.
He was serving in 2012, when the town contemplated acquiring the Gardner parcel with help from the Vermont River Conservancy, a Montpelier nonprofit that has helped conserve land around numerous swimming holes. But community meetings made it clear that the area is "sort of loved to death," said Steve Libby, executive director of the conservancy. "So many people like to use it that it's a difficult place to manage the use. We ended up not acquiring the parcel because we hadn't gotten to the point where we had strong community support for it."
Parot counts himself among the skeptics. A regular at Bolton's annual town meeting, he's known for speaking his mind in blunt terms about conserved lands. In an interview with the Mountain Gazette in 2014, when he was making an unsuccessful bid to return to the selectboard, Parot said: "They're not making any more land, and the more we conserve, the less revenue we have, so we raise taxes." Property taxes in Bolton have increased 18 percent in the past five years.
Parot nonetheless appreciates the town of Bolton, he told Seven Days. "I like the community. I like to be able to go shooting any time I want. I like the fact that most of us carry guns,'' Parot said. "We're a working middle-class town."
The land transaction has not taken place, according to town records. Parot said the closing will happen by March 30. He won't say how much he's paying. Neither will current owner Gardner, who confirmed that Parot has the land under contract.
The property, while popular, apparently may not be costly, because the bedrock and topography make it unsuitable as a building lot. The town assessment is $16,900. Annual property taxes are only $344.17.
Gardner has owned the parcel since 1992 but said he rarely swims there.
Asked why he is letting the property go, Gardner said he's selling various parcels. "I'm liquidating some of my holdings," said Gardner, president of Gardner Construction. He added: "I think it's beautiful, but all I've been doing is paying taxes."
He acknowledged that the property has been difficult to maintain. "Anybody that has raw land in Vermont, people dump on it."
Along with trash, parking has been an issue. Swimmers for years parked on the tight shoulder of the steep Bolton Access Road. Their cars jutted out into the travel lanes and created a hazard. A few years ago the town put up guardrails, which helped — for a while.
Then pothole regulars began parking in the Smilie school lot, at the bottom of the road. Complaints followed regarding rowdy behavior, broken beer bottles and dirty diapers accumulating there.
When people go there to party, "That doesn't really go well with an elementary school," said Josh Arneson, a Bolton Selectboard member.
He's not sure what to make of Parot's plans and said the town has struggled to manage the swimming holes: "When it gets overwhelmed with people and there's too much garbage left behind, that gets to be a problem."
Selectboard members have come to dread any attention the potholes get in the media, lest more people discover them. Last year, when the spot won the award for best place to swim in this newspaper's Seven Daysies contest, the selectboard wrote Seven Days a snail-mail letter asking that the potholes be disqualified from any future awards.
"Out of respect for our town, schoolchildren, nearby residents and the families of those who have perished at the Bolton Potholes, we implore you to disqualify the Bolton Potholes in the future should it ever 'win' this category again," they wrote.
Parot's plans to limit access haven't moved the municipality to revisit the idea of buying the parcel. As Arneson put it: "I'm not sure how owning the land would help us address the challenges."
Parot may be able to keep people off his land, but he can't prevent them swimming in Joiner Brook, according to Libby of the Vermont River Conservancy. Under federal and state law, navigable waters are a public trust resource that can be used for recreational purposes, Libby said. His interpretation is that Joiner Brook is one of these waters. "As long as you are in the water, our understanding is that you have a right to be there," he said.
"Rivers are a precious resource, and we in Vermont are lucky enough to have many wonderful places along our rivers. It's important that those places stay available to everybody," he said.
Educating people about spots like the Bolton Potholes, and the much more dangerous nearby Huntington Gorge in Richmond, is better than closing them, he suggested. "It's tragic when someone is either injured or loses their life at a swimming hole, there's no question about that, but the long-term overall public benefit sometimes has to be balanced against the risk."
He and others hope that the town and the conservancy might renew the conversation with Parot once he closes on the property. Parot "wouldn't say no" to that, but there's a new complication: "I really fell in love with the place," he said, "so I'm kind of excited to just use it as my own."