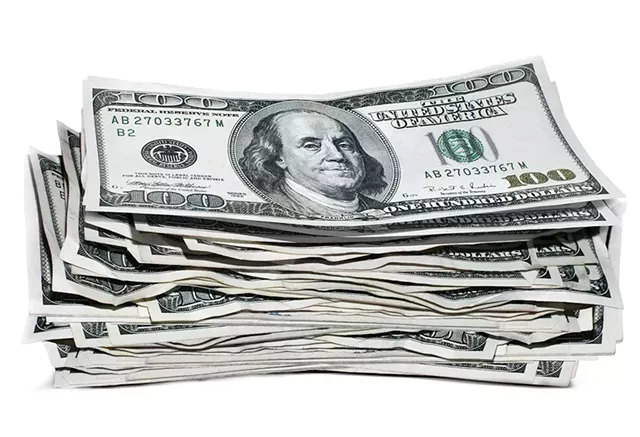 Charlotte entrepreneur David Blittersdorf has a pretty simple strategy when it comes to making political donations.
"Whenever someone's coming out against wind power or solar or renewables in general — if they're even hinting at it — I'm gonna go and do everything I can to make sure that doesn't happen," he says.
In next month's elections, that means taking out Republican gubernatorial nominee Phil Scott, who supports a moratorium on large-scale wind projects in Vermont.
"I'm scared to death of Phil Scott. He is a dangerous guy," Blittersdorf says of the incumbent lieutenant governor and amateur racecar driver. "We don't need a guy who spends his weekends driving in circles, looking through his rearview mirror."
Blittersdorf, a wind and solar developer who cofounded NRG Systems and now runs AllEarth Renewables, is putting his money where his mouth is. Over the past two years, he has contributed more than $102,000 to Vermont candidates, political action committees, super PACs and parties, according to federal and state records. That makes him the most generous Vermont donor to state political races this election cycle, according to a Seven Days analysis.
He's got company. At least 28 individuals and families have contributed more than $20,000 over the past two years to influence state politics — and most of them live right here in Vermont.
Though individuals are barred from contributing more than $4,000 to a single statewide candidate, Blittersdorf's giving history is a case study in how creative contributors can donate unlimited sums under Vermont and federal laws.
In addition to the $4,000 he's given to Scott's rival, Democratic nominee Sue Minter, Blittersdorf has contributed $20,000 directly to the Vermont Democratic Party — and another $20,000 to the party through two businesses he controls, Aeolus Labs and Georgia Mountain Community Wind.
He's helped out traditional political action committees, such as Vermont Conservation Voters PAC and Renewable Energy Vermont PAC, to the tune of $4,000 apiece. And he's also dabbled in super PACs: Two weeks ago, he cut a $25,000 check to Vermont Conservation Voters Action Fund, which has spent more than $166,000 this month on postcards promoting Minter and attacking Scott.
A Minter victory would undoubtedly help Blittersdorf's bottom line — not least because the next governor will quickly name a new chair to the three-member Public Service Board, which regulates his controversial wind projects. But the developer insists he's mostly driven by ideology.
"We have to lead on a carbon tax," he says, acknowledging that Minter has claimed to oppose such a levy. "Well, she's been hedging a little bit, but I think she's smart enough to understand ... we're going to have to do something."
The state's second biggest Vermont-based donor, Rodolphe "Skip" Vallee, feels just as passionately about a potential carbon tax — except he opposes it. Though his family made its fortune through gasoline distribution and retail — including its Maplefields gas stations — Vallee claims his political contributions have "zero" to do with his business interests.
Vallee and his family — his wife, father, mother, brother and sister-in-law — have donated more than $83,400 over the past two years. But they've done so differently than Blittersdorf.
Rather than finance a super PAC or political party, the Vallees have made at least 62 individual contributions of no more than $4,000 to Republican legislative and statewide candidates. The biggest recipient has been Scott, who has picked up a combined $22,500 from the Vallees. In June, the gasoline magnate held a fundraiser for the GOP gubernatorial nominee at his Shelburne home.
"The goal is to elect as many Republicans as possible," he says. "I have a lot of friends in the Republican Party who gave me a lot of very good advice about what campaigns were likely to succeed."
Until this election cycle, when the Secretary of State's Office first required candidates to enter fundraising data in an online database, it was difficult or impossible to assess the true scale of Vallee's giving. But he says this year is typical.
"I don't think this is drastically different than my support for the Republican cause for more than two decades," he says.
That makes sense, given that Vallee's fundraising prompted then-president George W. Bush to award him the ambassadorship to Slovakia in 2005.
Of Vermont's 28 mega-donors, only three appear to live out of state. Those include this cycle's biggest individual donor: Silicon Valley entrepreneur Reid Hoffman, who dropped $220,000 on television ads supporting Democratic gubernatorial candidate Matt Dunne in August, a week before Dunne lost the primary to Minter. (Hoffman had previously donated another $4,000 directly to Dunne and $10,000 to the VDP.)
Other out-of-staters include Hyatt Hotels heirs J.B and M.K. Pritzker, who donated $20,000 to the VDP, and Connecticut-based investment banker Robert Steinberg and family, who contributed $33,000 to former colleague Bruce Lisman's failed run for governor.
Tom and Carol Breuer made their political name in Massachusetts, where they contributed to candidates who opposed gay marriage. They now own a home in Stowe and have donated $55,050 to Vermont political causes in the past two years. Other than a $10,000 gift to the Vermont Republican Party, they've subscribed to the Vallee method of giving: 42 individual donations to various GOP candidates.
While both parties have their share of big donors, Democrats have a clear edge. They've picked up at least $884,000 this cycle from those who've contributed more than $20,000, while Republicans have taken $482,000 from the same crowd.
Among the most generous Dems, according to Seven Days' analysis, are Dow Jones heiress Lisa Steele of Shelburne ($80,175); Burton founders Jake and Donna Carpenter of Stowe ($61,200); and IBM heiress Jane Watson Stetson and husband Bill Stetson of Norwich ($46,845). (These figures do not include donations to out-of-state candidates, such as those running for president.)
Top Republican donors include U.S. Gypsum and Montgomery Ward heiress Lenore Broughton of Burlington ($66,890); the Pizzagalli family, which founded what is now PC Construction ($63,350); and retired investment banker Frederick Fritz of Cornwall ($49,100).
Blittersdorf claims he's uncomfortable pouring so much cash into the political system.
"It's horrible. I wish I didn't have to do it," he says. "But at the same time, it's a defensive move. What are we gonna do when millions come in? Say, 'Well, I don't believe in Citizens United, so I'm not gonna play?' We lose. We totally lose."
He may have a point. So far this cycle, at least eight super PACs have invested in Vermont's gubernatorial race. In the past week alone, one group bankrolled by the Planned Parenthood Action Fund and the Democratic Governors Association spent more than $346,000 on blistering TV ads accusing Scott of opposing abortion rights — a charge he denies.
The biggest player thus far has been a pro-Scott super PAC financed by the Republican Governors Association. It's spent nearly $2.4 million on the race. And unlike most of Vermont's 28 top donors, its chief financiers are definitely not from the Green Mountains.
Their names are Charles and David Koch.
Top Vermont Donors in the 2016 Election
| | | | |
| --- | --- | --- | --- |
| Reid Hoffman | San Francisco, Cali. | Democrats | $234,000 |
| David Blittersdorf | Charlotte, Vt. | Democrats | $102,550 |
| Rodolphe "Skip" Vallee and family | Shelburne, Vt. | Republicans | $83,400 |
| Lisa Steele | Shelburne, Vt. | Democrats | $80,175 |
| Lenore Broughton | Burlington, Vt. | Republicans | $66,890 |
| Pizzagalli family | Shelburne, Charlotte and Burlington, Vt. | Republicans | $63,350 |
| Donna and Jake Carpenter | Stowe, Vt. | Democrats | $61,200 |
| Tom and Carol Breuer | Winchester, Mass., and Stowe, Vt. | Republicans | $55,050 |
| Frederick Fritz and family | Cornwall, Vt. | Republicans | $49,100 |
| Bill and Jane Watson Stetson | Norwich, Vt. | Democrats | $46,845 |
| Don and Susan Foster | White River Junction, Vt. | Democrats | $44,500 |
| Win Smith | Warren, Vt. | Mostly Republicans | $38,500 |
| Arthur and Anne Berndt | Sharon, Vt. | Democrats | $35,250 |
| Paul and Eileen Growald | Shelburne, Vt. | Democrats | $34,950 |
| Robert Steinberg and family | Greenwich, Conn. | Republicans | $33,000 |
| Pomerleau family | Burlington, Vt. | Mostly Republicans | $32,620 |
| Rich and Jerry Tarrant | Bedford, N.H., and Colchester, N.H. | Republicans | $32,250 |
| Lydia Spitzer and Dottie Deans | North Pomfret, Vt. | Democrats | $32,024 |
| Crea and Phil Lintilhac | Shelburne, Vt. | Democrats | $30,469 |
| Thom and Karen Lauzon and family | Barre, Vt. | Mostly Republicans | $28,088 |
| Pritam Singh and Ann Johnston | South Woodstock, Vt., and Key West, Fla. | Democrats | $26,750 |
| George Burrill and Lola Van Wagenen | Shelburne, Vt. | Democrats | $25,515 |
| Marion and William Mohri | Wheelock and Lyndonville, Vt. | Democrats | $23,250 |
| Barbarina and Aaron Heyerdahl | Montpelier, Vt | Democrats | $22,812 |
| Charlotte Metcalf | Norwich, Vt. | Democrats | $22,000 |
| Valerie and William Graham | Charlotte, Vt. | Democrats | $21,450 |
| Jacob Perkinson and Catherine MacLachlin | Burlington, Vt. | Democrats | $20,800 |
| Jay and Mary Pritzker | Chicago, Ill. | Democrats | $20,000 |
Sources: Vermont Secretary of State's Office and the Federal Election Commission
Note: Data includes all donations in 2015 and 2016 to Vermont political candidates, as well as parties and committees operating in the state. It includes donations to federal candidates running in Vermont, such as Sen. Patrick Leahy (D-Vt.) and Congressman Peter Welch (D-Vt.), but not current or former presidential candidates, such as Sen. Bernie Sanders (I-Vt.). Donations from candidates who have largely self-funded their campaigns are not included.
All The Stops
Vermont's left-of-center political establishment typically spends its time engaging in intramural squabbling. But at six rallies across the state last weekend, Democrats, Progressives and one very influential independent — Sen. Bernie Sanders (I-Vt.) — buried the hatchet and rallied around the statewide Democratic slate.
One rally Sunday morning at the University of Vermont's Davis Center featured such unlikely allies as Rep. Chris Pearson (P-Burlington) and Sen. Patrick Leahy (D-Vt.) sharing the stage in support of even unlikelier running-mates Minter and lieutenant gubernatorial nominee David Zuckerman, a Progressive and Democrat.
"I tell you, this doesn't happen in every state in the country," Minter declared as she took the stage.
That's for sure.
It's a good thing for Minter that such uncharacteristic unity has come to Vermont's left. A VPR poll released last Wednesday showed her and Scott neck and neck. And a WCAX-TV poll released earlier this week showed her trailing Scott, 40 to 47 percent.
But in the final weeks of the race, Democratic heavies are coming out strong for Minter. The Washington Post reported last Friday that President Barack Obama would appear in a radio ad for her. Later that day, Minter dined with Leahy and Vice President Joe Biden at Burlington's Penny Cluse Café, garnering plenty of headlines. And on Monday Sanders emailed his national fundraising list, calling for donations to her campaign and Zuckerman's.
As Sanders himself put it Sunday morning at UVM, "Let us do everything we can in the next two weeks to help elect Sue Minter as our next governor."
As for Scott? The only heavy he's got is former governor Jim Douglas. Compared to Obama, Biden and Sanders, that doesn't count for much.
Make Vermont Great Again
Republican Senate candidate Scott Milne doesn't think much of Republican presidential candidate Donald Trump's suggestion last week that he might not accept the outcome of next month's election.
"I disagree with it completely," says Milne, who is running against Leahy. "One of the fundamental principles of our government is that once our elections are settled, they're settled."
Funny. That's not how he felt two years ago when he lost the 2014 gubernatorial race by 2,343 votes. Rather than graciously concede to Shumlin, Milne fought on for two more months, calling on the legislature to reverse the will of the voters and name him governor instead.
It was a positively proto-Trump maneuver.
"There's tens of thousands, if not hundreds of thousands, of Vermonters that do not want me to concede," he argued at a press conference that December.
Milne says the two situations are nothing alike, since the Vermont Constitution allows the legislature to settle a gubernatorial election if no candidate wins an outright majority. (A joint assembly voted 110 to 69 that January to give Shumlin his third and final term.)
"What I was doing was using the Vermont Constitution to hold Peter Shumlin accountable for an extra two months," Milne says. "I was proud of the way we used it to de-neuter Peter Shumlin and his reckless policies that were ruining Vermont."
OK, Trump.
Media Notes
Just when you thought the Burlington Free Press' newsroom couldn't get any smaller, the paper's Virginia-based corporate owner, Gannett, has another idea.
On Tuesday morning, four Freeps employees were let go: features writer Sally Pollak, news reporter Cory Dawson, sports writer Lauren Read and an unnamed advertising staffer.
Tuesday's layoffs follow last Thursday's news that publisher Al Getler had been unceremoniously replaced by his predecessor, Jim Fogler. The Freeps provided no explanation for Getler's sudden departure — and nobody responded to our requests for comment — but the move appeared to be a cost-cutting measure. Fogler, who has served as publisher of the Poughkeepsie Journal since January, will split his time between the two jobs, the paper said.
Gannett, which is hoping to gobble up the Los Angeles Times, Chicago Tribune and a slew of other papers owned by the unfortunately named Tronc, is also coping with a steep revenue drop, according to Politico's Ken Doctor. The media analyst warned late last week that the company could soon cut as much as 10 percent of its newsroom costs.
Here in Burlington, at least, it looks like Doctor was right.