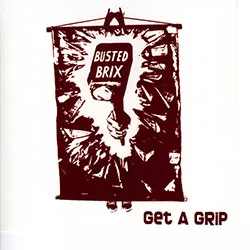 (Catfüd Panda Records, CD)
It's baaack! Kinda. Presumed long dead by the music-listening public at large, ska appears to be quietly making a comeback. Well, that's assuming it ever really went away, which is certainly open for debate. Still, the fact remains that there's a simmering resurgence of interest in the genre. And as has been the case so often, ska's supposed rebirth is happening from the (under) ground up.
In Vermont, Burlington's Husbands AKA have thus far led the checkered charge and brought reggae's grandfather back into our collective consciousness. Nationally, they're part of a small but growing contingent of two-tone torchbearers — some new, and some holdovers from ska's third and most recent wave. Locally, however, they have pretty much skanked alone. Until now.
With the release of their debut EP, Get a Grip, Vergennes-based septet Busted Brix have doubled Vermont's population of ska bands. While the uptick in quantity is welcome news for erstwhile rude boys and girls, even more exciting is the quality of the disc. Not bad for a group that has yet to graduate high school.
Familiar, driving bass drum hits introduce the album's title track. Just at the height of Pavlovian salivation, the band explodes in a flurry of overdriven guitars and catchy, punchy horns. But to call the tune "ska" would be misleading; there's hardly a pure upbeat to be found. Still, it's a tantalizing opener.
"Hometown Scruff" represents the first full-on foray into ska — specifically ska-punk. Busted Brix ably capture the hybrid genre's spastic feel. The song is a tad sophomoric, as lead man Sam Bevet informs us, "If you're dancing in the crowd, well that's where you should be. / We don't have to say how good we are, just listen and you'll see." But should you find yourself dancing in the crowd, the tune's manic energy will likely overwhelm the suspect wordplay.
"I Don't Wanna Think" is next and represents a considerable, if cheeky, step forward, lyrically. Socio-political angst is a cornerstone of punk poetry. And here, Busted Brix prove they can shake minds as well as asses.
Pun aside, "Skasome" is the EP's unquestioned highlight, recalling third-wave stalwarts Mustard Plug at their most melodically bruising.
"Something to Change" closes out the disc in anthemic, fist-pumping fashion reminiscent of pop-ska favorites Spring Heeled Jack.
If bands such as Busted Brix are an accurate representation of the next generation, and should the currently flowing tide actually result in a true fourth wave of ska, it would seem the genre is in good hands once again.