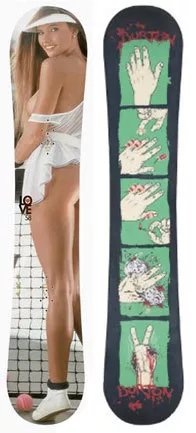 After failing to get a response from Burton Snowboards, citizens and anti-violence groups intend to express their displeasure with two controversial product lines by taking their complaints to the company's front door.
Critics of Burton's "Love" and "Primo" boards have planned a protest rally for Thursday, October 23, at noon. Participants will meet at 11:30 a.m. at Red Rocks Park, on Central Avenue in South Burlington, before marching on Burton headquarters at 80 Industrial Parkway.
Earlier this month, several parents and two anti-violence organizations, the Vermont Network Against Domestic and Sexual Violence and the White Ribbon Campaign of Vermont, asked to meet with Burton representatives to urge the company to stop selling the boards, which were released earlier this year. The White Ribbon Campaign of Vermont is a group of men working to end violence against women.
The graphics on the "Love" line feature partially nude Playboy models. Critics say the boards are misogynist, and they've taken offense at Burton's description of the line, which begins, "Hi. My name is Love and I'm on the market for someone who's looking to score serious action, no matter where they like to stick it."
The "Primo" line is illustrated with cartoon-like graphics of hands being mutilated by scissors, a box cutter, a staple gun and a vicious dog. Among the organizations that have criticized the line is S.A.F.E. Alternatives, a national group that offers counseling and treatment advice to people who self-injure.
One of the organizers of Thursday's rally, Lezlee Sprenger, of Essex Junction, said Burton has ignored the community's growing anger over the boards.
"No one to date, and I mean no one, has received any response from Burton, other than the initial response emailed out almost a month ago," Sprenger said.
Sprenger and her husband Jeff initiated an email and phone campaign to register consumer disgust with the boards on September 22. But Burton's only response has been a short email statement that said the "Love" boards were created at the request of two professional snowboarders.
"Both Burton and Playboy were founded on principles of individual freedom," the statement said, "and the collaboration has resulted in boards that reflect this attitude."
Nearly a dozen organizations have agreed to participate in Thursday's march, including the Vermont Network, the White Ribbon Campaign, the Center for Media and Democracy, the Feminist Peace Network and the Vermont Federation of Business and Professional Women.
A website set up to promote the rally, www.neurell.com/protest.html, had received more than 700 hits as of Tuesday morning, Sprenger said.
"That does not mean that all these people are coming," she said, "but there is obviously huge interest and we are expecting a large turnout from students, local clergy and many local organizations and individuals."