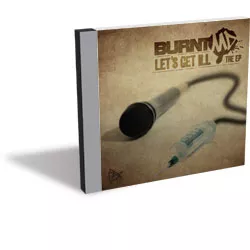 (GTD/Coalmine Records, digital download)
Vermont's hardest-working Microphone Doctor is back, this time with an ironically titled EP and an expanded crew of physician assistants. On Let's Get Ill, BURNTmd skips the cinematic, curtain-raising theatrics of his previous album and instead plunges the listener headfirst into his best work to date. Wielding his microphone like a scalpel, he has skinned hip-hop of unnecessary fat. There's no pomp here. No boring intros and outros; no contrived album theme to force onto every track and interlude. This is the bare bones and beating heart of the genre and culture. And it's a beautiful thing.
From the album's opening (and title) track, it's clear that BURNTmd isn't afraid to share the light from the surgery table with artists of equal talent. Reef the Lost Cauze, Copywrite, Reks and Phil the Agony all slash the mic with accurate incisions on "Let's Get Ill," an infectious tune with a bouncing organ riff like something Flipmode Squad might throw together. Planet Asia and Akrobatik reprise their roles from Burnt's previous album, while guests Krondon and DJ Green Lantern also do their fair share of propping up.
The EP's real star, though, is the production. Far from being the oil-slick, overdone ear pollution leaking from mainstream hip-hop stations, Let's Get Ill's producers — and there are a few — strike a balance between the raw and the refined, the polished and the coarse. They concoct beat-laced anesthetics to put us under, while the MD and his fellow MCs go to work on our subconscious. Some serious care went into crafting the instrumental tracks, such as the juxtaposition of a harp's crystalline melody with Burnt's raspy delivery on "Rap City," or the stop-and-go sweetness of the beats on "Stand Back," which leave plenty of space for Burnt, Krondon, Phil the Agony and Planet Asia to flow unobstructed. It says something about BURNTmd's reputation in the hip-hop world that he can attract the likes of Illmind (50 Cent, Erykah Badu, LL Cool J, etc.), J Glaze (Jay-Z, Wu-Tang, Tha Dogg Pound) and others to the producer's chair. And it says something about Burnt's abilities that he's more than capable of rising to the occasion.
BURNTmd states on "Bang Out," "Ask me nine years ago where I'd be in 10, I'd say not good / I'd either be dead or in Hollywood." Well, the Microphone Doctor is still alive and practicing. And if he continues on this path, that second option may yet become a reality.
BURNTmd's Let's Get Ill is available at iTunes.