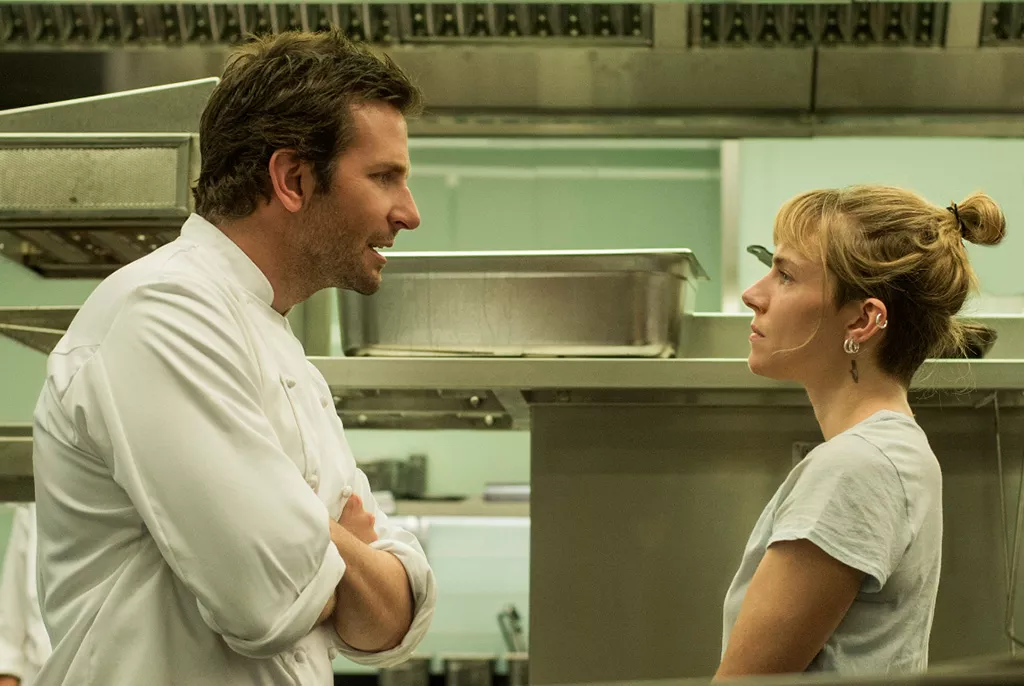 Fare Enough: Critics may agree that Cooper as a hotheaded chef is a recipe for disaster, but much about the movie is surprisingly appetizing.
The silver linings have been getting fewer and farther between for Bradley Cooper. At first glance, his career might appear to be in great shape. How many actors, after all, can claim Oscar nominations every year since 2012? Many felt he deserved to win last year for his powerful turn in American Sniper. I did.
On closer examination, however, that picture turns out to be more exception than rule. Factor out the films that Cooper made with Clint Eastwood and David O. Russell over the past half decade, and what's left? The A-Team (2010), classics such as Hit and Run and The Words (2012), and 2013's universally reviled The Hangover Part III. Moviegoers made it clear they'd had their fill.
It got worse. And I'm not talking about the Cameron Crowe-helmed flop that bade Aloha to cineplexes within days of its May release. Did you know that Cooper and Jennifer Lawrence have in fact starred in three movies together, not two?
Against all odds, the power pair followed up their hit Silver Linings Playbook with a drama directed by an Oscar winner and based on a best seller — then watched it languish in post-production limbo for years before going straight to video on demand. Serena did play on 59 screens for two weeks in 2014, racked up an 18 percent rating on Rotten Tomatoes and grossed a domestic total of $176,391. No, I'm not forgetting a bunch of zeroes. It's virtually unwatchable.
Which, coincidentally, is the critical consensus on Burnt. Producers the Weinsteins originally had big prestige-season plans for this saga of an egomaniacal ex-pat chef who overcomes various addictions and attempts a comeback at the restaurant of an old friend in London. Then the reviews started coming in, and that Oscar campaign was killed in less time than it takes to cancel a dinner reservation.
Cooper plays a culinary rock star named Adam Jones. (A member of his staff actually informs his girlfriend, "To chefs, he's like the Rolling Stones.") Having gotten his act together after a spectacular flameout in Paris, he convinces the son of his mentor to let him take over the former's kitchen. Daniel Brühl gives an appealing performance as the maitre d' who gambles his family fortune because he's in love with Jones. That tweak to the formula aside, what ensues couldn't be more predictable.
Burnt is the boilerplate story of a gifted hothead who embarks on a quest for his third Michelin star and throws tantrums when his crew fails to meet his demanding standards. After throwing more tantrums — including one directed at his sous-chef/love interest (Sienna Miller) that would have resulted in his dismissal or prosecution if anybody in the kitchen had a cellphone — he learns life lessons, and he isn't as loathsome a dick by the time the credits roll. For all practical purposes, it's Steve Jobs with aprons.
The thing is, it's actually kind of a good time. Predictable, sure, but flawlessly acted, peppered with delectable dialogue (Steven Knight's script serves up such choice lines as "I want to make food that makes people stop eating") and more than a little moving. Director John Wells (The Company Men) specializes in stories that celebrate human connection without getting sappy about it.
No Oscar nomination will be forthcoming for Cooper's foray into food porn, but there may yet be a silver lining for him this year. Slated for Christmas release is a film called Joy, in which he stars. More importantly, the female lead is Jennifer Lawrence and the director is David O. Russell. Something tells me audiences are going to eat it up.