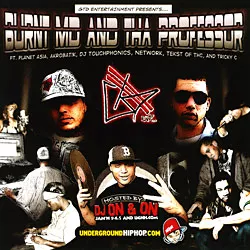 (GTD Entertainment, CD)
Burnt MD and Tha Professor's self-titled album opens in cinematic style, with the orchestral majesty of the Universal Pictures theme song. It's an appropriate first gesture, as the Vermont hip-hop duo then takes us on a journey that transcends the mere aural. Like any epic movie or hip-hop album there's an award-worthy supporting cast, high-profile cameos and a smart script that suggests Webster's dictionary was close at hand when these two were growing up.
As one of a handful holding up the hip-hop scene in Burlington and Vermont in general, Brooklyn native Burnt MD could play it any number of ways. The easy way might be to go on about expensive cars, hot girls and embellished rap sheets la Akon. But true to his Growth Till Death word, the Microphone Doctor chooses the high and some might say harder road, electing positivity over pompous, intelligence over the incredible, and truth over tactlessness. The honest sweat from his work for the scene and the culture seeps out of the album's every pore, splatters with every kick-drum hit, and drenches each thoughtfully crafted and well-delivered line.
But as the lengthy title of the album indicates, Burnt MD and Tha Professor had plenty of help putting this one out. While the latter takes production credit for the beats, San Francisco native DJ Touchphonics, formerly of The Loyalists, provides cuts and samples for a number of tracks. The radio-friendly "Smooth You Out" which is getting play on 95 Triple X features Boston's underground heavyweight Akrobatik of The Perceptionists as well as the sultry stylings of local Tricky C. Here the two team up for a flow-hook combo that should have the tune vying for "Best Summer Song of '08." (This reviewer will be blasting "Smooth You Out" from his car's Rockford Fosgate system all around town windows down, volume up.)
Fresno, California's Planet Asia (a.k.a. P.A. Medallions, a.k.a. King Medallions) drops in on "The Game" another standout matching the track's ominous piano sample and no-nonsense beat with lyrical musings on the challenges of life in the West Coast underground. Other disc guests include Tekst of THC, Network and J Glaze.
Eighteen songs and four bonus tracks later, when the curtain drops and the lights go up on this fine work of art, I find myself uttering words rarely spoken during the closing credits of a real Hollywood film: "I can't wait for the sequel."