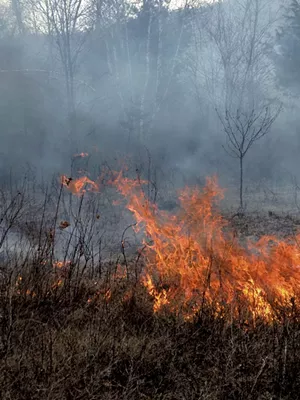 Photos Courtesy Of Ethan Ready
A fire wheezed and radiated heat shimmers the morning of May 5 near the Robert Frost Interpretative Trail in Ripton. One group of U.S. Forest Service firefighters sprayed water at the edge of the angry orange flames while another, wielding a long-nose drip torch dispensing a mix of gas and diesel, deliberately spread the blaze.
Yes, deliberately. The Forest Service team, outfitted in green and yellow flame-retardant clothing, hard hats and thick-soled boots, was conducting a so-called prescribed burn on four acres of overgrown wild blueberry bush off Vermont 125 near the Middlebury Gap.
The fire knocked back woody brush and charred the blueberry plants, which will make them more productive next year. More importantly, the blaze was meant to preserve early successional habitat — meadows and clearings that are important to woodcock, ruffed grouse, deer, bear and other creatures seeking food that doesn't flourish under the shady, dense canopy of trees that dominate the Green Mountain National Forest.
As the fire popped and plumes of light gray smoke wafted into the air, Kevin Boness, "burn boss" for the operation, communicated by walkie-talkie with team members spread out across the horseshoe-shaped burn area. The fire moved slowly east, crackling and hissing through brush and exploding up several small evergreen trees — a reminder of the dry, tricky conditions that prevailed last week across Vermont.
Boness wanted to make sure the fire did not ladder up a stately pine in the burn zone and spew embers from its top branches, which could potentially spread the blaze beyond the reach of the crew. So he and the team dripped less fuel and watered closer to the desired perimeter of the fire. A pump chugged as it drew water out of the South Branch of the Middlebury River through hoses the crew dragged no more than five feet from the flames.
As the "holding crew" raked and watered, the "firing crew" carefully applied fuel in small strips designed to allow a deep, leisurely burn.
"We're going nice and slow," Boness said. "We don't want to create more fire in here than we can manage."
It was dicey to be burning at all. The previous morning, the 15-member crew had assembled only to discover the National Weather Service had just issued a "red flag" advisory warning of high wildfire risk. The combination of 80-degree weather, clear skies, gusting winds, low humidity and still-bare branches made for a significant threat of wildfire.
Photos Courtesy Of Ethan Ready
Kevin Boness
"It's kind of like tempting the devil to burn on a red-flag day,'' said Boness, who is fire management officer for the Green Mountain and Finger Lakes National Forests.
Holding off turned out to be the right decision: There were at least 20 brushfires and larger fires across Vermont on May 4. One fire consumed nearly 50 acres in West Brattleboro, and another came close to torching a house. The fires melted power lines, scorched a chicken coop and damaged the Old Lantern Inn & Barn in Charlotte.
On May 5, the weather was cooler in Ripton. At midday, temperatures had dropped to 68 degrees and the humidity hovered around 28 percent, up from 6 percent the day before. Winds were light.
So Boness gave the go-ahead to burn shortly before 11 a.m., and the reassembled team went for it. Had the group waited just a few hours, the operation would have been shut down again. Around 3 p.m., the Weather Service issued a two-week burn ban, citing the dry conditions and rash of fires.
Most of the Vermont land torched annually — up to 400 acres — is set afire after the snow melts and before the trees leaf out. Once that happens and the ground cover pushes farther up, there's generally too much moisture in the forest to pull it off. Robert Frost, whose writing cabin is just a short walk from the trail, captured the fleeting moment in the poem "Nothing Gold Can Stay." He noted: "Nature's first green is gold / her hardest hue to hold."
The location of last week's burn is beautiful. Away from the smoke, warblers sang and swallows flew in graceful arcs. The spotted foliage of trout lilies pushed up from the ground, and delicate white pin cherry blossoms put on a show. On the steep, twisty ride up Vermont 125 to Ripton, a few patches of ice clung to north-facing rock outcroppings, and frost heaves in the road reminded of the recent severe winter.
Vermont's prescribed burns are tame compared to western wildfires that take out hundreds of thousands of acres. Boness and many of the foresters on his crew have fought some of those, either on previous full-time assignments with the Forest Service or when Vermont-based employees were called to do two- or three-week firefighting shifts in Idaho, Arizona, California, Colorado and Wyoming.
The Vermont burns are good training for employees who might not have extensive experience. "They get to witness the fire behavior, to understand what it takes to control that," Boness said. All of the assembled foresters, both men and women, were rated for "arduous" fire duty, meaning they had passed the same test requiring them to walk three miles in 45 minutes carrying a 45-pound pack.
Although big forest fires are rare in the Northeast, they do occur. Many Burlington residents remember the thick smoke that wafted south in June 2010 as a result of a series of raging wildfires in Québec.
A century before that, Vermont had its share of out-of-control blazes. In the 1800s and early 1900s, about half of the state's forestland was cleared to make potash, an ingredient for soap and other products, and for agricultural uses, such as sheep farming. Incomplete clearing often left "slag," chopped trees that could ignite easily in dry conditions. Vermonters at the time chronicled other ill effects of deforestation.
Much of that cleared land has since reverted to woods, and Vermont is now 75 percent forested. Full of deciduous beech, maple and birch, it's sometimes referred to as the "asbestos forest" because the resulting high moisture level makes it so much less flammable than the coniferous forests out West.
Still, Boness and his crew know firsthand that fire can be unpredictable. Boness has had to sleep on sandbars in streams to escape wildfires in the West, and the 57-year-old has lost more than one firefighting acquaintance to blazes that traveled faster than anyone expected.
"Fire can do what it wants if you're not mindful of how you apply it to the land," he said. "It can turn on you in a heartbeat."