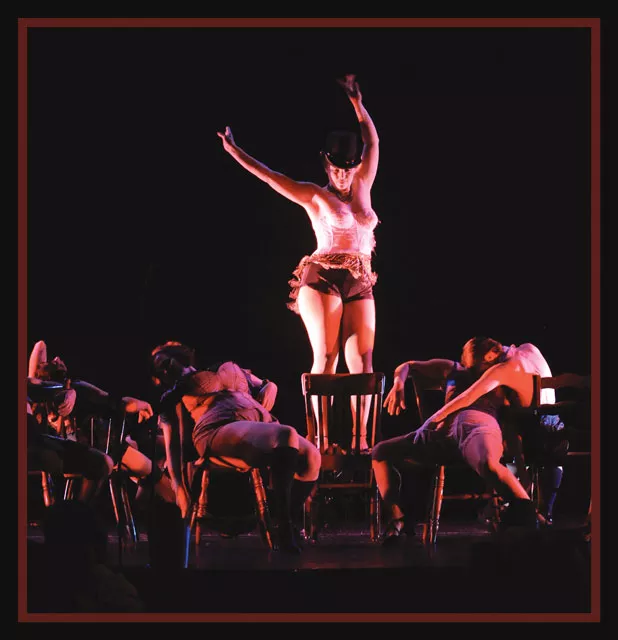 Courtesy of Jody Fenton Photography
"Chairdance," Lois Trombley
Give it a couple more years, and Burlington's 12-year-old Spielpalast Cabaret will have lasted as long as the Weimar Republic (1919-33) whose popular theater inspired it. After myriad changes of performers and venues, are these saucy annual burlesque-tinged extravaganzas showing their age? A bit, perhaps, but for the most part the dancing ladies (and gentleman) are keeping it fresh.
Very fresh. A rousing early number turns Offenbach's soprano aria "Les Oiseaux dans la Charmille" (from Les Contes D'Hoffmann) into an ode to, um, female pleasure. Jane Beaumont Snyder (who created the piece) and fellow songbird Vanessa Boone vie to hit the most orgasmic high notes as they mime inventive uses of sex toys, vegetables and willing colleagues. It's just the kind of bizarre combo of high culture, sex positivity and smutty humor we've come to expect from Spielpalast.
Through its years of change, the cabaret has remained under the strong creative directorship of dancer-choreographer Lois Trombley and chief dramaturge Phinneus Sonin, who takes center stage as the cabaret's erotically flexible MC and ringmaster, Maxwell. This show might as well be subtitled "The Passion of Maxi," as it opens with our intrepid guide quoting a critic who has complained that his shtick is "as stale and crusty as an old baguette." Meanwhile, a young upstart named Mr. Zero (Mac Roche), who wears a red sash suggestive of the rise of fascism, is determined to usurp the MC's role and "give the cabaret a permanent makeover."
Even worse, Maxi loses his favorite hat. Only a trip to the underworld, undertaken with surrealistic brio at the end of Act I, can remedy this cabaret crisis.
Sonin's shtick is indeed crusty, but his menschy demeanor and strong delivery make him a welcome presence. As always, the show features more colorful players and subplots than it can possibly do justice to, but the big dance numbers deliver, and then some. Trombley takes pride of place in the annual chair dance, this one set to Shaggy's "Never Let Me Go." The choreography is expert, though her vocals suffer from the muddy acoustics of Burlington City Hall Auditorium — an on-and-off problem throughout the show.
The six-person live band under Gabriel Shapiro's direction is excellent, but drowns a few singers, while louder ones can sound brassy. Nonetheless, numbers such as a rowdy hillbilly hoedown created by Beth Morelli and Boone, featuring banjo, washboard, kazoo and tapping, come through loud and clear.
This show appears to lack the overt political and topical themes of some past Spielpalast shows, but the avant-garde factor rears its head in "Lacrimae Luna" — created, again, by Snyder. In a typical example of the cabaret's mood shifts, Suzie MacKay's down-home retro number "Moonshine" gives way to a Giselle-reminiscent ballet of moon-worshipping … aquatic creatures? Moths? Honestly, I'm still not sure, or why they were being persecuted by mad-scientist figures, but it was oddly beautiful.
While the intro of the lingerie-clad "dancing ladies" is, as always, where the show really gets cracking, it's nice to note the growing presence of dudes, as well. There's now one male dancer (Kyle Bouchard), as well as players Sonin, Roche, magician Eric George and Richard Siday, who manages to make the look of a 1920s comic-book strongman as feline and flaming as it can possibly be.
As if in recognition of the new cultural inescapability of B&D (thanks, Fifty Shades of Grey), longtime dancer Emma Wall Kouri plays a strutting dominatrix in a few numbers, and this year's cigar girls (Camille Clark and Annie Parmalee) wear chains. But Spielpalast was offering kink with a wink long before the mainstream culture caught on — and, we hope, will continue doing so for years to come.
Spielpalast Cabaret.Thursday through Saturday, May 23 to 25, 8 p.m. at Burlington City Hall Auditorium. $25-28; for mature audiences only; cocktail hours precede performances.