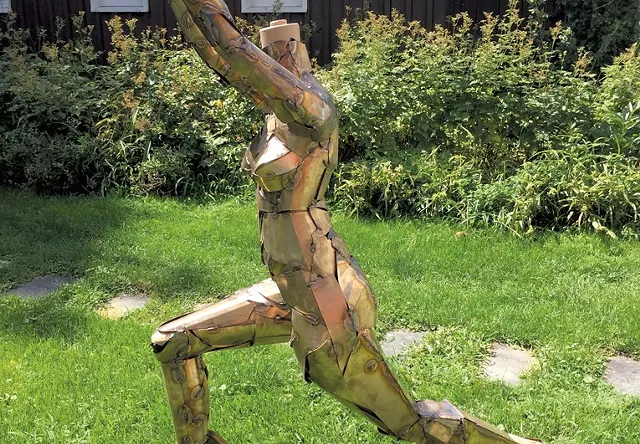 Courtesy of Tyler Vendituoli
In-progress sculpture by Tyler Vendituoli
Last fall, the tangle of trees in front of the building that houses Great Harvest Bread and Speaking Volumes on Burlington's Pine Street was unceremoniously cleared from the grounds. A mess of torn roots, plastic liners and a few limp plants remained. But over the past few months, a brand-new mini park has sprung up in its place.
The South End Art Park was a collaboration of Wagner Hodgson Landscape Architecture, the South End Arts and Business Association and property owner James Unsworth. Although it's still a work-in-progress, the finished park will feature outdoor sculptures by Tyler Vendituoli and Ken Mills. The official ribbon cutting happens on Wednesday, August 16.
Unsworth says the catalyst for the makeover was the overgrown state of the previous park area. "None of us — and much of the community — thought the existing park was very welcoming. It was isolated from the street with very limited visibility," he observes. "Some have told me they thought the seclusion was dangerous. The apple trees that were originally planted had a very low canopy, and tall people ... had a hard time enjoying [it]."
Landscape architect Jeff Hodgson echoes that sentiment. "The previous park was more residential in design," he says, "and had become very overgrown to where people didn't really feel safe in it."
Hodgson notes that the new park was designed to "be flexible and able to accommodate events such as Art Hop [and] be spillover space for patrons of local businesses and for residents."
The team is still putting finishing touches on the park. "Keith [Wagner] and I designed and built three custom eight-foot-long steel and wood benches that we just installed last Saturday," Hodgson continues. "They will eventually have LED lighting underneath them that will put out a soft glow at night."
As for the foliage, Hodgson says the team saved "a beautiful fern leaf beech tree. It was completely hidden in the overgrowth and can now really shine."
They also planted honey locust trees. Hodgson explains that particular specimen "can survive urban conditions and [has] the perfect form and canopy for urban spaces, providing light, dappled shades; [and has] small leaves that tend to disappear into the grass in the fall and not require much maintenance."
That likely will be a relief for everyone involved in upkeep of the park. "In the past, it has been a combination of SEABA, Unsworth Properties and various volunteers," Unsworth says. Those parties will continue their efforts to keep the park looking tidy.
In addition to a pleasant green area, passersby can expect to see public art at the site. "The sculptures are due to be installed in the next couple of weeks," Hodgson says. Brooks says his organization "will look at rotating sculpture in the coming years, with SEABA of course curating the work."
Mills says his work is "quite abstract and more of a site-specific piece. In my mind, it relates to the industrial evolution of Pine Street and potential ecological implications, although it's open for anyone's interpretation."
As for Vendituoli, he's known for more figurative outdoor sculptures, such as the school of fish in front of ECHO Leahy Center for Lake Champlain and the large animals he has constructed for past South End Art Hop celebrations. No doubt he'll provide an eye-catching piece of metalwork for the art park.