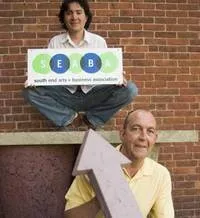 Matthew Thorsen
Carlos Haase and Bob Bolyard
The nights are getting cooler, the students are back, the fair is over, and crisp new apples are arriving in stores. Must be time for Burlington's South End Art Hop. Yep, the 15th annual event on and around the Pine Street corridor kicks off this weekend, and the tens of thousands of expected visitors will find some changes afoot. For starters, in the newly published, bright-yellow guide, they won't find a single mention of the big Friday-night party in the Fresh Market parking lot. That's because it isn't happening. And this is bound to come as a surprise and disappointment to those who aren't reading this column or any other publicity describing the event.
Some might say the Hop is a victim of its own success — that the partying hordes got too big for the city, and the event's all-volunteer staff, to handle. Others grouse that the size and safety concerns wouldn't matter so much if only the city would temporarily shut down several blocks of Pine Street. In fact, size does matter: The South End Arts and Business Association, the Hop's presenting organization, found it challenging just to find venues for the event's huge juried art exhibit and the back-by-popular-demand indie fashion showcase, "Strut." Empty industrial-sized spaces like Specialty Filaments, which housed both the art and runway shows last year, are rare in Burlington's South End.
But in SEABA's view, this growth is a good problem to have. Rather than, um, pine about what's missing, the nonprofit is putting a happy face on all that's new in this year's event.
That starts with the organizers themselves. SEABA's executive director, Carlos Haase, and Art Hop coordinator Bob Bolyard began their new jobs just a few months ago — an incredibly short time in which to plan an event of this magnitude. But veteran Hop Chair Mark Waskow and the board, headed by Mark Stephenson, provided continuity and the wisdom of past Hop experience. Whatever nail biting has gone on behind the scenes, there's no denying that the group has pulled together a more diverse opening weekend, scheduled more events later in September, and extended more of the exhibits through the month.
This year, Art Hop extends farther south, too. Though considerable effort has gone into splintering the big party into a number of smaller ones, the official locus of activity this weekend is between Lakeside and Sears Lane. The big, juried art show is in the former Maynard Supply Building at 696 Pine St. (on view every weekend in September), and "Strut II" will take place at 27 Sears Lane both Friday night and Saturday afternoon. Like bread crumbs left by Hansel and Gretel, outdoor sculptures along Pine Street lead the way, connecting events and exhibits from Maple Street to Flynn Avenue.
Also new in the 2007 edition is a scavenger hunt activity for attendees. Fifteen manifestations of the Art Hop's "boing" logo — an arrow that appears to be hopping — "could be found in trees, in galleries, on roofs, in stores, on shelves, on doors," hints the event brochure. But they've gotta be the special Birthday Boing, with "15" in the arrowhead. If you choose to accept the boing-spotting mission, write down their locations and email the list to info@seaba.com. Those who spot the most will be entered in a drawing for a "fabulous boing-worthy prize." Lists must be received no later than September 24 to be eligible.
Meanwhile, visitors will find works by 500-some artists at more than 80 indoor and 20 outdoor sites, and more than 40 workshops, demonstrations and performances. There are limited-edition T-shirts and deep-fried books and political rabble-rousing and doodling manifestos and chocolate sculpting, too. That's a lot to take in, so hop to it.