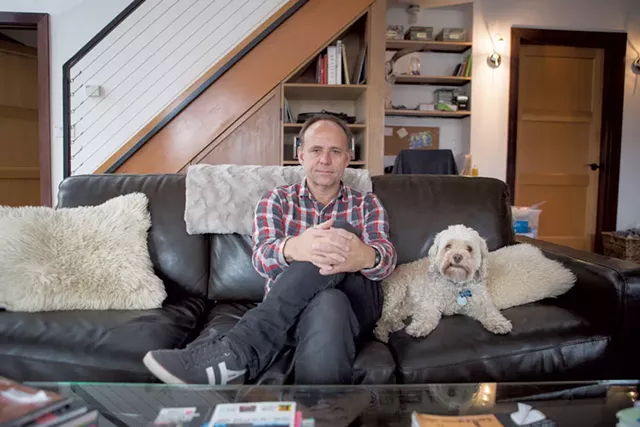 Courtesy Of Luke Awtry Photograph
Ken Bogdanowicz
What do Beyoncé, Adele, Clean Bandit, Twenty One Pilots, Glass Animals and Yeasayer all have in common? Aside from being leaders in cutting-edge pop, R&B and indie music, they're each users of Soundtoys plug-ins — or at least their engineers and producers are. Behind-the-scenes heavy hitters Josh Gudwin (Fifth Harmony, Carly Rae Jepsen), Ariel Borujow (Nicki Minaj, Lucius) and Stuart White (Jay-Z, Sia), to name just a few, employ the Burlington company's products.
The boutique creative audio company's reach into the realm of professional audio production is immeasurable. Soundtoys has been embedded in the landscape of music technology since the 1990s, especially as home studios have become more affordable for average music makers. In the last decade, Soundtoys has become ubiquitous among professionals and amateurs alike as more and more aspects of production occur "in the box" — that is, on computers.
Chief executive officer Ken Bogdanowicz founded Wave Mechanics in the mid-1990s and renamed it Soundtoys in 2003. In the 1980s, while working for audio firm Eventide Audio, he and colleagues Bob Belcher and Dave Derr designed and produced the then-unprecedented H3000 Ultra-Harmonizer, an outboard multi-effects processor and pitch shifter.
Now, Soundtoys primarily manufactures effects plug-ins — additional pieces of "equipment" that can be integrated into digital audio platforms such as Pro Tools, Ableton Live and Logic. These effects include delays, saturation, pitch bending, tremolo and phasing, all of which can be used to add nuance and oomph to audio projects. The company currently offers 20 plug-ins of various functionality that can be purchased à la carte for $79 to $199 apiece. A savvy consumer might dive in and scoop up everything at once: For $500, you can get the whole bundle. (Thanks to discounts, eligible students can expect to pay about half as much.)
You could say that Soundtoys has a "looking backward to go forward" philosophy. All of the company's plug-ins are based on real vintage outboard gear — stand-alone pieces of sound-processing equipment, such as guitar-effects pedals, that serve one specific function or a variety of functions. For instance, the pitch-bending plug-in Little AlterBoy is based on Eventide's H3000. User interfaces both mimic and redesign the look and feel of the original pieces of tech. Products are cleverly named, too. In addition to AlterBoy, you might try Decapitator, which emulates the saturated sound of an analog preamp console.
Soundtoys plug-ins in use
"Analog consoles just have a sound," marketing specialist Dan Rome tells Seven Days at a downtown Burlington café. "People like that sound. Decapitator has become a digital version of that."
"Everyone gets excited when I pull out Decapitator and start fucking shit up with distortion," says Ryan Cohen, owner of local recording studio Robot Dog. "Then they all think I'm a sci-fi wizard when I use EchoBoy and Crystallizer," he continues, referring to two other Soundtoys plug-ins.
Soundtoys isn't the only creative audio company around. But the pool of professional-grade software options is small. So is Soundtoys, which employs about 12 people, including subcontractors.
Though minuscule in the greater tech company landscape, its staff has doubled since the mid-2000s. The competing Israeli company Waves Audio, which was the first to make digital effects plug-ins in the early 1990s, is gargantuan compared to Soundtoys. Glassdoor, a website that compiles corporate stats, estimates that Waves employs as many as 200 people.
While Bogdanowicz and crew are arguably top dogs in their field, the CEO resists delusions of grandeur that have sunk other tech companies.
"I think the allure of Silicon Valley venture-backed startup culture has warped the sensibilities of many people working in tech industry," Bogdanowicz writes in an email. "[We try] to maintain a high degree of integrity, rather than chasing the get-rich-quick thinking of IPOs and acquisitions.
"That said, we have always been profitable," he continues. "In recent years, we have been extremely successful, which gives us a lot of freedom to pursue things that we believe in."
One such initiative is Soundtoys' artist program. The company actively looks to make connections with the artists and tech professionals who use their products. Rome, who is the saxophonist for local psych-fusion band Gnomedad, heads up that division. He started several years ago as the company's first designated tech support specialist.
"Essentially, [the artist program] establishes relationships with people who already use our plug-ins, or people who we want to be using our plug-ins," Rome explains. He hopes to connect with people who are "game changers" in the music industry — those who reinvent and circumvent the confines of genre — to see how they're using Soundtoys products to accomplish their mind-bending results.
"It's been a slow growth that's resulted in great musical successes — and we want to capture that," he says.
Rome notes that he regularly listens to pop radio station 95 Triple X to see if he can pick out tracks that utilize his company's products. His ability is uncanny: At one point during the interview, he identifies a Soundtoys plug-in on a track playing through the café's sound system.
While big-name believers look good in press releases, Rome doesn't have to look far to find Soundtoys disciples. For example, Yasmin Tayeby, owner of Meadowlark Studios in Williston, says she and her engineers use the company's plug-ins "in almost all of our sessions."
She's not alone. Future Fields co-owner Eric Maier is a fan of the plug-in PrimalTap, which he says "has a mind of its own."
"I utilize [it] when I want something odd or out of control," he explains. "I like the uncertainty and, to some extent, the chaos."
Sometimes that chaos can inform an entire recording session.
"Projects have taken shape based on a Soundtoys effect completely twisting and manipulating a single recorded track," says Signal Kitchen's Dave DeCristo. "The more unsubtle you are with things, the more satisfying."
Soundtoys' offices are currently undergoing renovation, after which they will be equipped with acoustically isolated rooms and an entire floor dedicated to open studio space. Bogdanowicz hopes to "attract cutting-edge artists to our Burlington headquarters so that they can immerse themselves in our technology and our singular collection of vintage studio effects and instruments," he writes.
"I'd like to give [our artists] the space and inspiration to create things that they or [we] have never imagined," he adds.
Another development in the company's modus operandi is its charitable initiatives. For example, after the 2010 Deepwater Horizon oil spill in the Gulf of Mexico, Soundtoys donated a full day's sales proceeds to the relief efforts.
"It scared me a little bit to do that," the CEO admits. "It was the biggest day we'd ever had. But in the end, it turned out OK. People kept coming back to support us, and we got so much positive feedback."
On Christmas Day last year, and the day after, the company donated its daily take to the American Civil Liberties Union, declaring on its blog, "We believe in freedom of expression for ALL people — every color of skin, shade of politics, hue of religion and spectrum of gender."
In September, the company raised $176,000 for Team Rubicon USA, a nonprofit that teams up ex-military personnel with first responders during disaster-relief efforts — a timely choice after the barrage of hurricanes and tropical storms that rocked the American South and Caribbean, as well as the major earthquake that hit Mexico City.
Soundtoys is constantly developing new products, though the company keeps specifics locked up tight. Whatever they are, they'll likely be welcome additions to the arsenal of sonic playthings.
"I'll go home after a day of work and still use our plug-ins," says Rome. "They're the best sounding."