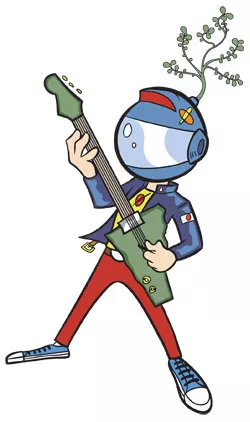 Huge corporations like S.C. Johnson and Clorox have been hopping on the "green" wagon for several years now. That has presented a growing challenge to smaller, authentically earth-friendly companies such as Burlington-based Seventh Generation. Without improving product recognition, and consumer loyalty, companies that have been manufacturing green products for years run the risk of being swallowed up by these multinational giants.
Seventh Gen understands this. That's why the green cleaning products pioneer is re-launching its brand to help it stand out from the swelling crowd. To that end, the company recently hired Carmichael Lynch, a national advertising agency from Minneapolis. "We're trying to get more people aware of what we're doing," says Dave Kimbell, senior vice president for marketing at Seventh Generation.
As Kimbell explains it, when Seventh Generation began 21 years ago, few people were thinking about safe, natural cleaning products. Since then, more and more consumers have become concerned about the impact conventional cleaning products have on health and the environment, and have shifted toward non-toxic and natural products.
Not surprisingly, the multinationals took notice. Products such as Green Works and Nature's Source — from Clorox and S.C. Johnson, respectively — hit the shelves, providing customers with purportedly green cleaning agents made by the familiar companies they had long trusted. "The competitive environment has changed in every category," Kimbell says.
To compete in this marketplace, Seventh Generation needs to be more aggressive in getting the word out about what it does and how its products are different. "There are still a lot of people who don't know us," Kimbell says. "That holds true across the country and even in Burlington."
To that end, Seventh Gen is throwing its weight behind proposed legislation that aims to update the Toxic Substances Control Act of 1976, the primary regulation for chemicals in the U.S. Critics of the current law say it is weak in its ability to control and test chemicals before they come on the market and once the chemicals are already in use. Of the 80,000 chemicals in consumer products today, only 200 have been tested, Kimbell says. Many of those 80,000 chemicals were grandfathered in, and the Environmental Protection Agency says the 32-year-old legislation regulating toxic substances no longer adequately protects the public.
While the Obama administration is supportive of the new legislation called for by the EPA, given what some companies stand to lose, it might be a difficult bill to pass. The lobbyists will be out in force. That's why Seventh Generation got involved. "This is such a critical movement for us," Kimbell says.
Along with a coalition of nongovernmental organizations in favor of the new legislation, Seventh Generation created the "Million Baby Crawl" — a virtual march on Washington to get the legislation enacted to protect families from hazardous chemicals. As Kimbell puts it, the theme of the campaign is that "The babies of America are fed up and are taking matters into their own hands." Their first "crawl-in" will be November 3 at the ECHO Lake Aquarium and Science Center in Burlington. There, people can get information about the proposed legislation and Seventh Generation's new campaign.
Kimbell acknowledges the company needs more than grassroots efforts like this one to compete against larger companies. The next year will see a broader communication and advertising campaign as Seventh Gen tries to make more people aware of its products and mission. Kimbell says the products won't look different — the packaging was redesigned just a year ago — but consumers can expect to see national television and print ads as part of the company's biggest advertising blitz to date. He declined to assign a dollar figure to the marketing campaign.
The brand relaunch is but one of several recent tweaks at Seventh Generation. In June, the company appointed Chuck Maniscalco, former president and CEO of PepsiCo's Quaker Tropicana Gatorade arm, to the role of its own chief executive officer. Maniscalco replaced Hollender, who is staying on as executive chairperson. Kimbell assures that these developments won't change the company's essential nature, but will enhance its standing in the industry. "We're staying true to who we are," he says. "The authentic nature of the brand and the company is still there."