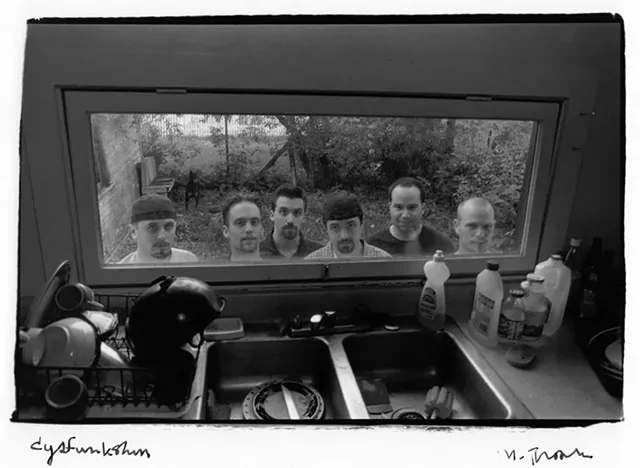 FIle: Matthew Thorsen
Dysfunkshun
A year ago, Richard Bailey wasn't thinking about reuniting Dysfunkshun. The '90s-era rap-rock hybrid known for staunchly antifascist, antidiscrimination messaging had been dormant for years. The 48-year-old guitarist and saxophonist was more focused on his wife and daughter, his role as the event compliance coordinator for the City of Burlington, collecting antiques, and writing and recording the debut album for his new, whiskey-fueled rockabilly band Swillbillie.
Then Donald Trump became president, and things changed.
Last January, Burlington metal legends Rocketsled reunited to pay tribute to the long-standing teen venue 242 Main, which closed in 2016 after more than 30 years of operation. Bailey attended the reunion and decided that if Rocketsled could do it, so could Dysfunkshun. Given that this year marks the 25th anniversary of the band's 1992 formation — and with the rising toxicity of the nation's political climate — he and his former bandmates decided it was now or never.
Dysfunkshun play a reunion show one night only, on Saturday, September 9, at the Higher Ground Showcase Lounge in South Burlington. Locals Dirty Blondes, the Tsunamibots and Blowtorch add support.
Many players came and went over Dysfunkshun's 10-year run. Aside from Bailey and co-front man Marc Daniels, the rest of the lineup changed repeatedly. The band cycled through more bassists than Spinal Tap did drummers. The current roster includes late-era drummer Ornan McLean, Ben Bouchard on second guitar and Aram Bedrosian on bass.
Despite frequent personnel changes, one thing always remained constant: the band's vehement political statements.
"[We] had this band that was saying, 'This is what could happen. We could have this figurehead, fascist leader,'" says Bailey. "Did we really think that would happen? I don't know. I'm sure in our own adolescent outlook we thought it could. But this has become a reality."
Dysfunkshun printed their song lyrics for distribution at shows, similar to the way activists dole out pamphlets on college campuses. Their stringent messaging was clear in songs such as "Right It" ("I'm pissed at the goddamned institution / It's fucking up the meaning of the Constitution") and "Pro-Life (Anti-Choice)" ("Mother and baby both become slaves of the system / Bona fide victims of fundamentalist politicians").
"We were coming out of the Reagan years," Bailey says. "He was the Trump of our day. [But] at least he acknowledged the formality of the office."
The recent white supremacist rally in Charlottesville, Va., reaffirmed Bailey's decision to get the band back together.
"If you talk to any punk kid from my generation, this stuff isn't new," he says of those shocking events. "I was getting beat up by Nazis — I sang about it in Dysfunkshun."
Politics aside, if you ask people who were around the scene in the '90s, they'll likely tell you that Dysfunkshun were not exactly representative of Burlington's collective sound — and Bailey knows it.
Courtesy of Naama Lha Kelly
Dysfunkshun at Club Metronome, circa 2000
"We were somewhat ... not at odds, but fringed [in] the Burlington scene because of what we were doing musically," he says.
"Dysfunkshun didn't sound like anything else that was going on in Burlington in the late '90s," Vermont Youth Orchestra development and finance manager Martha Pullen writes in an email. She frequented 242 in its heyday and is compiling a commemorative book about the all-ages club. "They were definitely one of the most underappreciated bands to come out of Burlington."
"Most of the Burlington bands were of the indie-rock variety, or jam-rock," says Dennis Wygmans. He co-owned the venerable Club Toast until its closure in 1998 and was something of a mentor to the band.
Dysfunkshun may have been the only local band blending funked-up punk riffs with hip-hop lyrics, but their style was a growing trend nationally in the '90s and early 2000s. Composite acts such as Limp Bizkit, 311, Rage Against the Machine, Kid Rock and even the sun-dappled strains of Red Hot Chili Peppers similarly merged disparate influences and were wildly successful. Dysfunkshun fit in with the shift toward musical hybridization. They reached peak perfection on their final albums, Hi-Fi Stereotype and You're Soaking in It, which they'll revisit at the reunion.
The band came close to hitting the big time, too. In their early years, Dysfunkshun brought on Anthony Countey as manager. He also managed famed hardcore punk band Bad Brains. Dysfunkshun rubbed elbows with ska-punk fusionists Fishbone and alternative pop-funk band Living Colour and frequently played gigs in New York City for industry "mucky-mucks," as Bailey calls them.
"Throughout our tenure, CBGB was our home away from home," he says of the notorious East Village club, which permanently closed more than a decade ago. "We played there every month."
The band's mountaintop moment was perhaps its 2000 appearance on the USA network's short-lived television series "Farmclub.com." (The episode also included a brief segment about Burlington punkers Dirty Blondes.) The show was an extension of a burgeoning, cross-platform record label of the same name that allowed unsigned bands to upload their music to its website with the chance of being discovered. This technology was revolutionary for the time. Jimmy Iovine, the longtime CEO and cochair of Interscope Geffen A&M, created the label alongside parent company Universal Music Group's chair and CEO Doug Morris.
"I remember Jimmy calling me," says Bailey. "He had a potty mouth. He was like, 'I fuckin' love it. You guys are it. Burlington's weird, but I love what you're doing. You guys wanna be on my show?'"
While it was a golden opportunity, Bailey recalls feeling some trepidation.
"We could have a great show [one night] and then crickets the next night," he says. "I didn't want these people coming from LA [to see us] play to five people at 242."
Luckily, Bailey's connections served him well. He was working on the gubernatorial campaign for Vermont State Sen. Anthony Pollina (P/D-Washington) and had played a number of rock shows in support of the candidate. He turned the shoot into a win-win situation for both the band and the senator.
"We packed [Club Metronome]," Bailey says. "Anthony probably pulled as many people as we did. It wound up being great TV."
FIle: Matthew Thorsen
Dysfunkshun
Despite the national exposure, Dysfunkshun only lasted a couple of years beyond the episode.
"The tough part is that there were already successful bands that had sounds similar to them," says Wygmans. "Record labels think, Well, we've already got our version of that, so we're not going to sign another band that's similar. That was especially true back then.
"The record industry thought of Burlington as a hippie town," Wygmans continues. "Even when you brought stuff to labels, they were looking at it through that prism."
"From '96 to 2002, we were playing five to six nights a week," says Bailey. "It just got to where ... we had kind of checked off our bucket list: bands to play with, things to do [and to] not be in debt to record labels. We didn't want to become the passé band still trying to do it. That's why this is a one-time reunion.
"[But] the reason I held on to [Dysfunkshun] for so long," he adds, "was because of the message."