Matthew Thorsen
Phil Yates
Phil Yates is leaving town. As he sits in the kitchen of his Burlington home and takes a sip of wine, he looks from wall to wall as if trying to memorize every detail before he's gone. "I'm going to miss this house," he says after a long moment, light glinting off his black-rimmed glasses. Yates brushes unruly strands of dark brown hair from his eyes as the thought triggers emotion he's been holding back, and he considers the people he's about to leave.
"I'm going to miss our circle of friends that we've built," he says. "And I'm going to miss the Affiliates."
That would be Yates' band, whom, when referred to in full, presents one of the most slyly clever wordplays in Burlington music history: Phil Yates & the Affiliates. (It helps to say it out loud.) They're also a hell of a band.
Yates and co. are preparing to play their final local show on Friday, June 9, at the Monkey House in Winooski — it's cheekily dubbed the band's "last pre-reunion show" on Facebook. Later this month, Yates, 41, and his family head for Chicago, where the Saint Michael's College associate professor of math has accepted a position at DePaul University.
In seven years, Phil Yates & the Affiliates have released three full-length albums and played countless shows in and around Burlington. The quartet has established itself with a singular sound in a scene known for eclecticism, if not always cohesion.
"Phil's style of songwriting pretty much goes back to late '70s pop-rock stuff, which is not exactly a high-demand item in Burlington," says Affiliates bassist Raph Worrick. "It's been a little frustrating in that way."
"It's meat-and-potatoes rock and roll," Yates adds. "I'm a Midwest kid, so I write like that. And, you know, I don't think anyone in town sounds like us, for better or worse."
Indeed, Yates' Elvis Costello-like lyrical wit and knack for catchy melodies make him a stylistic outlier in Burlington. With no real contemporaries around, he's often wondered where his brand of power-pop fits in, particularly during his second run in the Queen City.
Yates' previous stint in BTV was as a graduate student at the University of Vermont in the late '90s. He cut his musical teeth in the open-mic scene and playing acoustic shows at Manhattan Pizza & Pub and the now-defunct Rhombus Gallery.
In 1999, master's degree in hand, Yates moved to South Carolina. There he met his future wife, Sarah Venuti — now Sarah Yates — and continued playing coffeehouses. He later returned to his native Midwest and transformed a Chicago cover band called Chutneyhead into his first full band, Phil Yates and the Major Majors — a reference to his favorite book, Catch-22, by Joseph Heller.
From there it was on to Los Angeles, where Yates' musical career took another turn. He recorded a pair of songs for a Shrimper Records compilation — one of them, "Gift of Love," was sandwiched between tracks by Lou Barlow (Dinosaur Jr.) and the Mountain Goats. By the time he decided to move back to Vermont, Yates had his first solo EP in hand, 2011's Tumble Stairs.
But the transition wasn't seamless. "When I came back, I was totally lost," he admits. "I had no idea how to navigate Burlington anymore.
"I didn't know where to book a show," he continues. "Club Toast was gone, and I couldn't even figure out where the hell Higher Ground had moved to!"
Before he could book shows, however, Yates needed a band. Unlike in Chicago and LA, like-minded Burlington musicians proved elusive. Those he did find were often already in several bands.
So he turned to Craigslist, first adding Worrick, then lead guitarist Kevin Stevens and drummer Jake Blodgett. In 2013 the band released its first full-length LP, Oh So Sour. The record received warm reviews locally and abroad.
No Need to Beg followed two years later. It garnered accolades in the college radio circuit and from local press, including this paper. But, despite the critical attention, audiences weren't growing.
"Looking around the scene, I always felt like I was from the Island of Misfit Toys," Yates says. "We certainly got proper respect. I mean, I hate to use the term 'musician's band' ... but there's a difference between respect and attention."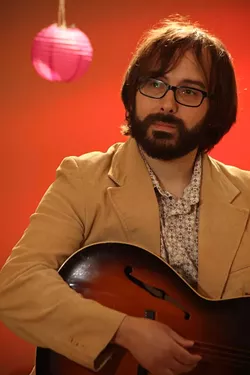 Matthew Thorsen
Phil Yates
While he sees talent and ambition in Burlington, Yates also sees cliquishness among the bands as well as the booking agents. So he channeled his frustration in the same way he often does: by writing a song. "One Man's Trash (Sour Grapes)" will appear on the band's new album, Party Music! In it, Yates uncorks a barbed criticism of Burlington's sometimes-narrow music scene.
"Bukakke in the 802 / Nothing to see here, nothing to do / Don't you know it's all they demand / The same fucking bands," he sings, leaving little doubt as to his feelings.
"We might have to save that song until the last show," he says with a guilty smile.
Yates is quick to add that the frustrations that inspired the song are far from his permanent feelings.
"My wife is so good about these kind of things," he says. "After I showed her the song, she sort of said, 'You know, you aren't as ignored as you think.'" He adds, "And all nitpicking aside, this is a kick-ass town."
Eventually, Yates and the Affiliates found their niche, both with other local bands and with venues he felt were bolder with booking — namely, the Monkey House.
"He has been a monster presence at the venue," says Matt Rogers, a member of the Waking Windows Present booking collective and, for many years, the main talent buyer at the Monkey.
Calling the BTV scene "small but vibrant," Rogers believes Yates' impending departure will "no doubt leave a big void."
That void isn't just Yates' music. Instead of just bitching about the scene, he often took matters into his own hands to make it better.
"He gave us our first big break into the local scene," explains Marc Scarano, front man for punk-rock trio Black Rabbit, who released one of 2015's most acclaimed local records, Red Flannel Hash.
"He emailed me after he dug up an MP3 that I had posted on the Big Heavy World message board," Scarano says. "I bet there are a lot of similar stories out there, because I've seen him do the same thing for other bands."
Yates, who for years hosted a weekly radio show on St. Mike's WWPV-LP 92.5 FM, has scouted his last local band, because Chicago beckons.
"I'm excited to test the waters in a bigger music scene," he says. "There's this great history of pop rock in Chicago. I think my music could do well there."
He'll have to do it alone — at least until he finds a new band in the Windy City.
"It's a bit intimidating to even navigate the question," Yates admits. "But I've been here before, when I formed the Affiliates. I had a record, and I had Craigslist. I'll have those again.
"The only thing that will change in Chicago will be the filter, the band that plays my songs," he continues. "Big life events change how I write, not the town I'm in."