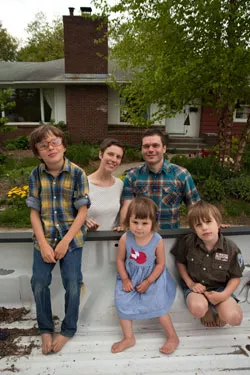 Matthew Thorsen
The Laing family in front of their Gosse Court home
Burlington's New North End used to be reliably conservative. For a time, residents of Wards 4 and 7 elected four Republicans to represent them on the Burlington City Council. They never met a school budget they liked.
That's changing. First came Dave Hartnett. He ran unopposed — as a Democrat — when Republican Kurt Wright stepped down from the city council in 2011. Then Hartnett organized Wright's campaign for mayor, suggesting he may be more R than D.
But the following March, Bryan Aubin, a real Dem, beat Republican Ellie Briggs Kenworthy, 1095 to 974, in Ward 4. Three months ago, Democrat Tom Ayres made a second bid for a Ward 7 seat that had long been held by a Republican — and won. That leaves only one Republican — Paul Decelles — representing a region historically so unlike the rest of Burlington it's often referred to as "South Colchester."
As in Colchester, voters in both wards of Burlington's New North End rejected the school budget in March, while the rest of the city approved it overwhelmingly. But they disapproved by much smaller margins than in the past.
What accounts for the New North End's leftward drift? Many attribute it to a seismic demographic shift: young, progressive, school-friendly families moving into an area originally settled by people who are now aging out of their homes.
When Carmen George moved to the New North End in 2000, many of her neighbors were like Rose and Ivan Pels — elderly couples whose children had grown up and moved out. The U.S. Census that year found the New North End had the highest median age of any area in the city; the majority of the population there was 40-plus.
"I've seen an 80 percent change in my neighborhood where people have either died or gone into assisted living," says George, who served as a Democrat on the city council from 2004 to 2006. "It's huge." Case in point: George and her family inherited the home when her husband's father died.
Coincidentally, the Pels moved to the New North End — 56 years ago — for many of the same reasons the Georges did. They were a young family looking for an affordable, safe place to have and raise children. Their home on Marshall Street was brand new when they bought it in 1958, and though Ivan died last March, Rose says she has no plans to move out.
Crime in the New North End remains low, and residents seem to share the view that it's a very safe place, despite last week's arrest of a young couple allegedly cooking meth in a house on Sandra Circle.
Just 20 years before the Pels bought their home, the northern tip section of Burlington — starting at Burlington High School — had been an expanse of fields, speckled with a few rural homes, on a promontory above the Intervale on one side and Lake Champlain on the other. Post-war demand for housing led to development along North Avenue and the suburban-style streets that radiate east and west, seemingly for miles, as the land narrows into the Winooski River delta.
The area developed in spurts. Some of the properties have been there since the 1800s — one, on Apple Tree Point, dates to 1820 — but the vast majority of the New North End's homes were built after 1950. The Ethan Allen Shopping Center went up in 1954, according to David Hauke, whose family is responsible for much of the area's commercial and residential build-out. The "cheap seats" movie theater and dollar store are gone from the vintage complex, but the Hannaford, Ace Hardware, post office and two dry cleaners still appear to have plenty of customers. The Bagel Café and Deli is a popular community gathering spot.
Today's New North End is eclectic. The trailer park across from the shopping center is a short drive from the multimillion-dollar homes of Strathmore at Appletree Point. A dirt path leads from the Hannaford parking lot through a stand of tall white pines into Leddy Park. Next to the supermarket, construction is under way on a mixed-income housing development that will include 69 senior housing units. The New North End's two nursing homes— Birchwood Terrace and Starr Farm — are nearby and within minutes of each other.
But even as the New North End's remaining green fields are divided up and built over, the area maintains some of its original rural appeal. Andrew Laing and his family came in 2008, after he finished his degree at the University of Vermont. He says he would rather live on 100 acres in the country, but he works for the Department of Vermont Health Access in Winooski and his wife has a UVM job. With three kids, they figured living in rural Vermont would be too complicated. Laing says the New North End has been a great middle ground.
Good schools. Bike-path access to Burlington. Real neighborhoods. "It's a huge backyard and there's a school right across the street," Laing says of his Gosse Court home. "It feels like paradise. We've planted a lot of gardens, put a lot of fruit trees in."
When they first moved in, the Laings were the only family on the street with young children. "Since then, two other families have moved in with kids," he says.
George Gamache, a real estate agent at Hickok & Boardman Realty, confirms what the proliferation of strollers and driveway basketball hoops in the area seems to suggest: Almost all the recent turnover in the New North End housing market can be described as "old to young." Gamache grew up in the New North End and has been working in the area since 1979.
He's been around long enough to know that home ownership is the leading indicator of property-tax sensitivity. But young families are often willing to pay more when the money is going to improve local schools. The Laings own their home, and Andrew Laing says he has consistently supported the local school budgets.
While his politics may be to the left of many of the New North End's Old Guard Republicans, Laing says his more liberal friends — whom he has met, in large part, through his children — think he's conservative. Laing said he has voted for both Republican and Democratic city council candidates and qualifies his pro-education stance with: "The way we structure education, there's so much waste and, really, stupidity in how we do things."
Such views are not enough to comfort Republicans in the New North End, which stands to lose a seat on the city council under some proposed redistricting plans for Burlington. Noting there were as many as five Republicans on the council in the mid 1990s, "Now it's down to one," says Wright, who represented the New North End on the Burlington City Council and in the Vermont House of Representatives — at the same time. "I think that's a concern because you do want a voice coming from that side. You don't want it all going one way."
But Wright is hardly a right-wing Republican. When he was on the city council, he started a committee to improve city parks and the bike path. In Montpelier, he cast a vote for same-sex marriage.
Ward 4's young Democrat on the Burlington City Council, Bryan Aubin, says he's found politics in the New North End more about personality than party.
"I feel that when I campaigned, I met many people that really just sort of wanted to hear particulars about issues, and it didn't seem to matter as much about political party," he says.
George confirms it. "Quite honestly, when I ran for office, I had Republicans tell me that they voted for me."
Wright concedes the recent influx of young families might move the New North End leftward. "I'm not sure that it's as dramatic as some people think that it is," he says of the turnover from old to young. "I think that people in the New North End are concerned about lots of issues," he says. "I think taxes is one of them, but they're also concerned about quality of life. I think the environment is also an issue that people in the New North End are concerned about, and rightfully so. I think it cuts across party lines."