Matthew Thorsen
Left to right: Robert Grim, Sam Keane, Todd Haire, Jon Farmer, Dani Casey
After water and tea, beer is the most widely consumed beverage in the world. One could argue that it even helped shape the world: In the words of English wine writer Andrew Jefford, "Wine was the drink of elegance and aristocracy, whereas beer built the pyramids." And all beer, from a can of Budweiser to a draft of craft IPA, shares a basic skeleton with its ancestors: water source, starch source, yeast source, hops.
But if making good beer were as straightforward as using yeast — and sometimes bacteria — to convert starchy sugars into a hopped, palatable alcohol, we wouldn't have a brewing culture that has subsisted since the Bronze Age. Beer reflects the personality of a place and its people, whether it tastes of pristine, commercial exactitude or the funk of wild fermentation caused by a lakeside breeze. In that sense, the trajectory of brewing beer is not a straight line from start to finish. It's a fluid curve.
Perhaps this is why Todd Haire, cofounder and brewmaster of Burlington's Foam Brewers, designed a winding stone bar as the centerpiece of his new brewery at 112 Lake Street. The concrete bar top, crafted by local businesses Russ Bennett Design and Vermont Eco-Floors, meanders from one end of the brewery to the other, flecked with stones collected from the edges of Lake Champlain and inlaid with illuminated glass by Mad River Glass Gallery.
"The whole idea is the curve," says Haire as he pours a dusky-gold pint of the house saison, Saison de Foam 2.0. "The bar's not a straight line, so you don't have to crane your neck around to look at people. It's all a part of the flow."
The "flow" is, to Haire, "about being in a place — sitting and relaxing for the moment." For this reason, there are no tasting flights at Foam. "You're not getting the full spectrum of a beer if you're jumping from one to another in a rack of six," Haire continues. "When a draft of beer is poured, half of its aroma sits in the head. The foam."
Haire pours himself a Tranquil Pils, a German-style pilsner that seems to glow in the glass. He sniffs the froth on top, the suds that inspired the bar's name in the first place. "All great beer sits under foam," he explains.
Looking around Foam, you can see that the "flow" of enjoying a beer has as much to do with the brewery as it does with the brews. Outside, umbrella-topped tables on the patio are filling with locals arriving for a beer and a waterfront breeze.
Inside, the air has the sweet, mineral smell of wort with a musky undertone of hops, an aroma indicative of the steel fermentation tanks puffing steam along the wall. Exposed brick and wooden beams warm up the space's metallic industrial accents. Potted plants hang over giant stacks of bagged grain.
The works of Vermont artists highlight the architecture: metalwork fencing by Kat Clear; curved metal leaves and tap handles by Christopher Solbert; and a massive outdoor mural by Charlie Hudson, who currently sits at the bar with Haire chatting over a pint. Behind the bar, there's a basket of bread, a jar of pickles and a cake stand laden with Miss Weinerz doughnuts, made each week with the brewery's spent grain.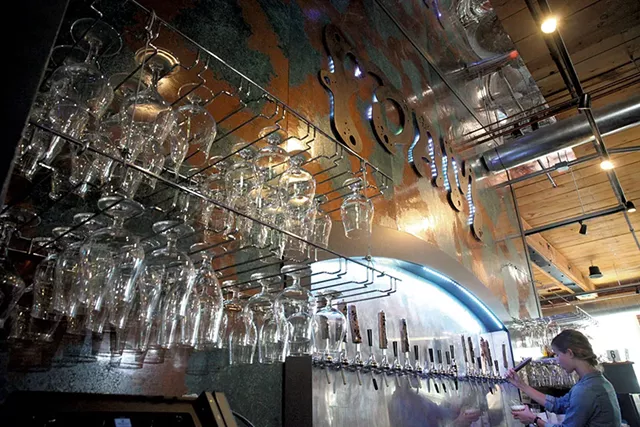 Two other Foam cofounders, general manager Dani Casey and head brewer Bobby Grim, laugh with a customer as they brainstorm names for a new brew made with full-cone Cascade and Chinook hops.
"Some hop famers from Kirby Hop Farm in Chateaugay, N.Y., stopped by our door with these killer full-cone hops," explains Haire. "It was insane — they picked all the cones by hand. They weren't dry hops. They were fresh, full cones meant to be made into a wet-hop ale."
Haire and Grim walk to a steel tank bubbling on the wall opposite the bar. Haire opens a top latch and takes a deep inhale of the heady steam that emerges. Grim undoes a side latch and plucks a cone from the tank's depths. He pulls apart the green-brown hop bud to show plump lupulin glands clinging to the center — tiny yellow sacs filled with all the acids and hop oils that add hop character to a beer.
"These farmers were so jazzed about wanting us to use the cones in our beer," Haire continues. "Since there's a much higher moisture content in fresh hops, we used about 80 percent more than you'd usually use in a batch." While dry hops are more concentrated in flavor, unprocessed, just-harvested, full-cone wet hops carry more fragrance and greenness in their wells of extra water — a difference analogous to that between in-season tomatoes and their sun-dried counterparts.
Haire developed the recipe with a simple blended malt base from Peterson Quality Malt in North Ferrisburgh, wanting the hops to stand out without any competing flavors. "It's going to be exciting to see how it comes out," says Grim. "It smelled like a fresh orange in the kettle."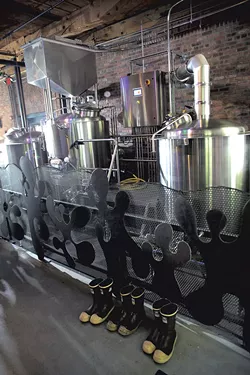 A while later, the Foam team gathers at a round table in a back corner of the brewery, beside a wall adorned with paintings by local artist Geoff Garrow. "This was my kitchen table as a child," says Haire, smiling behind his moustache. "I had it in storage and thought this would be a great spot."
Four of the five Foam founders are here — Haire, Grim, Casey and Sam Keane, the third brewer in the trio. Jon Farmer, the fifth member of the group, is the creative mind behind the brewery's marketing, branding and digital media. The five-person team is visibly close, having developed their friendship during different work ventures long before Foam opened its doors in late April.
Haire began brewing at Magic Hat Brewing in South Burlington in 1998, when Vermont had just four other craft breweries (that number has since grown to 46). Casey joined the Magic Hat marketing team in 2007. She and Haire worked in tandem until Haire left in 2011 to be the head brewer at Switchback Brewing. He hired Grim a year later to be a pilot brewer for Switchback's specialty beers, and Keane joined the team soon after as a production brewer.
Farmer worked in the Switchback taproom. Casey left Magic Hat and came to Switchback in 2015. That's when Grim and Keane approached Haire with the plans to start their own brewery, with Haire as the brewmaster.
"It was a huge undertaking for us, coming together as a team," says Haire. "We knew we'd need an amazing general manager, and that was [Casey]. And we knew we'd need to bring in [Farmer], who has such vision and creativity."
In November 2015, with funding from personal savings, friends, family and a small business loan, the Foam quintet leased its current spot in a 19th-century brick building on Lake Street. The former home of San Sai Japanese Restaurant needed a dose of reconstruction — "the foundations were very bare, and there were still quail eggs in the freezer," says Grim. The team stripped the place to its bones and built it back up before opening to the public only six months later.
Meanwhile, Haire was pursuing a second brewing venture with his friend Bill Mares. Six months before Keane and Grim came to Haire with the idea of a brewery, Haire and Mares had collaborated on a new edition of Mares' book Making Beer, first published in 1994 when the United States had just 12 craft brewers. In the course of revisions, says Haire, he and Mares "thought it would be cool to start a little blendery, a place where you store all the barrels after making the wort at a sister brewery."
The duo brewed 60 barrels of wort at Zero Gravity Craft Brewery and Fiddlehead Brewing, then stored the blends in French oak barrels in a warehouse at 777 Pine Street, less than a mile from the spot that would become Foam. Sitting with a mixed culture of wild yeast and bacteria, the barrels' contents eventually fermented into a range of sour ales. Haire and Mares called their small brewery House of Fermentology.
"Eventually, Foam Brewers and House of Fermentology will come together under one umbrella," says Haire. "The creative aspects of both are very fun. We can do so many different styles of beer from that perspective. Between Foam and HOF, we have 15 500-liter barrels of 'punching beers.' Experiments."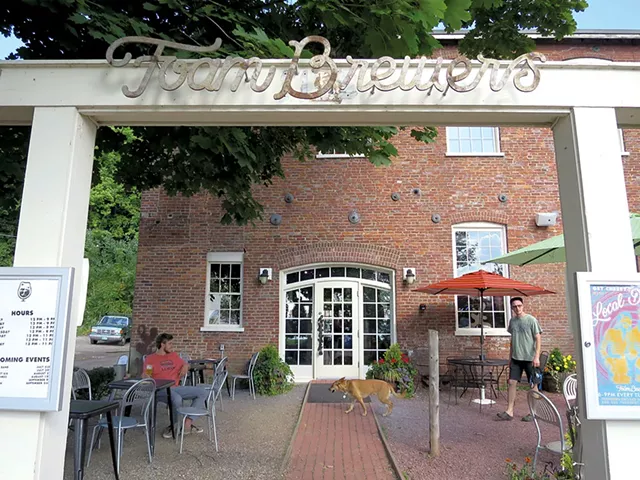 Matthew Thorsen
Entrance
Upcoming brews might include lavender and chamomile grown by Foam's baker friend Ren Weiner; local honey from Haire's own bees; and tart cherries grown by a friend from Burlington cold-brew coffee company Death Before Decaf. The brewery has also partnered with the University of Vermont Extension program, which seeks to develop hop farms and heirloom varieties of barley in the state.
Foam's eight in-house taps offer a couple of mainstays — like a double IPA called Built to Spill — along with an ever-changing rotation of brews. One newcomer this week is a farmhouse saison named Pitted Against Drie, a hazy yellow beer brewed with 180 pounds of fresh peaches.
"We have some ideas for the future," says Haire, "but we'll probably end up staying very small. We'll have bottle releases from House of Fermentology and maybe some small runs of Built to Spill [in bottles], as well. But it will all come right out of our door."
Keeping it all in-house, continues Haire, is another nod to the idea of flow. "The whole point is to have people come here and experience here, to sit down and relax," he says. "Our goal all along was to make good beer in a good space and pour it right here. The world is a crazy place. It's good, sometimes, to take it little by little."