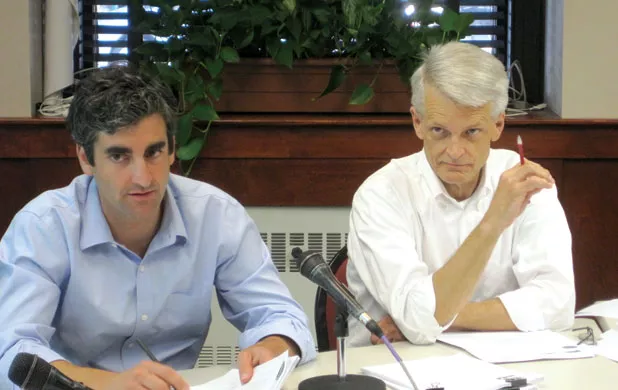 Ten weeks after becoming mayor of Burlington, Miro Weinberger acknowledges he's still in the beginner's phase. That start-up status is also reflected in the décor of his corner suite on the second floor of city hall. Apart from hanging a congratulatory poster from Ben & Jerry's and an art print presented recently by a group of visiting Turks, Weinberger — who has never previously held elected office — has yet to personalize his own office.
The reception area includes a portrait gallery of Burlington's 38 mayors. There's an empty space where Weinberger's picture will eventually be placed.
Talk about pressure.
The Queen City's first Democratic king in 31 years has also made a couple of rookie mistakes. On the same day that he was announcing a city-budget breakthrough, Weinberger was forced to withdraw the nomination of his BFF, Ian Carleton, as city attorney over allegations of cronyism and salary bloat. As the news media predictably focused on the Carleton faux pas, it became obvious that the fledgling administration needed tutoring in PR 101.
But Weinberger will get a second chance in the coming weeks to tout a budget he and interim Chief Administrative Officer Paul Sisson promise will avert both a tax increase and cuts in city services — an impressive achievement under the circumstances. Previous mayor Bob Kiss sought on three occasions to raise taxes to address an estimated $750,000 deficit, without success. By the time Weinberger took over in early April, the projected gap had widened to $1.2 million, owing to a legal ruling that redirects to an escrow account the equivalent of $425,000 in annual interest payments from Burlington Telecom that would have gone to the city.
In a joint interview last Friday, Weinberger and Sisson waved off a reporter's suggestion that they're working some kind of financial magic. "We now have more information than Bob had," Kiss' successor said. Weinberger also noted he's got more budgetary flexibility: Voter approval in March of a charter change enables the city to borrow an additional $1 million for capital improvements.
The success of the Weinberger-Sisson balancing act is also due in part to sheer good luck. A lower-than-anticipated inflation rate, for example, is saving $350,000 in cost-of-living increases for city employees. A less limp economy is meanwhile expected to generate an added $50,000 in gross-receipts taxes, according to a "trend analysis" cited by the mayor.
Clever accounting also helped in designing the good-news budget package that must be acted on by the city council prior to July 1 — the start of fiscal year 2013. Weinberger and Sisson figured out the city can save $200,000 by using bond proceeds to pay off the lease on the Burlington Police Department headquarters on North Avenue. Another $300,000 in additional revenues and savings has been unearthed in the Department of Public Works.
Progressive Ward 2 Councilor Max Tracy describes Sisson, a veteran CPA, as "a very talented financial person." Tracy is one of a few councilors not on the city's Board of Finance who has taken part in nearly all budget-planning sessions during the past two months. City Council President Joan Shannon, a Ward 5 Democrat, says she has sought to engage all 14 councilors — not just the four on the Board of Finance — in this year's budget-making process. While the deliberations have generally proved collegial, a couple of councilors have not hesitated to challenge specific items in Weinberger's proposed budget, Shannon notes. "He's listened and in some cases made adjustments," she says.
Not surprisingly, the mayor's Democratic ally, who occupies one of the council's four Board of Finance seats, has general praise for Sisson and Weinberger. "It's impressive what they have done," Shannon says.
Fellow board member Sharon Bushor, a Ward 1 independent, offers a more skeptical view. The city-council doyenne expresses reservations about the potential impact on low-income Burlingtonians of a proposed $5 increase in fees for a parks-and-recreation after school program. Bushor concedes that the proposed hike is "modest," but adds, "An increase is an increase." Referring to some of the Burlington families taking part in the program, she observes, "These people didn't benefit when stocks were going up, and they're certainly not benefiting now, particularly if they've lost a job."
Having taken part in budget reviews for 25 years under four previous mayors, Bushor adds that she's "very leery of 'anticipated revenue increases'" because she's "been burned before."
Overall, Bushor says, it's too early to draw conclusions about Weinberger's fiscal or political performance. "In the first year after getting elected," she remarks in regard to Burlington mayors, "you're really dependent on the previous process."
The two other councilors on the finance board — Ward 7 Republican Paul Decelles and Ward 6 independent Karen Paul — have been less forthcoming with appraisals of the mayor's budget proposals. Decelles says his volunteer job as a girls' softball coach has caused him to miss some meetings, leaving him "uncomfortable about giving an opinion." Paul, a professional financial adviser, did not respond to several telephone and email messages over the course of a week.
Weinberger himself says he "took seriously the fact that we're still coming out of a recession and that we need to avoid a tax increase." He warns, however, "We won't be able to do that forever." And the proposals he's had to formulate relatively quickly "do not go to the heart of the financial issues that Burlington is facing."
The fiscal 2013 budget also contains so many built-in elements that "it won't really reflect my shifts in priorities and programs," the mayor further cautions. But a day after the interview in his office, Weinberger moved to amend that position, saying in a phone call that his plans for improvements in various recreational facilities will in fact take the city in a new direction. His Monday decision to replace Parks & Recreation Director Mari Steinbach sealed the deal.
Weinberger notes he will ask the city council to approve about $1 million in spending from the Penny for Parks reserve fund. He says he wants to use the allocations to complete more than 30 projects within the next two fiscal years, including a $120,000 renovation of the "beloved but aging" Community Boathouse. Pointing out that the Penny for Parks fund was established three years ago and has annually accumulated about $350,000 in tax revenues, Weinberger laments that "very little has been done" with the money — until now.
The mayor calls attention to his commitment to complete $1.7 million in bike path repairs by the end of the current calendar year. The Federal Emergency Management Agency accounts for 75 percent of that sum in the form of flood-relief funds, while the state is providing 15 percent and the city 10 percent of the total. "There had been a lack of focus and direction on the bike path," Weinberger says, observing that earlier plans would not have authorized repairs to start until next year.
If it hasn't ended already, the new mayor's political honeymoon won't last past June 30. In addition to finalizing the budget, Weinberger has to make several key appointments by then and, in keeping with a self-imposed deadline, to decide whether to persist in pushing a five-year-old plan to build an ice-climbing facility in the abandoned Moran Plant.
Progressive Ward 3 Councilor Vince Brennan is firing a warning shot on Moran, saying it would be a "mistake" for Weinberger to bail on the ice option. "If he doesn't go forward with it, then, oh, my God, that empty building will be his legacy," Brennan declares.
During last week's interview, the mayor offered no revelations on the issue that will likely prove the most crucial in his current term in office. Asked for his thoughts on the Burlington Telecom bust-up, Weinberger says, "So far it's mostly been a matter of me getting up to speed on the complexities of it."
Can city taxpayers expect a resolution within, say, the next six months? "There's not a lot of progress I can report," Weinberger responds, but adds, "I will be coming to the public on the BT issue well before the end of the year."
The mayor also measures his words carefully when asked about racial tension in Burlington, which appears particularly focused on the schools. "I do sense that, and I am concerned about it," he says. "I've been careful about what I've said because of my consciousness of being a newcomer to this situation." He adds, however, that "in city government in general, there is a need to set goals to become more diverse as the city becomes more diverse."
In a meeting last week with neighborhood activists and minority representatives, Weinberger was reportedly more outspoken. Brennan, who attended the session, assessed the mayor's role as "very positive." Weinberger responded affirmatively to urgings that he exercise "transformational leadership" on race relations, Brennan reports. "He said that, having a child of Asian descent, he is very keyed in to this issue."