David Punia
The Lost Shul Mural at Ohavi Zedek Synagogue
Two years ago, members of Burlington's Jewish community finally unveiled the newly restored Lost Shul Mural, a distinctive work of folk art that was painted in 1910 by a Jewish immigrant from Lithuania. The mural, which for decades adorned the altar of an Orthodox Jewish shul, or synagogue, in the Old North End, was nearly lost after the building where it hung was sold and repurposed as commercial space. In 1986, the mural was sealed behind the wall of what had become an apartment complex; it wasn't rediscovered until 2012.
As one of the few surviving examples of eastern European wooden synagogue art, the three-panel mural, painstakingly restored and rehung in the foyer of Burlington's Ohavi Zedek Synagogue, continues to impress and inspire. Now its origins are the subject of a new play by Burlington writer Joy Cohen. Her historical fiction brings alive the community of Lithuanian Jewish immigrants who inhabited the Old North End neighborhood once known as "Little Jerusalem."
Cohen's play, Of the Better Kind, a work in progress commissioned by the Burlington production company Theatre Kavanah and partially funded by a grant from Burlington City Arts, will premiere on Friday, May 19, with a staged reading at the Main Street Landing Black Box Theatre.
Sharon Panitch
Timothy Lewis with a photo of Ben Zion Black
The play tells the story of Ben Zion Black, the painter whom Chai Adam Synagogue hired to create the mural for $200. Its title pays tribute to the commercial sign shop, Signs of the Better Kind, on Center Street — now home to the Daily Planet — that Black owned for about 50 years.
As Cohen explains, the play begins on the day before Black is due to unveil his new mural. It highlights all the stressors that come with meeting a deadline and wanting to produce an important work of religious art that will make the community proud.
"We're sharing a story that very few people know about," Cohen says, "and we're trying to really honor the role they played in creating this community."
Though the story of the mural's creation is fictional, Cohen says she spent more than a year researching the play's characters, many of whom were actual Jewish immigrants to Burlington, and the challenges they faced in gaining acceptance from native Vermonters. Though Black himself came from the Lithuanian town of Kovno (now Kaunas), many of Burlington's Jews emigrated from the Lithuanian town of ekišk, or Chaikishok. In fact, much of the play is set in the fictional Café Chaikishok, another homage to a community that was displaced by religious persecution.
"This all took place in 1910," Cohen adds, "but it has so much relevance to what's taking place politically in our country today."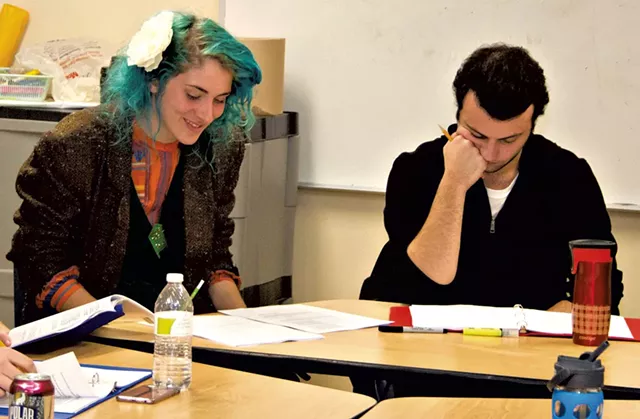 David Punia
Emily Lopez (Rachel Saiger) and Timothy Lewis (Ben Zion Black) reading Of the Better Kind
Cohen, who was raised in a traditional Jewish household in Valley Stream, N.Y., by parents and grandparents who all spoke Yiddish, didn't have to look far for an appropriate producer for her play. Theatre Kavanah, whose motto is "staging the Jewish experience," was founded in 2012 by Wendi Stein of Hinesburg as a way to combine and explore her passions for the theater and her Jewish heritage. The company is headquartered in the Burlington home of co-director Sharon Panitch. Theatre Kavanah produced an "enhanced stage reading" of Cohen's play Anna's Journal in 2013.
Panitch points out that Of the Better Kind, which is directed by Montpelier's Margo Whitcomb, tells the real-life love story of Ben Zion Black (played by Timothy Lewis of Colchester) and Rachel Saiger (played by Emily Lopez of Burlington). According to Panitch, Black was interested in courting Saiger back in Lithuania. Her parents didn't approve, which may be why the couple left that country in 1905. Black had to work for five years to save enough money for passage to Burlington, where the pair eventually married.
Panitch describes the real Black as a "Renaissance man" who was not only an accomplished painter but also a mandolin player, actor and Yiddish playwright and poet. Much of his poetry, she notes, is still archived at the University of Vermont.
"He loved the Yiddish language and culture," she says. "At a time when people were ... trying to leave the old country behind, he really embraced that, which was probably unusual for a young man of that time."
As this play was in development last fall, Panitch notes, Ohavi Zedek's Rabbi Amy Small was contacted by a journalist from Radio Lithuania about a series the station is running on that country's lost shtetls, or Jewish enclaves. It's not known why so many Lithuanian Jews immigrated to Vermont, but one theory holds that the climate and topography reminded them of their native land. The reporter, who happened to be visiting Chaykishok at the time, reached out to Small to find out what, if anything, she knew about the Chaikishok Jews who'd immigrated to Burlington.
Says Panitch, "I feel like [we're] long-lost siblings trying to find each other across the world and being like, 'Whatever happened to you?' and 'We're here!'"