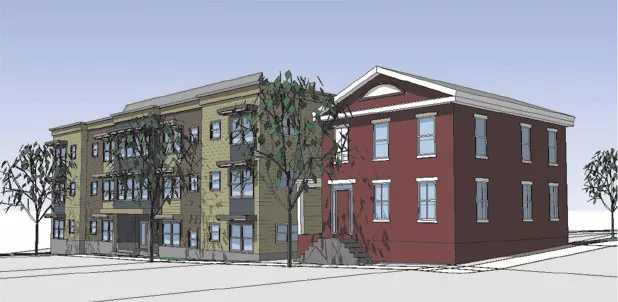 Plan for BHA housing at 30 King Street
Jodi Whalen says Burlington's King Street neighborhood was "a little beaten down" when she and her husband, Phil Merrick, opened their café and bakery, August First, in 2009. Today, the section is on the upswing, but with empty buildings and vacant lots, Whalen sees room for improvement.
"Burlington needs to build up," she says, "and this is a great neighborhood to do that."
Now the King Street neighborhood is poised for something of a housing boom — and renters of all incomes stand to benefit. The Burlington Housing Authority (BHA) is building 16 apartments on King between South Champlain and Battery, on the slab of concrete where a Homeport warehouse was demolished this summer.
Around the corner, on a vacant lot on South Champlain Street, Vergennes developer David Shlansky plans to build market-rate apartments. Developer Stuart Chase is building another 34 rental units — a mix of one- and two-bedroom apartments — at 187 St. Paul Street, between King and Maple.
Meanwhile, Champlain College is building apartment-style housing for up to 250 students at the site of the old Eagles Club on the corner of Maple and St. Paul.
The result of all this construction?
"It's doing exactly what an urban neighborhood needs to do, which is serve all segments of the market," says Brian Pine, the assistant director for housing and neighborhood revitalization in Burlington's Community and Economic Development Office. "There's something just about for everyone."
Thirty years ago, the concern among King Street neighborhood residents was gentrification, and the answer was to build affordable housing. The city established a neighborhood revitalization area that stretched from Main Street, south to Hayward Street and from Battery Street east to South Winooski Street and used federal subsidies to entice developers to build low-income housing.
In 2010, two low-income apartment buildings went on the auction block after their 30-year affordability requirements expired. Many people expected owner Pizzagalli Properties to convert the Bobbin Mill and Wharf Lane to upscale housing, but the BHA struck a last-minute deal to keep the units affordable indefinitely.
BHA owns or manages between 700 and 800 rental units in the Greater Burlington area, but the King Street neighborhood is home to the greatest concentration of Section 8 projects in the city, which provide taxpayer-funded rental assistance to keep monthly rents low.
In 2010, BHA purchased the Homeport warehouse at 30 King Street and a 1800s Federalist brick building next door. The red brick building will be renovated to house two apartments. The warehouse was razed this summer to make way for a three-story, 14-unit apartment complex of primarily small efficiency units that will rent for between $815 and $1229, including heat and hot water. Altogether, BHA is spending more than $2 million on the project.
Burlington's rental market is among the tightest in the northeast, and affordable housing can be especially hard to come by. At present, the wait time for a Section 8 housing voucher is between seven and eight years, says BHA special projects manager Matthew Ham-Ellis. BHA also maintains separate waiting lists for individual properties that are predesignated as Section 8 housing — and the King Street neighborhood, home to more than 200 such housing units, has the highest concentration of Section 8 properties in the city.
BHA executive director Paul Dettman says the proliferation of housing-authority projects in the neighborhood is more a factor of chance than design. "It happens to be that a couple of the key, at-risk projects were located in this neighborhood," says Dettman, adding that in a city constrained by boundaries like the lake or Intervale, "where you locate things is often the result of opportunities."
The King Street neighborhood's quirky mix of industrial and residential has attracted private developers too, including Anne Rothwell, a former co-owner of Club Metronome. She purchased the dilapidated house at 189 South Champlain Street in 2008. The following year, it was ravaged by fire and has sat boarded up since.
Rothwell has battled the city for a demolition permit so she can construct a duplex with a "waterfront warehouse"-inspired design. "It's a perfect location," she says — just steps to the lake, and within walking distance of grocery stores and downtown shops. She wants to live on the property because she likes the area's "funkiness" with its mix of businesses — from Handy's lunch counter to the chic, JDK-run coffee shop, Maglianero.
That the neighborhood appeals to the Rothwells of the world as much as to BHA bodes well for its future, according to real estate redeveloper Stu McGowan. A longtime resident of the Old North End, McGowan says that neighborhood and King Street share the same concerns about potential gentrification and the importance of socioeconomic diversity.
"To my thinking, anywhere where there's too much of one thing, that's not a good thing," says McGowan. "To me, it's all about mixing it up as best as we can."
Is the King Street neighborhood striking that balance? Vicky Smith is executive director of the King Street Center, a family and children's center located in the heart of the neighborhood. She says the center pays close attention to the pulse of the neighborhood. She hears families talking about their own experiences and donors asking, "What's the nature of the neighborhood? Is it gentrifying? What will it look like in five or 10 years?"
In response, she says that the area is vibrant and healthy — "just how any neighborhood should be." But Smith says residents face challenges of poverty in the neighborhood, adding that "poverty does not keep pace" with new construction or neighborhood upgrades.
"These are entrenched challenges, entrenched problems. Sometimes it can feel like a very deep black hole within the walls of King Street as the building goes on around us."