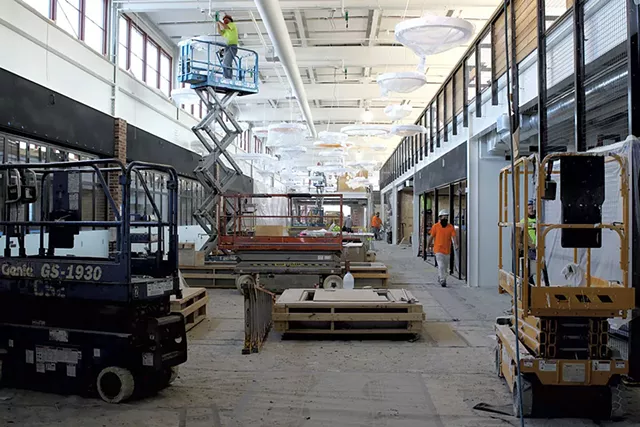 Courtney Lamdin ©️ Seven Days
Inside Building 50 on the Hula campus
The shores of Lake Champlain may be 5,000 miles and a world away from the Hawaii surf, but Russ Scully envisions his Hula office complex in Burlington as an equally enviable destination for tech-minded companies.
A surfer-turned-entrepreneur, Scully has transformed the former Blodgett Oven factory on Lakeside Avenue into a nascent innovation hub for software developers, marketing firms and others. Tenants of the three-building, 150,000-square-foot campus have unimpeded views of the lake through glass walls and windows. They'll have access to a fitness center, use cedar-paneled restrooms, and be just steps from the beach and bike path.
"The three rules of real estate are location, location, location," Scully said of Hula's appeal. "That's part of it, but I think we've done a good job of building a brand, where people know that we're not just selling space — we're trying to make an impact. We're trying to grow the economy."
While the economic slowdown has emptied storefronts and office buildings across Vermont, Hula is almost fully leased. The first tenants moved into Building 44, a nine-suite office space, in August, and the rest will set up shop in October. Building 50, a mixture of traditional offices and coworking spaces, will be ready for occupancy before Thanksgiving, Scully said.
But plans for Building 32, the smallest of the three, are being challenged by a small group of neighbors who enjoy the view as much as Scully's new tenants will. The residents have intervened in Hula's quest for Act 250 approval to tear down the building and replace it with a taller one. The new building will block the view of the lake and the Adirondack Mountains that they have enjoyed for years, the intervenors say.
"He's going to monetize the sunset," said Paul Wallace, who lives across the street from the project. "Money is going to rule ... and some people are just going to suffer."
Scully, however, sees it differently. "Unfortunately, there's gonna be a couple people who lose a little bit of view as part of this bigger vision," he said.
His plans for Hula started percolating in 2017, when he and his wife, Roxanne, purchased the former Blodgett Oven property for $14.3 million. The Scullys also operate the island-themed Spot and Spot on the Dock restaurants in Burlington. They opened the Burlington Surf Club, an outfit that rents paddleboards and other water sport equipment, at Hula in May 2018 as an extension of their Pine Street retail shop, WND&WVS.
Hula was designed as an incubator for startups with good-paying jobs and the potential to grow in Vermont. Too often, Scully said, businesses leave the state when they can't find investors here, so Hula created a $2 million venture capital fund, the Fund at Hula, to keep companies local. Hula tenants and other area businesses can pitch a group of local investors for backing.
"The idea is [to] bring these companies in, help them raise money, nurture them, grow them, and then find a new home for them in and around Burlington," Scully said. Rinse, repeat.
The COVID-19 pandemic could have spelled trouble for Hula. Construction halted in late March, when Gov. Phil Scott ordered all nonessential businesses to close. Two prospective tenants pulled out after losing investors or the confidence to make a big move, according to Scully.
Uncertainty descended on the commercial real estate market. In June, vacancies in Chittenden County office space increased to 9.3 percent, according to a report published by South Burlington real estate firm Allen, Brooks & Minor. Sales of office space have "remained stagnant," the report says, noting that "future demand ... remains unclear in the midst of the new recession."
Hula has found ways to beat the odds. Instead of insisting on deposits and signed leases, Hula helped prospective tenants apply for federal small business or Paycheck Protection Program loans.
"It's an art. It's a dance," Scully said. "Some tenants, they were anxious to get back to work."
Engineers at Benchmark Space Systems struggled to work remotely because the equipment they needed to build satellite propulsion systems was at their office. The company, founded by University of Vermont graduate Ryan McDevitt in 2017, had outgrown its 2,000-square-foot office in South Burlington. McDevitt had found a space twice that size at Hula, but when the pandemic hit, he wondered whether the move was still practical. Then he learned that Hula would be cleaning common spaces throughout the day and offering discounted COVID-19 tests every week.
"That was what really pushed me to say, 'OK, this is the right time. We're gonna do it right now,'" he said.
Benchmark moved into Building 44 in August and already plans to expand by another 1,000 square feet. McDevitt's 17 employees can physically distance in their Hula suite, he said.
The other eight work spaces in that building are filled, according to Scully, as Hula has found new tenants to replace those that backed out. They pay between $18 and $24 per square foot, which puts Hula's rental rate at the top end for comparable office space in Chittenden County, according to the Allen, Brooks & Minor report.
Despite the industry slowdown, Scully has met his pre-pandemic goal to lease two-thirds of the campus by this fall. Among the tenants are Biocogniv, which makes artificial intelligence-powered diagnostic software for hospitals; 1% for the Planet, a group that raises funds for environmental nonprofits; and Sakon, which manages networks and cloud services for its clients.
COVID-19 has hampered other plans, however. The 500-person event space at Building 50 is effectively unusable until the state lifts crowd size limits. The calendar was booked with events — including Seven Days' own Vermont Tech Jam in October — that were canceled or postponed, drying up an entire revenue stream.
"We're gonna get by," Scully said. "We're just gonna have to wait a little bit longer for the vision to be realized."
The permitting battle could delay the final piece of the project even longer. Hula applied for an Act 250 permit on July 1, asking for permission to demolish Building 32, a two-story office building, and replace it with a three-story structure. Galen Healthcare Solutions, an IT consulting firm that temporarily relocated to Building 44 during construction, will occupy the first two floors in the new building. One other company will rent the top-floor suite, Scully said.
On July 8, the Act 250 district commission issued Hula a draft permit, which gave property abutters 21 calendar days to request a hearing. A group of six Hula neighbors submitted their request just 41 hours before the deadline.
Though the opponents raised several objections — that the taller building would create a "wind tunnel effect" and would "un-balance the historical nature and feel" of the neighborhood — the Act 250 commission agreed only to hear testimony on the traffic and aesthetic effects of the larger building.
Peter Bingham bought his home at 51 Lakeside Avenue in the spring of 2018, nine months after Scully purchased the Hula property. Bingham was interested in the prospect of a tech campus next door, but he didn't see renderings of Building 32 until this spring.
"It gradually dawned on me that vistas on the street and that I cherish from my home ... were going to be blocked by that taller building," Bingham said. "The development shouldn't just go on, unconscious of the consequences for the light and the feel in the neighborhood."
Wallace, Bingham's next-door neighbor, agrees. Wallace said his wife used to call him a "Russ Scully fanboy" because he was so enamored with Hula. But the love spell was broken when Wallace saw the building's proposed height. He worries that it will set a precedent for other buildings along the waterfront and complained that his city councilor — Joan Shannon (D-South District), who lives on nearby Central Avenue — hasn't raised any objections. Both he and Bingham question whether the additional story will really make or break the entire Hula project. They wonder why Scully can't compromise.
"I'm no longer a huge Scully fan," Wallace said.
For her part, Shannon noted that plans for the new building conform with the area's zoning, which permits heights up to 45 feet. Building 32 would be about 34 feet tall.
"I appreciate that nobody likes a taller building, and I share the sentiment, but I haven't ever seen that argument prevail when a taller building is allowed," she said.
Courtney Lamdin ©️ Seven Days
Project consultant John Caulo outside of Building 32
Project consultant John Caulo agreed, saying he predicts an Act 250 precedent known as the "Quechee test" will end the dispute in Scully's favor.
In 1981, an Upper Valley development known as Quechee Lakes won Act 250 approval to build 28 ridgeline condominiums. When developers installed skylights, wraparound decks and other unpermitted features, the Act 250 commission decided they'd created an "undue adverse impact on aesthetics" in the area and ordered the removal or mitigation of the design changes. A subsequent Environmental Board decision, later upheld by the Vermont Supreme Court, established a two-part test to prevent another Quechee Lakes fiasco. It asks: Does the proposed project negatively affect an area's natural beauty, and is the impact excessive?
Caulo said even if Act 250 finds that the extra height obstructs views, the Quechee test considers whether the developer has taken steps to blend the building with its surroundings. Hula has, Caulo said: The building was originally proposed as four stories, and Scully scaled it down to match the neighborhood's character. That was before the neighbors even got involved, Caulo said.
"He's demonstrated, at least to me, that he's not the type of guy that's just going to try to make a quick buck. He is guided by a long-term vision for this property," Caulo said of Scully. "That doesn't mean that everybody has to agree with him."
Scully said he'll accept whatever the Act 250 commission decides. If Hula prevails, crews could demolish the building before the year ends and begin construction in the spring.
Does Scully think the new building will ruin the view?
He paused for a moment, considering. "That's a tough one," he said. "There's no way that everyone's gonna come out happy."