File: Luke Awtry ©️ Seven Days
Former Burlington police chief Brandon del Pozo
Just after 11 p.m. on June 18, Brandon del Pozo tweeted.
The former Burlington Police Department chief and newly minted PhD shared a link to a BuzzFeed News video titled "Why Aren't Police Held Accountable for Wrongdoings?" The piece examined how officers such as Derek Chauvin — the Minneapolis cop who knelt on George Floyd's neck, killing him — could stay on the job despite racking up misconduct complaints.
The six-minute video was interspersed with clips of del Pozo, the only expert featured. He opined that there should be a national registry of cops who commit serious misconduct and lamented that police unions keep "bad cops on the force."
Just 24 hours before he posted the clip, protesters assembled in front of Burlington City Hall to demand that Mayor Miro Weinberger do what del Pozo didn't: fire three Burlington officers involved in violent incidents.
Del Pozo had opted for lighter discipline. He suspended Sgt. Jason Bellavance for between two and three weeks after the officer knocked a young Black man unconscious in the fall of 2018. He didn't punish Officer Joseph Corrow for his involvement in a similar case. And he chose not to fire Officer Cory Campbell, whose fight with Douglas Kilburn contributed to the man's death in spring 2019.
When activists saw that a national news outlet had anointed del Pozo the spokesperson for police accountability, they were angry.
The former chief created "an abrasive culture," said Mike Fife, an outspoken critic of del Pozo. "To have [him] lifted up as this philosopher who's going to get these platforms is disgusting."
Del Pozo had been largely silent since he resigned last December after admitting he'd created an anonymous Twitter account to harass a critic. In the last three months, however, del Pozo has made more than a dozen media appearances — in the New York Daily News and on podcasts from Slate and MSNBC, to name a few — elevating his status from ex-chief to preeminent police reform expert.
In each of the media spots, del Pozo ignored or glossed over the violent incidents in his former department even as he explained what went wrong in others.
In one of his two op-eds published in the New York Times in June, del Pozo said police departments shouldn't tolerate brutality but didn't mention the public outcry he caused when he didn't fire Bellavance, Corrow or Campbell. He bragged about sending a cadre of Queen City cops to an Alabama lynching memorial but left out how one officer's choice to wear a controversial, pro-police T-shirt to the museum ignited a furor on Facebook.
He also made light of lying to Seven Days when asked about his burner account last summer. "I felt like someone walked up to me in the middle of a party and asked me if I was the one who farted," he told MSNBC personality Chris Hayes.
Del Pozo's rise to national prominence is troubling to the union that represents Howard Center employees — including Charles Winkleman, the target of the former chief's trolling. Members of AFSCME Local 1674 started a petition earlier this month to "drop del Pozo" from the organization's board of trustees, on which del Pozo has served since 2018. It has amassed more than 360 signatures.
Howard Center CEO Bob Bick defended del Pozo during a virtual June 11 town hall-style staff meeting.
"One of the pillars of our organization is that we believe that people have the ability to change," he said. "We believe in rehabilitation."
Del Pozo responded to questions from Seven Days via email. He said he has no intention of being quiet. He believes he can contribute to the national conversation on policing despite his issues as chief. Those who support his ideas agree.
"There's very few voices of reform from the side of the police departments that have his credentials," said Prospero Gogo, a Burlington resident and self-described moderate Democrat who has tweeted in support of del Pozo's op-eds. "He's a flawed character, but if you think about it, how many other police officers come out saying what he is about how there should be some wholesale reform?'
Del Pozo's reemergence has also reawakened his critics, who say del Pozo is preaching what he didn't practice during his four years as Burlington's chief.
"If you're Brandon del Pozo and you're being given this platform, you have a responsibility to be open about and own up to your wrongdoing," City Councilor Jack Hanson (P-East District) said. "It's critical that he is transparent."
When del Pozo told BuzzFeed that police departments need a reformist leader with "no history, no allegiances, who doesn't mind ruffling feathers," he may have been describing himself. He arrived in Burlington as a former New York Police Department deputy. Activists filled city hall to protest his appointment in 2015, fearing that del Pozo would bring the NYPD's brutish culture to progressive Burlington.
Del Pozo's own troops didn't always feel a kinship with their Ivy League-educated philosopher in chief, who took a different approach to fighting the war on drugs. Del Pozo directed his cops to stop arresting people for illegally possessing buprenorphine, a drug that treats opioid-use disorder. Police also started carrying the overdose-reversal agent naloxone. A 50 percent reduction in overdose deaths in Chittenden County from 2017 to 2018 was largely attributed to del Pozo's methods.
Cops with a more conservative bent accused del Pozo of being too liberal, a characterization del Pozo takes in stride.
"We didn't always see eye to eye, but the officers and I had the same motivation: to protect and serve Burlington while making sense of some of the most difficult things a person can see," he wrote to Seven Days.
A year into del Pozo's tenure, Ralph "Phil" Grenon, a 76-year-old man with schizophrenia, holed up in his downtown apartment with a knife after making threats. Del Pozo supervised the police response at the scene. Officers tried to subdue Grenon with a Taser, but when he advanced with a knife, an officer opened fire, killing him.
In November 2019, del Pozo penned an op-ed in the Times that urged police to rethink brandishing firearms when dealing with knife-wielding subjects in crisis. He neglected to mention Grenon, telling Seven Days he didn't think the Burlington example was "topical" to a national audience.
After the Grenon case, del Pozo ordered de-escalation training for the force and publicly praised officers who used restraint in tense situations. He equipped cops with ballistic shields, which he said aided in their successful apprehension of Aita Gurung, the suspect in a brutal meat cleaver attack in 2017. The department spent $157,000 to stock a new emergency response vehicle with nonlethal tools intended to help "isolate and contain volatile situations," del Pozo said then.
The former chief also introduced an online system for citizens to file complaints against officers and gave the city's citizen-led police commission access to all the complaints. In an interview with WDEV's David Goodman on June 24, del Pozo said Burlington should no longer keep police disciplinary decisions a secret.
"There's discipline that I've undertaken as a chief of police against Burlington cops that I think is strong, aggressive, strict discipline," he said. "No one will ever find out, because in Burlington that's a confidential city matter. I don't support that."
But del Pozo's public commitment to accountability didn't always square with the decisions he made in private. In the spring of 2019, del Pozo and Weinberger came under fire for attempting to influence the chief medical examiner's finding that Kilburn's death was a homicide, caused in part by Officer Campbell's punch. City councilors' trust in the chief was further shaken when they learned about other alleged excessive-force incidents only after the victims filed federal lawsuits.
Del Pozo told MSNBC's Hayes that he ran "the most progressive police department in America." But as chief, he mocked activists when he thought no one was looking. Responding to the criticism about his officer's "thin blue line" shirt at the memorial last summer, del Pozo told Seven Days that "we have to take it seriously, and we have to listen." But in an internal email the next day, he derided the activists as "wingnuts" who were "gleeful that they could seize on left wing PC mania to undo our work and stymie our efforts."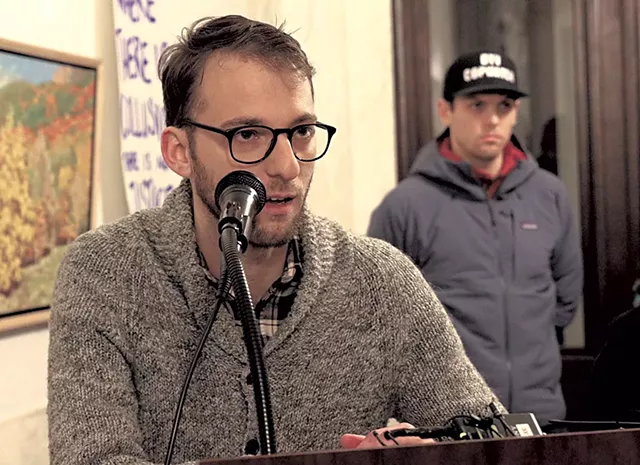 File; Courtney Lamdin ©️ Seven Days
Charles Winkleman
In July of 2019, del Pozo hid behind the @WinkleWatchers account to troll his fiercest critic, firing off a handful of taunting tweets over the course of an hour. Del Pozo said in recent interviews that he acted out due to "mounting pressure" on the job and because he came back to work too soon after sustaining a head injury in a bicycle crash in June of 2018.
"There was one particular guy who was a very onerous tweeter," del Pozo told Hayes, referring to Winkleman. "Just everything I said, he was constantly insulting. It got under my skin so badly, in a way I regret, that I sent him eight anonymous tweets."
"You ended up having to resign because you were too online," Hayes said.
Del Pozo agreed, saying he decided to step down after the mayor told him, "This is a big scandal in a little city." And it was: The del Pozo saga — and the subsequent revelation that his deputy, Jan Wright, had operated her own burner accounts — made national news.
"There's something really human and tragic about this," Hayes said of del Pozo's downfall. "You tried to be a progressive police chief in a progressive city."
Winkleman takes issue with how del Pozo has been painted as a "humbled reformer" while his record is ignored.
"He messed with a state investigation, and now suddenly he's the best cop there is, the true progressive police reformer?" Winkleman said. "Maybe that was his goal all along, but that's not how he acted in Burlington."
Fife, too, said del Pozo's writings come across as tone-deaf. He pointed to a line in one of del Pozo's op-eds that says police leaders "have long been content to kick the can down the road because making real change is hard." Fife found that statement ironic given that del Pozo resisted — for two years — Fife's efforts to get the department to adopt a social media policy. In a December 2018 email exchange, del Pozo told Fife that attempts to regulate his speech were "the beginning of the road to fascism."
Plenty of others, though, welcome del Pozo's voice in the ongoing debate about police reform. Former Burlington City Council president Kurt Wright invited del Pozo on his radio show, "The Morning Drive," on June 8, a week after the first Times opinion piece ran. It was del Pozo's first local media appearance since he had resigned.
Burlington's excessive-force cases aren't comparable to what happened in Minneapolis, Wright said, adding that del Pozo shouldn't be silenced for making mistakes. Wright said he judges del Pozo on his entire career, not the hour that the former chief spent sending anonymous tweets.
"Clearly there was some controversies. Not everything was handled perfectly, and I think it's part of his whole story," Wright said.
Gogo agreed, saying that while del Pozo's social media behavior was "awful" and "cowardly," the former chief's views deserve a national platform. Del Pozo is unafraid to criticize police actions, when most cops protect their own at all costs, Gogo said.
"It's not necessarily that I forgive him for what he did; I just think that what he's putting out there is very important," he said.
Even members of the Burlington police union, who at times found themselves at odds with del Pozo's thinking, said they wish him well. In an emailed response to Seven Days, the Burlington Police Officers' Association did not address a question about del Pozo's claim that unions keep "bad cops on the force."
"The national media and academia obviously value his decades of police experience, and the BPOA does not fault him for pursuing those outlets to further his influence on public safety," the union's statement says.
Del Pozo said he submitted his first Times op-ed unsolicited but that the other outlets reached out to him. Neither Hayes nor Megan Vatterott, the producer for the BuzzFeed piece, responded to interview requests from Seven Days.
In the months since his resignation, del Pozo earned his PhD from the Graduate Center at the City University of New York, writing a dissertation titled "The Police and the State." He's now researching substance use on a fellowship from Brown University.
He's also still active online.
Last week, Winkleman engaged in a heated Twitter debate about the movement to abolish police with David Simon, the writer who created the HBO police drama "The Wire." The spat ended when Simon blocked Winkleman and another activist, labeling them "mook" and "subhuman." Del Pozo retweeted the entire thread, cheering Simon's takedown of his foe.
"Insulated millennial white Vermonters told David Simon ... that they know more than him about violence in Black communities because they've studied critical theory and read certain books," he wrote.
Del Pozo posted the subtweet on July 6, almost exactly a year to the day that he created the account to taunt Winkleman. It didn't take long for some Burlingtonians to notice.
"This response shows your continued obsession with Mr. Winkleman," Melo Grant, a newly appointed member of the Burlington Police Commission, responded on Twitter. "It's not a good look and shows that you really haven't put this all behind you."