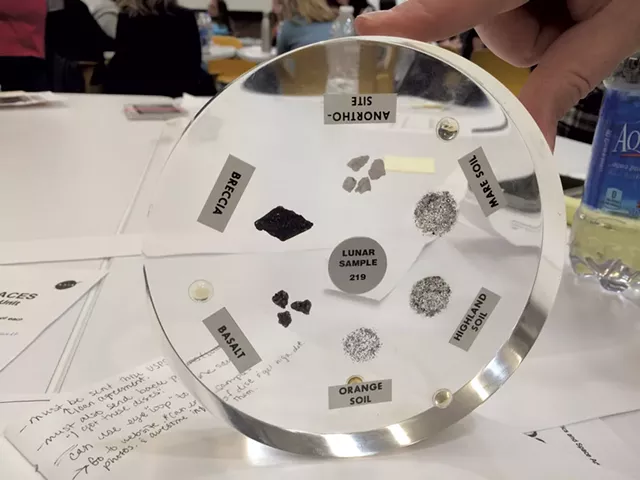 Courtesy Of Abby Wanserski
One of the NASA discs
An exhibit arriving at the Fletcher Free Library this Sunday is truly out of this world.
As part of a grant program called NASA@ My Library, the Burlington book lender will host rare moon rocks and meteorites for just two hours on June 2. Fletcher Free secured the loan only after tween/teen librarian Abby Wanserski completed a special one-day workshop and training last year in Denver on how to handle the items. (No space suit required.)
NASA instructors explained the importance of the rocks and how "astronauts risked their lives for all of those samples," Wanserski said.
"It's just so cool to be around them," she said.
The samples are kept in plastic discs that people can handle. Wanserski said NASA will ship them to her in "very sci-fi-looking, James Bond metal cases that make them look like who-knows-what is inside.
"For some people, I guess, their instinct is to handcuff themselves to them because they know the value of the rocks and the stones inside," Wanserski said.
The trainers warned the educators against doing that, and Wanserski said she has no intention of chaining herself to the case. There will be security. And when the rocks aren't on display at the library, they'll spend time under guard at the Burlington Police Department — a NASA requirement.
"The procedures they make you go through, the security — they take this very seriously," Wanserski said.
Sunday's event is the beginning of the library's summer reading program, which has a theme of — you guessed it — space. The free blast-off party for "A Universe of Stories" begins at 2 p.m. with space-themed snacks, face painting, music and moon rocks.