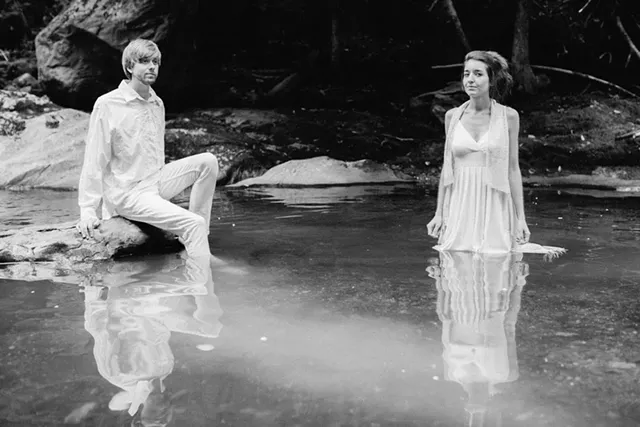 Courtesy Of Monika Rivard
Taylor Smith and Laura Heaberlin of Cricket Blue
The best writers know you can't make your characters perfect. No one wants to read about people without problems who make the right decision every time. There's no romance in that, no lessons to be learned.
The assortment of characters who populate Cricket Blue's songs lead anything but perfect lives, particularly those who inhabit the Burlington indie-folk duo's debut LP, Serotinalia. Backed by a string trio, bassist and trumpet player, Cricket Blue celebrate the release of that record on Friday, May 10, at the First Congregational Church in Burlington.
Despite how smoothly it rolls off the tongue, Serotinalia is a made-up word. It derives from an ecological term, "serotiny," referring to plants that release their seeds not due to maturation but rather an environmental trigger, such as a forest fire. Throughout the album, Cricket Blue's Laura Heaberlin and Taylor Smith forge their characters in a literary crucible — though it's usually the characters themselves who stoke the flames through their own poor choices.
In "Alicia From the Store," an aging store clerk finds that men are dogs but often disappears with the worst mongrels she can find. In "June," the title character is caught between anger and longing for an old flame as she writes a letter she perhaps should not.
Heaberlin, 29, knows the worth in creating such three-dimensional characters.
"There is a difference between character sketches and being autobiographical," she says as she and Smith, 28, walk along the Burlington waterfront and talk with Seven Days on an early spring day. "The audience, if they listen to the words of the song, will see exactly where the characters are going wrong," Heaberlin continues, squinting her pale blue eyes against the sunlight dazzling off Lake Champlain. "And I feel like that's hard to do in a song about yourself."
Smith agrees. A tall, slim presence alongside Heaberlin, he possesses a similarly youthful yet assured energy. Both carry themselves confidently in conversation.
"My empathetic stance as a listener changes when someone is pouring out their soul versus a character making decisions you know are wrong," Smith says. "I feel the same about our songs. Not everything our protagonists say is valid."
Those flawed characters form a sort of mosaic that brings the new record's theme of transformation to vivid life. But that wasn't the intention, at least initially.
When Smith and Heaberlin started recording the album last year in Saranac Lake, N.Y., the plan was simply to include the songs they deemed most ready. Yet a common thread emerged in both old and new material. As writers and arrangers, they were bound to react.
"Having this sort of theme to it became intentional only in the process," Smith recalls. "We didn't set out to write a concept album or anything like that. We did seem to pick songs that felt loosely linked by this idea of transformation through adversity."
The conceptual layers were not only laid in the lyrics. To further articulate the theme, the musicians turned to string players. Heaberlin felt they were the natural answer to crafting a series of musical motifs throughout the 11 tracks.
"We just love them. We love strings," says Heaberlin, who grew up playing cello. "So we use the strings to sort of link the songs, to connect different thematic spots."
"It just made sense," Smith adds. "As we noticed the connections between the songs ... we thought it might be cool if we could literalize them into arrangements. Hopefully it will play almost subliminal."
Those arrangements add another layer of quality to a band already brimming with talent. Cricket Blue have a number of idiosyncratic traits, such as the gorgeous interplay between Heaberlin's delicate yet stark voice and Smith's clean and clear tenor, as well as the sophisticated musicianship both possess in abundance.
The duo honed those chops after they met as students at Middlebury College and sang together in an a cappella group. They stayed friends after graduation and both headed north, playing gigs in and around Chittenden County as solo acts.
"We just guested on each other's stuff back then," Heaberlin remembers. "I'd play some cello on his songs, and sometimes he would come play sax on mine, that sort of thing."
"Laura was gigging a lot more than me," Smith admits. "But we did start splitting sets and, eventually, we worked out a lot of duets. They just kept growing until, one day, we were both just like, 'Hey, we're basically a duo now, right?'"
Following a promising 2015 self-titled debut EP, the pair released the well-received EP Io. That four-song 2016 collection turned a lot of heads in Vermont's vibrant folk scene. That's saying something when you consider the ascents of locals such as Anaïs Mitchell and, more recently, Henry Jamison — two acts that Heaberlin and Smith name-check as influences.
Eastern Mountain Time's Sean Hood, an accomplished singer-songwriter in his own right, also took notice of the duo. He quickly developed a deep respect for Cricket Blue, both for their music and their unflappable nature.
"We live in a culture where attention spans seem to be getting shorter and shorter," Hood remarks. "When I'm planning a show, I tend to obsess over what kind of room I think I'm going to be walking into, or whether or not the people are going to be interested in engaging with a soft and vulnerable sound."
That anxiety is an emotional waste for most artists, Hood asserts. Worse, he says, it can hurt a musician's performance.
"But Cricket Blue seem to approach their performances without insecurity or hesitation," he says. "Whether they are playing in a church or playing in a dive bar, they own their sound completely. Their confidence carries the songs beautifully through a silent room, or effortlessly over a loud one."
Hood adds, "And that's not even to mention the musicianship. I mean, get out of here with those harmonies!"
With a set list growing as rapidly as their reputation, Cricket Blue knew it was time to cut their first full-length album. After crowdsourcing funding — and meeting their goal within a week — they were able to go all in with recording and promotion. The result is a gorgeous, melancholy album brimming with intent. And perhaps something else.
"You know, it's a secretly optimistic record," Smith says with a knowing smile.
"It's not what you might think it is after the first listen," Heaberlin adds. "It starts off pretty bleak with 'Oracle,' but, by the time we end on 'Burdens,' there's a real hopeful sensation, I think."
As the sun sinks lower and our walk nears its end, Heaberlin flashes a smile. But Smith takes on a suddenly earnest expression, seemingly struck by a revelation.
"This record, what we're trying to explain is: Transformation doesn't have to be traumatic," he says. "It can be sticky, but progress can be made if you ride it out."
With that, Cricket Blue say their farewells and cross the street, off to talk details with their publicist about the new album's rollout.
Though the characters in their songs seem to be avatars of change in one form or another, Smith and Heaberlin don't appear to be driven by trauma or outside forces. On the contrary, as Serotinalia indicates, they are musicians truly growing into their own potential.