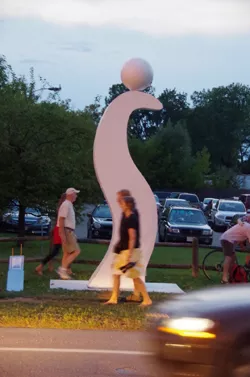 Pedestrians walking down Pine Street during Art Hop 2012
This weekend the annual South End Art Hop will bring thousands of people to Burlington's artsy-craftsy Pine Street corridor, where they'll stroll from gallery to studio, to an iron pour, to food trucks and a fashion show. It's an end-of-summer celebration of local creativity.
But there's another way to look at the city's biggest "street" festival of the year, during which partiers have to share that street with cars.
"It's an accident waiting to happen," warns Adam Brooks, director of the South End Arts and Business Association, which puts on the Hop. At last year's event, Brooks says, the unsafe conditions for pedestrians "pretty much scared me to death."
For safety reasons, Art Hop organizers have asked the city in each of the past few years to close off parts of Pine Street to vehicular traffic on the Friday and Saturday nights of the festival.
And for other safety reasons, every year the city has refused.
Mayor Miro Weinberger talked up the Art Hop during his campaign for Burlington's top job. Last summer, his chief of staff, Mike Kanarick, said his boss was "working on" the problem of closing the street for a few hours during the event.
But it didn't happen in 2012 and won't for this year's Art Hop, either.
Weinberger appears to be on the Art Hop's side: On August 30 he emailed, "I sympathize with the event organizers' desire to expand onto Pine Street." And in a memo presented to the Board of Finance four days later, he noted the Pine Street corridor is dangerous for walkers and cyclists in ordinary circumstances, citing "recent incidents on Pine Street in which pedestrians and bikers narrowly have avoided serious collisions with moving cars."
The mayor also said in that message that the city has been pursuing "with considerable urgency" state funding for the installation of several "pedestrian-activated, rapid-flashing beacons on Pine Street." When the beacons are installed in mid-October — six weeks after the Art Hop ends — they "will make an immediate impact on safety," Weinberger informed the board.
It appears the pedestrian-unfriendly decision welcoming cars to the Hop was made not by the mayor but by the city's police and fire chiefs. "I respect the effort and process the chiefs applied to the decision, and I support them," Weinberger declared in his August 30 statement.
A day earlier, police chief Michael Schirling emailed that he and fire chief Seth Lasker "have looked at all known alternatives and do not believe that it is safe or prudent to close traffic on a major north-south thoroughfare in the city." Pine Street "provides the primary means of access to all emergency vehicles and responders to large neighborhoods."
The Queen City's top cop goes on to offer a couple of scenarios involving potentially life-threatening incidents.
"Imagine," Schirling urged, "we agreed to close a street such as this and there was a fire, a medical call, a person choking, a law enforcement emergency, or any one of a host of other things that occur daily across the more than 45,000 responses our departments make annually."
Imagine further, Schirling suggests, that the response to such an emergency was delayed "even by one minute as a result of the inability to access neighborhoods located off Pine Street without taking an alternate route." That could produce "a tragic outcome," he warns, "and would undoubtedly generate a different series of far more serious questions."
Here are a couple of hypothetical ones: On Monday, parts of Burlington's Main, St. Paul and College streets were closed for the Criterium bicycle race. What if there was a fire at the Flynn? A holdup at Hempest? How could public safety vehicles possibly get there?
No pedestrians or cyclists are known to have been injured by cars during the 20 previous Art Hops, but that doesn't make it safe or prudent to allow motorists to proceed as though nothing special were happening on Pine Street, Brooks says. The Art Hop's lead organizer suggests it should be possible to clear the way for emergency vehicles while redirecting regular traffic for a few hours on Friday and Saturday night.
Furthermore, South End neighborhoods are all accessible from the east, via St. Paul Street and Shelburne Road.
Does the city's car-centered position on the Art Hop contradict Weinberger's oft-stated commitment to making Burlington a more walkable and bikeable community? Brooks declined to comment.
Chapin Spencer, who until last month headed Chittenden County's leading pedestrian and cyclist advocacy group, also refrains from taking a position on closing Pine Street for Art Hop. Weinberger recently appointed the former director of Local Motion as chief of the city's department of public works. In a Labor Day interview, Spencer would not say whether he views current Art Hop conditions as dangerous to the event's participants.
Spencer's successor at Local Motion also avoids criticizing Weinberger's stand in support of uninterrupted traffic flow during the Art Hop.
Jason Van Driesche, the group's interim codirector, said in a telephone interview last week he "would love to see" Pine Street closed to private cars during the Hop — "if it can be worked out to everyone's satisfaction, including access by emergency vehicles."
The LoMo leader endorses the perspective put forth by Schirling. "I completely buy the argument that Pine Street is in need of emergency access," Van Driesche says.
But he also shares Brooks' worries regarding unsafe conditions for Art Hoppers. Pine Street's sidewalks "are very narrow for the number of people who go to Art Hop," the LoMo leader noted. In fact, there are no sidewalks on the western side of Pine Street in the area where Art Hop activities are centered.
Local Motion is cooperating closely with the Weinberger administration on several initiatives not related to the Art Hop. The group sees itself as a partner with the city, not as an aggressive advocate for potentially controversial actions to reduce dangers to walkers and bikers.
"I don't think this is a case where being aggressive makes sense," Van Driesche says in regard to efforts to open Pine Street to walkers during portions of the Art Hop. "We have seen from open streets across the country that success depends on broad cooperation."
Transportation planner Nicole Losch, who manages the city's pedestrian and bicycle program, says she sees the proposed closure of Pine Street to cars as a topic of "a conversation worth having." But she says Weinberger did not consult her in regard to traffic-safety issues during this year's or last year's Art Hop.