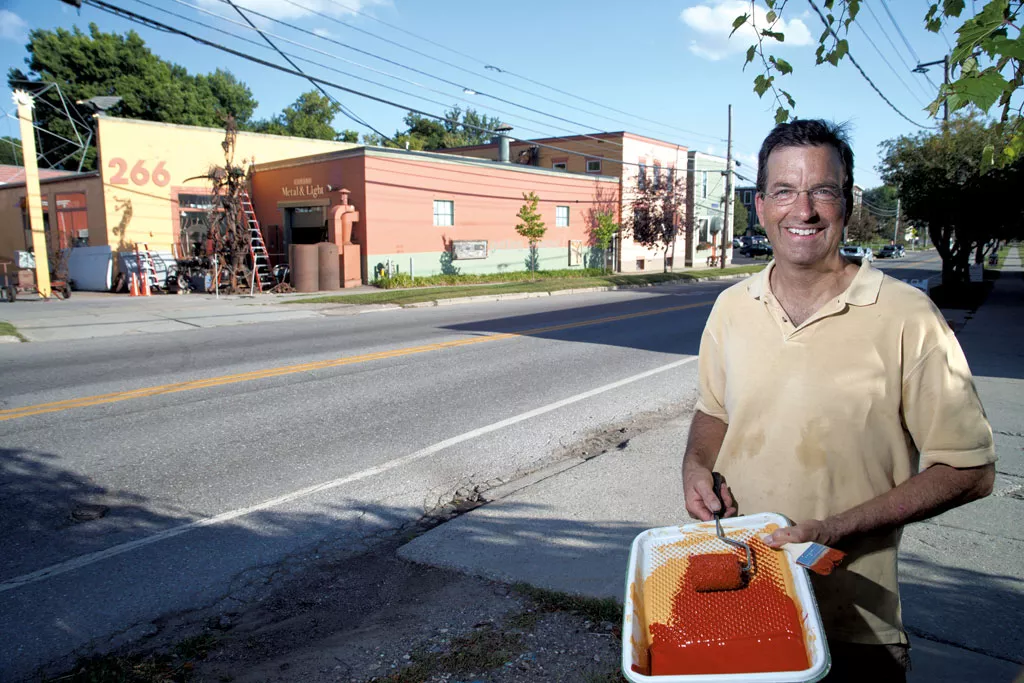 Matthew Thorsen
Steve Conant getting ready for the South End Art Hop
Visitors to the 50th annual South End Art Hop — in 2042 — might see a neighborhood that's radically different from the setting for this weekend's 22nd edition.
For one thing, cars and trucks may actually be moving along the Champlain Parkway by then. The road, intended to relieve traffic headed through the area and into downtown, got green-lighted by state environmental regulators just last week — half a century after it was first proposed. Construction isn't likely to start for at least another year — or three.
Today's twentysomething Hoppers returning 28 years hence with kids and grandkids in tow might be most struck by the presence of hundreds of units of new housing. Or they might marvel that the South End managed to retain its industrial character. Alternately, they could be lamenting gentrification that replaced lumberyards and auto supply shops with J.Crew and Starbucks.
At this year's Hop, graphic illustrator Matt Heywood will transcribe from words to images those potentially conflicting visions of the South End's future. The Burlington Planning and Zoning Department commissioned him to work in a booth at 339 Pine Street to kick off a planning process that is to culminate next year in conceptual consensus on the makeup of tomorrow's South End. This exercise, involving artists, consultants, city officials, local business owners, workers and residents, is modeled on the planBTV initiative that produced a general blueprint for redevelopment of the waterfront and downtown.
The South End assessment will spotlight an area that has seen plenty of change already. Many of Burlington's major industrial enterprises operated along the Pine Street corridor in the era when the Queen City made money from manufacturing. Most of those businesses are gone now, but the South End remains home to a few big employers based in rehabbed industrial buildings. The stretch of Pine Street between Kilburn Street and Flynn Avenue has also become an incubator for smart startups, as well as a hip arts district.
Many members of the South End Arts and Business Association (SEABA) are currently most concerned with the area's traffic and parking problems, says SEABA director Adam Brooks. More generally, he relates, they're worried about the area falling victim to the national syndrome whereby formerly funky industrial areas get transformed first into arts districts, and eventually into upscale residential and shopping enclaves, à la Manhattan's SoHo and Chelsea, and San Francisco's SoMa.
Ardent advocates of preserving the South End's mix of manufacturing and creative enterprises could thus go to war in the coming months against proponents of housing development. Battles will likely center on the current zoning regulations that prohibit residential use of most of the area between Pine Street and Lake Champlain.
Bruce Seifer, who worked on South End development issues for nearly 30 years at the city's Community and Economic Development Office (CEDO), offers a straightforward suggestion for what should happen in that area: "No housing, zero, none."
Dozens of acres of undeveloped space should remain zoned solely for light manufacturing purposes, Seifer argues. And buildings along the Pine Street corridor currently used as artists' studios and businesses must be protected from conversion into housing, adds Steve Conant, owner of Conant Metal & Light on Pine Street.
Existing blue-collar jobs will be killed off, and tech firms like Dealer.com won't locate in the South End if housing gets built there, Seifer contends. "Having people live in business districts inevitably causes conflicts," he says. Smells, sounds and truck traffic associated with manufacturing invariably prove nettlesome to nearby homeowners.
Case in point: Magic Hat Brewing Co., Seifer recounts, decamped from the South End to South Burlington because nearby residents succeeded in preventing craft-beer entrepreneur Alan Newman from staging entertainment events. Seifer further speculates that Dealer.com and its nearly 800 jobs also would not be situated in the South End — or, probably, anywhere else in Burlington — if the former Specialty Filaments space on Howard Street had been converted into housing rather than into offices for the online automotive marketing firm.
"The South End became a throbulating engine of the creative economy precisely because of the availability of funky and affordable commercial and industrial space," Conant says. His appreciation of the district's "organic" evolution helped dissuade Conant from converting the 47,000-square-foot Soda Plant, which he owns, into "pretty cool loft spaces." The former ginger ale bottling facility today houses several art spaces and small businesses. Conant notes he could make a lot more money by turning the Soda Plant into residential condos than by renting it, as he now does, to artists, recycling operations and digital design outfits.
Seeing the South End as either a business-and-arts district or a residential area constitutes "a false choice," suggests Peter Owens, who now heads CEDO. Many urban planners have come to see housing as compatible with commerce, he notes. A senior housing complex just went up adjacent to the Ethan Allen Shopping Center in the New North End. Farther afield, there are 29 apartments on the two floors above the redeveloped food co-op in downtown Brattleboro. Something similar could and should be done if City Market moves ahead with plans to build a branch outlet in the South End, Owens suggests.
Building housing close to workplaces makes great environmental sense, he adds. "If you integrate housing into the neighborhood, many of those 600 workers at Dealer.com could walk or take the bus rather than drive," Owens says.
Sandrine Thibault, a city planning official working on the South End version of planBTV, says housing construction could alleviate the traffic and parking problems that currently vex SEABA members.
The sort of manufacturing operations likely to locate in the 21st-century South End won't produce much sound or smell, Owens adds. The tapping of keyboards and the aroma of espresso are the sensory attributes of production companies such as Brandthropology, Digital Media Creations and Vermont Community Access Media.
The city has an obligation to talk about housing in the South End given "the extreme housing crisis" besetting Burlington, Owens says. Due to the near-total absence of middle-income housing construction in recent decades, Burlington is becoming "an elite community" affordable only to the wealthy and to low-income occupants of subsidized units, he observes.
Demand for housing in the Five Sisters area near the arts-and-business district is "overwhelming," notes Steve Lipkin, a broker with Coldwell Banker Hickok & Boardman Realty. Bidding wars regularly erupt when a home in that neighborhood comes on the market, he reports. He points to a three-bedroom, 1,700-square-foot home on Caroline Street that recently sold for $460,000. The feeding frenzy results from the Five Sisters' proximity to "all the cool stuff going on in the Pine Street corridor," Lipkin observes, adding that the neighborhood is also close to the lake, the interstate and two shopping centers.
"Burlington has done a very good job of making sure housing has not been built for a very long time," remarks Candace Damon, a partner in HR&A Advisors. Her New York City-based consulting firm is finalizing a South End real estate study that will help inform the planBTV process.
"It's critically important to the city's future that housing be built," Damon says. But, she adds, "the South End may not be the most appropriate place" for a substantial amount of housing to be introduced.
Industrial spaces and land zoned for that purpose should generally be preserved, she suggests. "You're not going to have smokestacks there again," Damon acknowledges. "But you do have some of the city's major employers there, and some of them are looking to expand."
INFO
Workshops on walkability and livability are scheduled for later this month at ArtsRiot, 400 Pine Street. For details, visit burlingtonvt.gov/planbtv.