Oliver Parini
Gingerbread pancakes
The first ticket arrived in the kitchen at 8:04 on a recent Sunday morning, four minutes after Penny Cluse Café opened for its busy breakfast. Customer No. 1, who was first in line on the steps, ordered tofu with ranchero sauce. He wanted his corn tortillas on a separate plate and Earl Grey tea to drink.
In the kitchen, Elizabeth Goddette dropped tofu slices into her sauté pan. As they cooked, she prepared a takeout order of home fries, crispy garlic kale and tofu scramble with peanut-ginger sauce. She also whipped up a custom meal for a staffer: egg tacos with kale, corn and smoked salmon, served with a side of ranchero salsa.
"The things we get in the morning are so weird," said Goddette, 26. "Sometimes we get a taco salad first thing in the morning. I just kind of take it as it comes."
At Penny Cluse Café, Burlington's beloved breakfast and lunch place, taking it as it comes is the best — and only — approach in the kitchen. On Saturday and Sunday, the 64-seat restaurant will serve about 450 people. Its affiliated business, Lucky Next Door, will feed another 175 or so.
If the orders keep coming at Penny Cluse, the years, too, are piling up. The restaurant turns 20 this month — which makes it officially a Burlington institution.
"We have so many people who've worked for us who've gotten married and had children," said owner/general manager Charles Reeves, who founded the restaurant with his wife, Holly Cluse. "And some of those children are starting to have jobs here. It's this amazing kind of ecosystem."
The restaurant's legions of fans include Mayor Miro Weinberger, who applauded Penny Cluse in an email to Seven Days. "Penny Cluse is downtown Burlington at its delicious, authentic, wholesome, caffeinated best," he wrote. "That is why we take out-of-town visitors like former vice president Joe Biden and [New York City] Mayor Bill de Blasio there, and why there is almost always a line if you get there before 2 p.m.
"All four Weinbergers love their vibrant fruit plates, caramelized home fries and amazing salsa ranchero," the mayor continued. "We celebrated Ada's adoption with brunch there four years ago and return as often as we can."
The eight-person kitchen team that worked on the recent Sunday included two dishwashers, a fruit plate and smoothie maker, kitchen manager/chef Maura O'Sullivan, and Reeves. O'Sullivan is likely the longest-serving chef in Burlington who is not also the restaurant owner. She has run the Penny Cluse kitchen for 14 years.
Anastasia Evans, front of the house manager, is a 17-year veteran of the restaurant. Goddette, who grew up in Williston, first worked at Penny Cluse 10 years ago for a high school internship through the Essex Center for Technology. She left Vermont to attend the Culinary Institute of America in Hyde Park, N.Y., then took restaurant jobs in other cities. She's been back cooking at Penny Cluse for almost three years.
"It's a very humanely run restaurant," O'Sullivan said. "We have really good retention because of that. Holly and Charles set out that way. They're just good to people."
Goddette acknowledged that seeing a full line of tickets can be overwhelming. "You think, Go, go, go," she said. "Then I'm like, Oh, crap. I just fired these over-easy eggs, and they're going with rellenos."
Oliver Parini
A diner at Penny Cluse
The trick is to hold off on the eggs until moments before the chile relleno plate is ready. That pairing of meals — eggs and chile relleno — is Penny Cluse in a nutshell: the familiar and the "wow!"
Goddette leaves her house in Worcester at 5:30 a.m. to get to work about an hour later. When she's working the line, her last orders of the day come at 3:30 p.m. for the staff meal. She enjoys cooking for her coworkers because they "get really creative in their choices," she said. (Goddette herself opts for a rather inventive choice: a mini-bucket of potatoes; kale sautéed with corn, mushrooms and red onion; a side of avocado salsa; and flour tortillas.)
Although the staff meal is time for everyone to hang out together, Goddette often ducks outside for a quick break before she starts cleaning the kitchen.
"I feel like the last thing I wanna do is sit down after working eight hours on the line," she said. "'Cause I kind of feel like I'm not gonna get up."
As slammed as she can get on the line, Goddette suggested the toughest gig in the kitchen is making fruit plates. "I honestly feel bad for the guy on the fruit station on weekends," she said.
Evans lauded the effort of the bussers. Reeves pointed to his chef: "Maura is the hardest worker in the restaurant," he declared. "She is right there all the time." O'Sullivan is certain that the hard work is shared by all: "Everybody in the kitchen thinks they have the hardest job, and everybody's right," she said. "They're all hard in their way, and no one position can exist without everyone else."
All kitchen employees, including dishwashers, earn at least $15 an hour, according to Reeves. "Good dishwashing is respected throughout the restaurant," he said. Without strong dishwashers, he added, the restaurant "will come to a stop."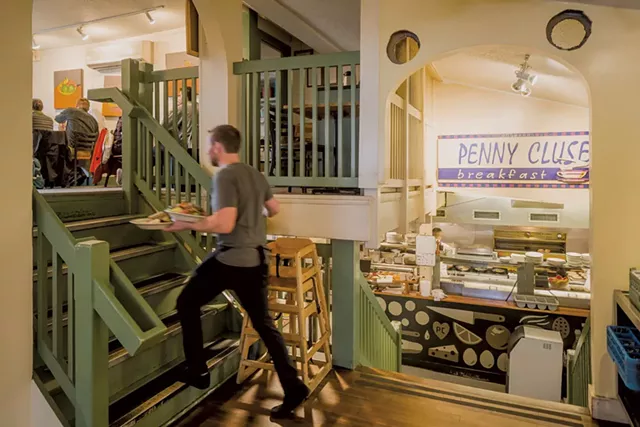 Oliver Parini
Penny Cluse Café
Penny Cluse, which Reeves called "an organized machine," runs virtually nonstop. "The cooks really like that," he said. "You're allowed to work that fast because everybody knows what they have to put in to get it right."
As the line cooks filled orders, the prep kitchen hummed apace. George DeMarsico peeled bananas, sliced kiwis and mixed an avocado smoothie. When Goddette was running low on eggs, he delivered more to her station. Sasha Serbinov made another batch of buttermilk batter and ladled it in pitchers to replenish the line. Then he stirred chorizo cooking on a back burner. Reeves chopped cabbage for corned-beef hash and baked hash-brown casseroles for a catering order.
O'Sullivan looked up from slicing salmon to check with the line cooks. "You guys good?"
"We are, yes," Goddette answered. Four minutes later, she needed help: "Can we get a hand on the line?"
"Right there," O'Sullivan said.
"Thank you," Goddette responded.
Joining the line as expediter, O'Sullivan helped pull tickets, time orders, garnish plates, stir home fries, assemble sides, manage the flow, and communicate between the kitchen and the dining room.
Omelettes, French toast, huevos rancheros, eggs with biscuits and gravy, tofu salad, sides of bacon, and Bloody Marys filled the food window.
Oliver Parini
Penny Cluse breakfast plate
"Gorgeous," a server commented as she picked up an order of fluffy pancakes and a plate of chicken legs.
At 8:55, there was a brief lull in the action. No pancakes to drop, no omelettes to flip, no potatoes to fire or sausage to pull from the grill.
"So that's the whole restaurant," O'Sullivan noted with a sweep of her hand. The first wave of customers was fed.
"And now come the dishes," she added.
A minute or two later, Goddette wiped her sauté pan clean to make an order of scrambled eggs. Line cook Liz Flynn placed pieces of French toast on the griddle. Two more tickets arrived.
"I just always expect it to be busy," Goddette said. "'Cause then you're prepared."
Penny Cluse Herb Cream Gravy
A popular item on the Penny Cluse menu is buttermilk biscuits with herb cream gravy. They're served with eggs or as a side dish. The restaurant uses butter, buttermilk and all-purpose flour to make its biscuits. The kitchen recommends a biscuit recipe from The Joy of Cooking or King Arthur Flour.
Ingredients
2 tablespoons fresh parsley, chopped
2 tablespoons fresh basil, chopped
1 cup plus 2 tablespoons half-and-half, divided
1 cup whole milk
4 tablespoons butter
¼ cup diced onion
¼ cup grated carrot
1 teaspoon minced garlic
1½ teaspoons salt
½ teaspoon ground black pepper
¼ teaspoon dried basil
¼ teaspoon dried oregano
⅛ teaspoon dried thyme
4 tablespoons all-purpose flour
Directions
Purée fresh herbs with 2 tablespoons half-and-half in blender.
Heat milk and 1 cup half-and-half. Keep warm.
In a separate pot, melt butter and add vegetables and dried spices. Cook until vegetables are soft. Add flour and stir for a minute.
Gradually add warm milk mixture, whisking after each addition. Bring to a low boil after last addition.
Remove from heat and add fresh herb purée. Whisk to combine.
Reviving the Scoop Shop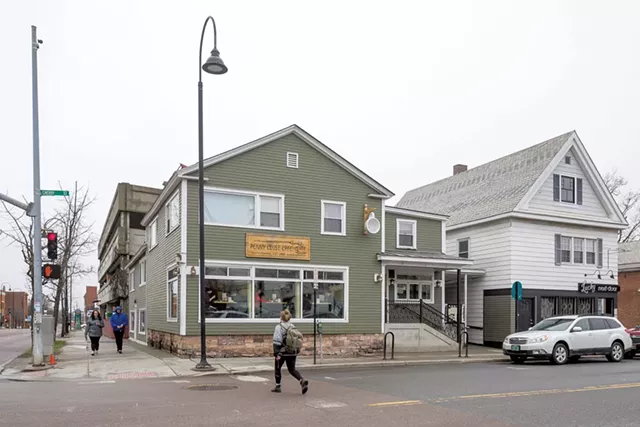 Oliver Parini
Penny Cluse Café
Charles Reeves and Holly Cluse, a married couple who have known each other since their childhoods in Summit, N.J., moved to Burlington together in 1997. They had relocated from San Francisco, where they lived for eight years after college in Providence, R.I. Cluse studied photography at Rhode Island School of Design; Reeves was a culinary arts major at Johnson & Wales University. The two were housemates in college who became a couple after graduating in 1989.
After moving to Vermont, Reeves got a job cooking at the defunct Dockside in Burlington; it was busy in the summer, slow in the winter. "I would come in and prep all the food, then cook the food, then wash the dishes and mop the floor and go home," he recalled.
One night after work, as he was walking around Burlington, Reeves noticed a "for lease" sign on a building at the corner of Cherry Street and South Winooski Avenue — the former Ben & Jerry's scoop shop. For a brief time, the space was a Greek restaurant.
"It was clearly a brand-new restaurant ready to go," Reeves said. He inquired about leasing it and said the landlord "took a chance on us."
Less than a year after moving to the Queen City, Reeves and Cluse opened Penny Cluse Café. They wanted to make a restaurant that would bring in regulars, Reeves said. He was interested, too, in a creative and expansive approach to breakfast.
"I always liked breakfast that was a little bit out of the mainstream — not just eggs, toast and home fries," Reeves said. "I wanted something a little more, where we could, over time, flex some cooking muscle."
The menu is filled with such items, which are prepared in the Penny Cluse kitchen to meet consistently high-quality standards. There's the smoked salmon plate and the Zydeco Breakfast — two eggs with black beans, andouille sausage and grilled corn muffins. You can get gingerbread pancakes, posole, or a meal called Across the Pond: eggs with a choice of meat, smoky baked beans, grilled tomatoes and marinated mushrooms. Plates are brimming and good looking; prices are affordable.
"It's menu management," Reeves said of keeping prices reasonable. "[But] a lot of people look at our menu and say, 'You're way too expensive for breakfast. Breakfast is supposed to be really cheap.'"
It's also supposed to be served quickly, and Penny Cluse's average ticket time is 10 to 15 minutes. "It's important that we're organized," Reeves said.
Over the years, Penny Cluse has employed a number of people "who spend a chunk of their twenties with us," he noted. Some staff, including chef Maura O'Sullivan and front of the house manager Anastasia Evans, are into their second decade.
"We're looking for people who can get along with other people, who bring enthusiasm to work," Reeves explained. "We've trained a lot of people from the ground up. You don't open up a restaurant to be a personnel manager, but that's kind of what happens."
When Cluse and Reeves moved to Chittenden County, where they raised two sons, they thought they'd give Burlington a year. The plan was to stay if things felt right, or move on.
"It did feel right to us," Reeves said.
Maura's Meals
Oliver Parini
Left to right: Line cook Elizabeth Goddette, chef Maura O'Sullivan and chef-owner Charles Reeves
A salad at the Daily Planet is named for her. The chef-owner of one of Vermont's most acclaimed restaurants calls her a mentor. And a former vice president ate her blueberry pancakes for breakfast and posed for pictures with her.
As her boss, Charles Reeves, noted, Maura O'Sullivan also happens to be the hardest-working person at Penny Cluse Café.
"Maura has brought so much here," he said. "She has a passion for food. She thinks about food. She understands how to get things going in a production sense. She's a strong kitchen manager."
O'Sullivan, 51, moved to Vermont from Boston with her husband, Joe Speidel, almost 25 years ago to attend New England Culinary Institute. She was a graduate of Babson College with a business degree who said she loved her job at a gourmet cheese shop in Wellesley, Mass.
"That was the best fun ever," O'Sullivan said. "All we did was stand around talking about cheese and tasting cheese and helping people pick out cheese and plan parties. It was totally foreign to me at the time. I didn't grow up with fine cheese. Cabot was fine to me."
In Burlington, she got a job at the Daily Planet, first waiting tables and then as a cook. She deferred her admission to NECI — and never attended.
"Kate Hays took me into the kitchen," recalled O'Sullivan, referring to the Planet's then-chef. "It was slow going for a while, but all of a sudden the [NECI tuition] money seemed like it wasn't worth it. So I just kept going."
At the Planet, O'Sullivan created a dish from the leftover prep of New Year's Eve specials that became a signature of the restaurant: Maura's Salad. The dish with baby greens and grapes has outlasted chefs and menu changes.
O'Sullivan became chef at Smokejacks, located at Church and Main streets, and an early player in Burlington's farm-to-table restaurant renaissance. Eric Warnstedt, now chef-owner of Hen of the Wood in Waterbury and Burlington, was her sous chef.
"Smokejacks was not an easy place to work, and Maura crushed it every single day," he wrote in an email. "Thanks to Maura, I was exposed to everything Burlington and Vermont had to offer: the cheese, the farmers and producers, the wildcrafters, the whole scene.
"All very inspiring, and it's easy to draw the line from Maura to Hen of the Wood," Warnstedt continued. "She is a true kitchen leader and sets a great example! I've loved Penny Cluse since day one, but love it all the more getting to see Maura and knowing she is there."
After seven years at Smokejacks, O'Sullivan left to run the kitchen at Penny Cluse. She had gotten to know Reeves and Cluse and worked with them on fundraising dinners for the Burlington Children's Space.
It was Reeves who proposed the idea of O'Sullivan heading up his kitchen. The café's high volume was at that point foreign to her and kind of "scary," she said. Yet aspects of the job — including a manageable schedule with daytime hours, the creativity inherent in problem solving, and working with a set of "amazing systems" that guide the restaurant — appealed to her.
"I decided it was probably a good idea to take a breath and do something new for a couple of years and figure out my next move," O'Sullivan said. "And then I didn't leave. A couple of years went by, and a couple of more years went by, and I thought, You know, this is kind of a good life."
She enjoys the collaboration with Reeves and the rest of the staff and values the restaurant's connection with the community. "It's really important to us that it's a place people can come [to] often," O'Sullivan said. "We have a lot of regulars, and we also have a lot of people for whom it's a special occasion."
She and Reeves have now shared a kitchen for 14 years, but they think they shared an experience well before they knew each other, some 30 years ago: a Ramones concert in Providence, R.I. In addition, their birthdays are almost the same — O'Sullivan is two days older than Reeves.
Now, they're bound by the intense experience — at once creative and precise — of making food that is highly sought after.
"It's wild when you think about the number of people that sit in here on a day like this — over 400," O'Sullivan mused. "And you're like, How is this possible? Where did they come from, and where are they going? How did that happen? But it's cool."