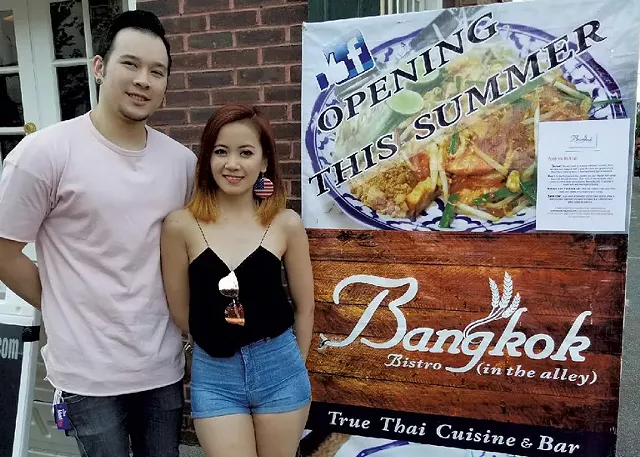 Bobby Chompupong and Kanni Sangkhanond of Bangkok Bistro
Five years after Bangkok Bistro closed its restaurant on Burlington's Church Street, a new version with a tweaked name — Bangkok Bistro in the Alley — will open by the end of July in the alley off Church Street, across from Red Square. The address of the restaurant is 191 College Street, the former Burlington Free Press building, but the entrance will be via the back alley.
"The menu is going to be reminiscent of the original Bangkok Bistro," owner Bobby Chompupong said. "A majority of those dishes have been transformed into tapas-style small plates, which is going to give you the option to order three or four things instead of trying one."
Bangkok Bistro was in business at the current site of Gaku Ramen for 10 years under the ownership of Chompupong's father, Champ Chompupong. He'll be the chef at the new, 55-seat restaurant, which will have additional dining on a three-season porch and seasonal tables in the alley, Bobby Chompupong said.
The menu will be divided into three sections: small plates such as spicy mussels and gyoza; favorite dishes from the original restaurant, including pad Thai, gapow, and panang curry; and a variety of chef's specials. The beverage program will highlight craft tiki cocktails, Chompupong said, with ingredients from Southeast Asia and housemade infusions and bitters.
Chompupong, a graduate of Champlain Valley Union High School, will run the restaurant with his wife, Kanni Sangkhanond. He has had various projects since the first Bangkok Bistro closed, including opening (and later selling) Bangkok Minute Thai Café on Shelburne Road, managing now-closed Zen Lounge in Burlington and working as a DJ.